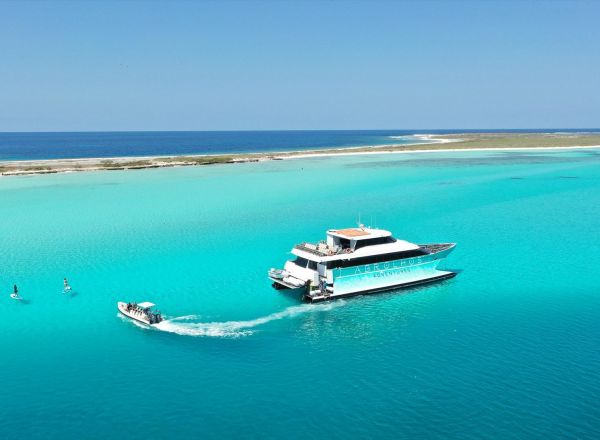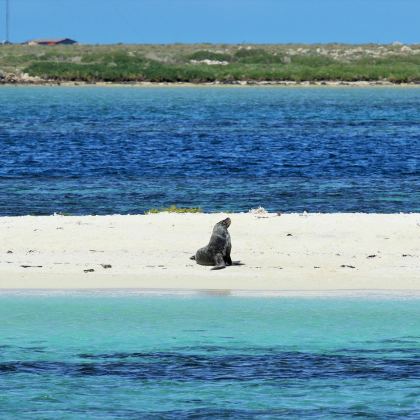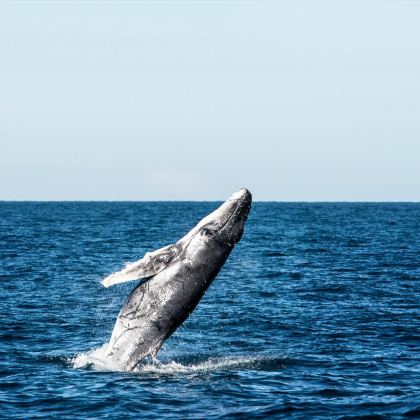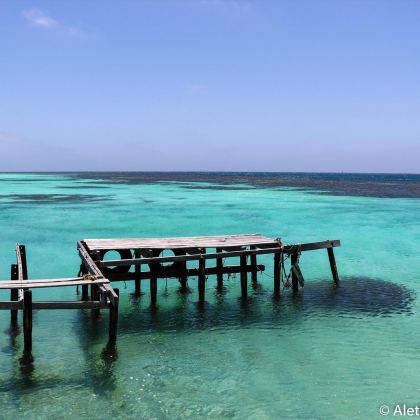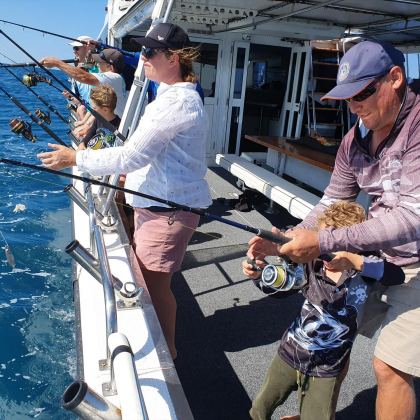 Wel­come to Abrol­hos Adven­tures! Local­ly owned and oper­at­ed, Abrol­hos Adven­tures has the only high speed fer­ry that oper­ates from Ger­ald­ton the Abrol­hos Islands, MV2000. We also oper­ate fish­ing char­ters (full day/​half day/​live aboard), div­ing and expe­ri­ence tours to the beau­ti­ful Abrol­hos Islands on board For­ti­tude and Assassin.
Abrol­hos Adven­tures offer the fol­low­ing tour options:
Fish­ing Char­ters — full day, half day, live aboard
Cray­fish Pot Pulls
Func­tions
Har­bour Cruises
Day trips to the Abrol­hos Islands
Dive char­ters
Abrol­hos Adven­tures is tak­ing you on an Abrol­hos Islands Adven­ture Tour onboard MV2000 Lux­u­ry Cata­ma­ran Fast Ferry!
You'll get to the islands in just over 80 Min­utes head­ing straight to Long Island Island in the South­ern Group of the Abrolhos.
Jump onboard our Fast-Rib for a quick ten­der into shore, get in for a swim, have a snorkel amongst the incred­i­ble coral, or go for a SUP Board on the crys­tal clear waters of the Abrol­hos! Check out the Sea Lions on-shore, watch the Whales as they Migrate *Sea­son­al* and expe­ri­ence what Island Life is all about.
Morn­ing tea, lunch and after­noon tea all pro­vid­ed as well as a ful­ly licensed bar onboard for drinks purchases!
Get ready for a relax­ing day on the phe­nom­e­nal waters of the Abrol­hos Islands!
We board at 7:30am for an 8am depar­ture. Arriv­ing back into Ger­ald­ton between 4:30 – 5:30pm.
For a full itin­er­ary of the tour, please click the below link:
http://​www​.abrol​hosad​ven​tures​.com​.au/​a​b​r​o​l​h​o​s​-​i​s​lands

For a full 360 Degree walk through of MV2000, Click the below link!
https://​kuu​la​.co/​s​h​a​r​e​/​c​o​l​l​e​c​t​i​o​n​/​7​P​y​7​T​?​f​s​=​1​&​v​r​=​1​&​z​o​o​m​=​1​&​i​n​i​t​l​o​a​d​=​0​&​t​h​u​m​b​s​=​1​&​i​n​s​t​=​0​&​i​n​f​o​=​0​&​l​ogo=0
Hop on board your very own whale spot­ting ves­sel at the Ger­ald­ton Fish­er­man's Wharf and cruise Cham­pi­on Bay tak­ing in the beau­ty of Ger­ald­ton's icon­ic back­drop for 3 hours spot­ting the beau­ti­ful Whales as they migrate.
A light morn­ing tea is offered towards the end of the tour and the bar is opened for a froth­ie on the way in, you could­n't ask for a bet­ter way to spend a morn­ing with friends or fam­i­ly! Adults $75, Kids under 12 $40, Kids under two free, Fam­i­lies (2 Adults & 2 Chil­dren under 12) $200.
8:30am board­ing for a 9am depar­ture, arriv­ing back into the Ger­ald­ton Wharf by 12pm.
For a full itin­er­ary of this tour, please click the below link:
http://​www​.abrol​hosad​ven​tures​.com​.au/​w​h​a​l​e​-​w​a​t​ching
If you have booked a full boat and there are cancellations within your party we require a minimum of 10 days' notice to fill the vacancy or your party will be liable to pay the difference.
Abrolhos Adventures requires 10 days' notice if you wish to cancel your booking. If 10 days' notice is not given you will forfeit your deposit. However if notice is given with less than 3 days' notice you are then liable to pay for the booking (we may charge your credit card the full amount of the booked trip).
You may nominate a full refund of deposit or transfer your deposit to an alternative date if your trip has been cancelled by Abrolhos Adventures.
If a person becomes unwell and requests to be returned to shore then no refund will be given and it is also up to the Skipper's discretion whether or not to return to port.
Abrolhos Adventures will not be held liable for any indirect costs incurred by booking a fishing charter with us.
In the event the trip is cancelled at any time by Abrolhos Adventures we will not be held liable for any travel costs meals accommodation or any other costs the customer may have
incurred.