Broome's Gateway Accommodation
Accommodation
Guesthouses, Bed and Breakfasts
Hotels, Motels, Resorts and Self Contained Apartments
Caravan Parks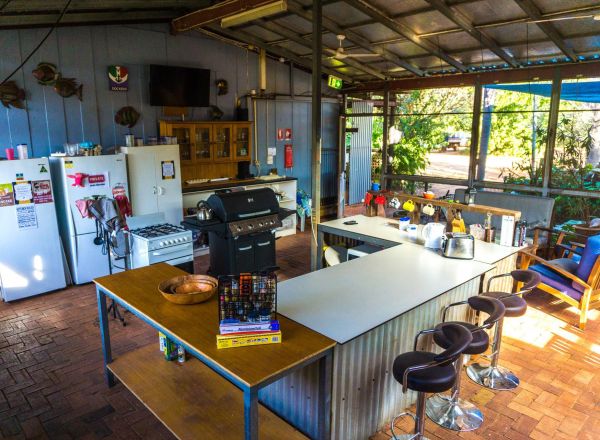 Check In: 12.00 | Check Out: 10:00 Hours: 7am - 6pm
Broome's Gate­way is a pet friend­ly, relaxed, open style liv­ing type of accom­mo­da­tion with abun­dant wildlife and birdlife.
The Lodge offers guests each morn­ing a choice of con­ti­nen­tal break­fast in the alfres­co din­ing area. For those who wish to cook their own break­fast all facil­i­ties are provided
Each room has their own ensuite, pets are not for­got­ton at Broome's Gate­way with large tree lined pad­docks for pets to enjoy and be walked.
Din­ner, tea and cof­fee mak­ing facil­i­ties if guests desire. As well as the out­door TV lounge and alfres­co din­ing area. The out­door areas are com­pli­ment­ed by the tran­quil water fea­tures and bird life.Great dis­counts for group book­ings and long stays
1 room for 7 nights — 10% dis­count
Great Dis­counts for Hol­i­day Package
We have two fenced ken­nel areas that are suit­able for some pets. We cater for any Friend­ly Pets, big or small if friend­ly are all welcome.
Broome's gate­way is also a friend­ly car­a­van park with clean new ameni­ties, room for any size of rig from large to small, includ­ing tents.
Spa­cious car­a­van bays with fab­u­lous shower/​toilet facil­i­ties. Water is onsite. Great camp atmos­phere with camp fire.
Gateway Rooms
Room Configuration: 1 Bedroom
Max Guests: 2
Gate­way rooms offers guests the com­fort of sleep­ing in either a queen size, air­con­di­tioned, unit with ensuite, or a twin share (two sin­gle beds), air­con­di­tioned unit with an ensuite. In total Gate­way rooms have four queen rooms and two twin share rooms avail­able. Two rooms have an adjoin­ing door which can be opened for fam­i­lies. A cot is avail­able to hire for $10. A con­ti­nen­tal break­fast is pro­vid­ed to all guests each morn­ing. A gas BBQ and microwave are avail­able for guests use.
Air conditioned
Barbeque
Ceiling Fan
Cooking Facilities - Full
Crockery & Cutlery
Doona
Ensuite
Freezer
Ground Floor Level
Iron
Ironing Board
Laundry Available
Linen Provided
Microwave
non smoking indoors
Off-Street Parking
Outdoor Setting
Refrigerator
Separate toilet
Single Beds
Tea/Coffee
Television
In the event of cancellation Less than one weeks notice; No refund. More than one weeks notice; 50% Refund.
Travel Insurance is recommended.