Kings Ningaloo Reef Tours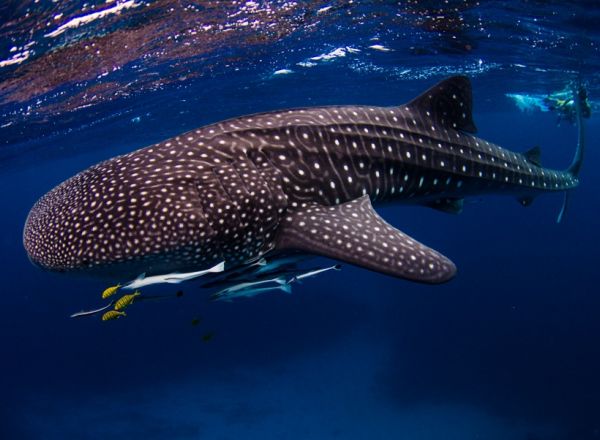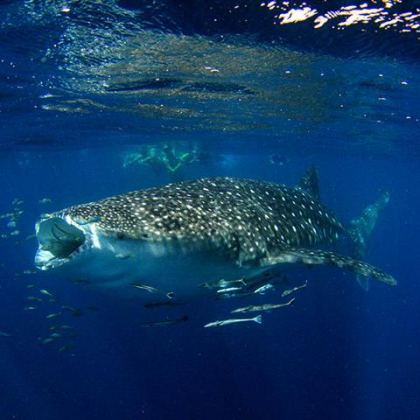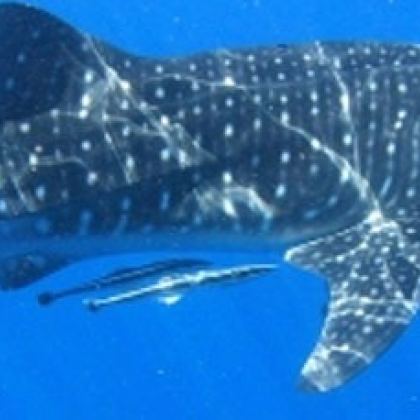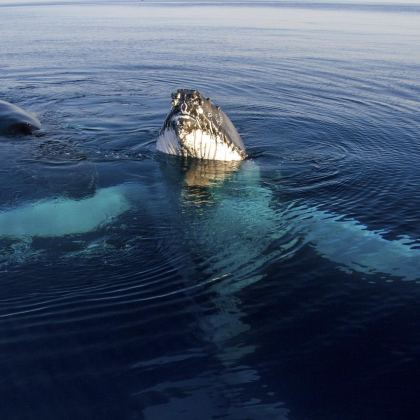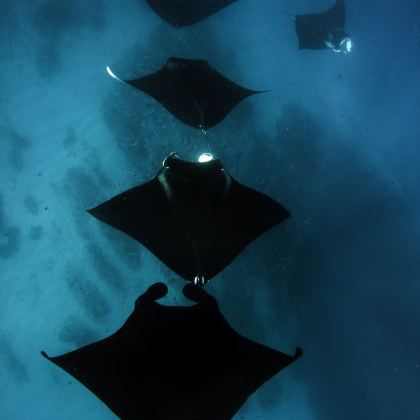 Hours: April - August 9am - 6pm daily
At King's Ninga­loo Reef Tours your Whale Shark expe­ri­ence on the Ninga­loo Reef will be excit­ing, relax­ing and above all mem­o­rable. We take that extra step in mak­ing sure your day is exact­ly that and guar­an­tee our tours to be sec­ond to none. We have the largest and most com­fort­able ves­sel offer­ing opti­mum safe­ty stan­dards and reli­a­bil­i­ty. Come and join us for an expe­ri­ence like no other.
The Friend­ly Crew from King's will come to your acco­mo­da­tion and pick you up in the Air-Con­di­tioned bus to trans­port you to Tantabid­di, where you will start your excit­ing Journey!
KING'S NINGA­LOO REEF TOURS has over 30years expe­ri­ence con­duct­ing tours at Ninga­loo Reef, our knowl­edge of the area is sec­ond to none. The skip­per has had over 39 years expe­ri­ence at sea, you could­n't be in safer hands. The com­pa­ny is com­mit­ted to pro­vid­ing tours suit­ed to cou­ples, trav­ellers and fam­i­lies. We sup­ply both chil­dren and adult sized buoy­an­cy vests, pool noo­dles, pre­scrip­tion masks, all snorkel equip­ment required includ­ing wet­suits for your aquat­ic adven­ture. . King's Ninga­loo Reef Tours has access to three spot­ter planes if required, to help find our WHALE SHARK!.
TOURS START 29th March 2021
Allow our out­stand­ing crew to take you swim­ming with all man­ner of stun­ning marine life in the Ninga­loo Marine Park.

Our Whale Shark/​Humpback/​Eco Sea Life Tour begins with a pick­up from approx 7.10am. By 8.00am, you are on board the ves­sel ​"Mag­el­lan" ready for a snorkel on the mag­i­cal Ninga­loo Reef. This takes about 40 min­utes to assess how well every­one swims, and to view corals and fish. A spot­ter plane will lead us out to the deep­er water advis­ing what­ev­er marine life is out there and you may then have the oppor­tu­ni­ty of swim­ming with Whale Sharks, Hump­back Whales, Man­ta Rays or what­ev­er else we may encounter. Morn­ing tea, after­noon tea and a full buf­fet lunch is includ­ed, with hot/​cold refresh­ments avail­able through­out the day. After our deep­er water swims, time per­mit­ting, the tour ends with anoth­er swim on the Ninga­loo Reef before head­ing back to your accom­mo­da­tion at approx­i­mate­ly 4.00pm. All snorkel gear is includ­ed in the price and wet suits are avail­able free of charge if required.

We are priv­i­leged to have some of the most beau­ti­ful calm and crys­tal clear waters on the globe and with Kings you'll be enjoy­ing your time with the majes­tic crea­tures of the Ninga­loo Coast World Her­itage Area in 5 star com­fort. Observers will get the chance to view whale sharks, man­ta rays, spin­ner dol­phins, dugongs, tur­tles and a myr­i­ad of oth­er amaz­ing marine life from the
boat. As well as view­ing all of these amaz­ing crea­tures you may also expe­ri­ence the thrill of watch­ing the Man­ta Rays as they leap with great fury out of the water like a huge bird with wings out­stretched. Man­ta Rays can reach a width of 15 feet and upwards and a weight of per­haps a ton. Dur­ing the win­ter months till as late as Octo­ber, Man­ta Rays are com­mon and may hunt around the islands of the Coral Coast for some weeks. They swim by means of up and down move­ment of their great, expan­sive pec­toral fins.
One of the high­lights of the Whale Shark/​Humpback/​Eco Sea Life Tour are the hump­back whales, breach­ing and inter­act­ing with their young in one of the most fan­tas­tic cli­mates in the world as they migrate along the west coast of Aus­tralia. Since August 2016 we have also been able to have the oppor­tu­ni­ty of swim­ming with these glo­ri­ous crea­tures. Please note that we will only under­take this activ­i­ty if it is deemed safe to do so.

The tur­tles of Ninga­loo Reef are anoth­er fea­ture which inspire the imag­i­na­tion as they trav­el through the clear trop­i­cal waters. Green Tur­tles, Hawks­bill and Log­ger­head Tur­tles all hunt, mate and trav­el to the beach to lay their eggs along the reef on the var­i­ous islands and main­land along the coral coast.
One of the ben­e­fits of join­ing a Kings Ninga­loo Reef Tour is the sheer pro­fes­sion­al­ism, ded­i­ca­tion and lev­el of care our crew demon­strate to ensure each and every one of our guests walks away total­ly elat­ed after expe­ri­enc­ing one of the best days of their lives; any­thing less is sim­ply not good enough! Also, our ves­sel ​"Mag­el­lan", is a ful­ly shad­ed, 20 metre mono hull pro­vid­ing an extreme­ly com­fort­able and roomy plat­form for our guests to enjoy their day on the sea. No mat­ter what age you are every­one has plen­ty of room for chill­ing in between swims and from where to enjoy our scrump­tious food and drinks which are avail­able all day.

Please Note: While our suc­cess rate is extreme­ly high, as we are work­ing with Moth­er Nature, we ask for your con­sid­er­a­tion if cer­tain marine life is not seen. While we do every­thing we can to ensure that you receive the max­i­mum num­ber of encoun­ters pos­si­ble, we can­not deter­mine what marine life will present itself on the day.

As Hump­back Whales are extreme­ly large ani­mals that can move quick­ly, there is a phys­i­cal­i­ty that is required in order to under­take this activ­i­ty. Swim­mers will need to be con­fi­dent snorkelling in open ocean (at least for 100m) in order to attempt a Hump­back Whale swim. Should our crew deter­mine that an indi­vid­u­al's capa­bil­i­ties are not suf­fi­cient to safe­ly par­tic­i­pate in a Whale swim then the crew will rec­om­mend that indi­vid­ual observe from the boat instead.

Kings Ninga­loo Reef Tours was one of the first and is con­sid­ered one of the most expe­ri­enced, qual­i­ty Whale Shark Tour Oper­a­tors in Exmouth, West­ern Aus­tralia. Our tours accom­mo­date peo­ple of all ages and abil­i­ties and we strive to ensure your Whale Shark swim­ming expe­ri­ence exceeds all expec­ta­tions. We invite you to join us on our lux­u­ry 60ft ves­sel to enjoy a day of adven­ture, excite­ment and dis­cov­ery on Ninga­loo Reef. We sup­ply hotel trans­fers, all meals and refresh­ments on board, snorkel equip­ment includ­ing wet suits and pool noo­dles and you'll even leave us with an extra spe­cial gift at the end of the day.

If you are con­cerned regard­ing the sta­tus of state bor­ders open­ing and clos­ing at short notice you are now able to choose a Flexi Fare for this tour. A Flexi Fare will enable you to can­cel your tour with no less than 24hrs notice and receive vouch­er valid for use for one year from the date of cancellation.


Kings Ninga­loo Reef Tours are mem­bers of the West­ern Aus­tralian Tourism Coun­cil, we are a Qual­i­ty Tourism accred­it­ed busi­ness and we are proud­ly

ECO

Cer­ti­fied, mean­ing our tours adhere to the very best prac­tice and stan­dards for envi­ron­men­tal­ly respon­si­ble tourism. We were again win­ners of the Trip Advi­sor Cer­tifi­cate of Excel­lence in

2019

, as at Kings, we pride our­selves on our out­stand­ing per­son­al cus­tomer ser­vice and safe­ty record.
We are priv­i­leged to have some of the most beau­ti­ful calm and crys­tal clear waters on the globe and with Kings you'll be enjoy­ing your time with these majes­tic crea­tures of the Ninga­loo Coast World Her­itage Area in
5
star com­fort where every­body gets a chance to swim with and/​or view Whale Sharks, Man­ta Rays, Spin­ner Dol­phins, Dugongs, Tur­tles, Orca's and a myr­i­ad of oth­er amaz­ing marine life from the boat; the choice is yours. We'll take you to some of our favourite snorkelling sites on
Ninga­loo Reef , depend­ing on con­di­tions,
1
 – 
2
reef snorkels are includ­ed as part of your day out.
Our crew real­ly set us apart from the rest. Employ­ing local crew, with decades of expe­ri­ence between them you can trust you are in the very best hands through­out the day. Onboard we have Marine Biol­o­gists, Dive Instructors/​Masters and of course our salty Skip­per all at your dis­pos­al to ensure you have a fun, edu­ca­tion­al and safe day out on the water. We use pro­fes­sion­al local pho­tog­ra­phers on board our ves­sel with years of expe­ri­ence on the Ninga­loo Reef .They'll cap­ture images from both above and below the water and will have them uploaded to a Drop­box fold­er for you the fol­low­ing day. Pho­tos of your day with us are includ­ed in the tour price.

Take advan­tage of our 30 years of expe­ri­ence, swim­ming with Whale sharks and con­duct­ing marine tours on Ninga­loo Reef. We know that the very best com­pli­ment is a rec­om­men­da­tion from a friend or fam­i­ly mem­ber, so we invite you to read our reviews and then come and check us out for your­self. It will be an expe­ri­ence you won't ever forget.

Please Note: Our suc­cess rate is high, how­ev­er as we are work­ing with Moth­er Nature, we can­not guar­an­tee spe­cif­ic encoun­ters with all marine life but will do our very best to ensure that you expe­ri­ence the very best Ninga­loo Reef has to offer on your par­tic­u­lar tour day. This may mean that our return time may be a lit­tle lat­er than antic­i­pat­ed as we try to take advan­tage of sight­ing oppor­tu­ni­ties on the day. Sight­ing Guar­an­tee applies from start of the sea­son until the end of June.
Cancelling tour within 7 days prior to departure - 25% charge.
Cancelling tour within 48 hrs - 50% charge.
Cancelling Tour 24 hrs prior - No Refund
Kings Ningaloo Reef Tours accept no liability for personal illness such as seasickness and no refund will be given in this instance.
Tours are subjected to weather conditions and minimum numbers are required.