Kirei Pearl Accommodation Broome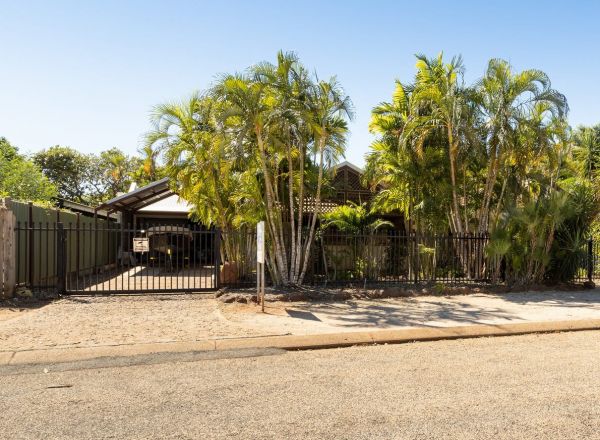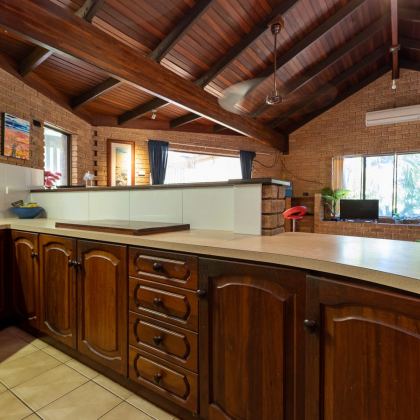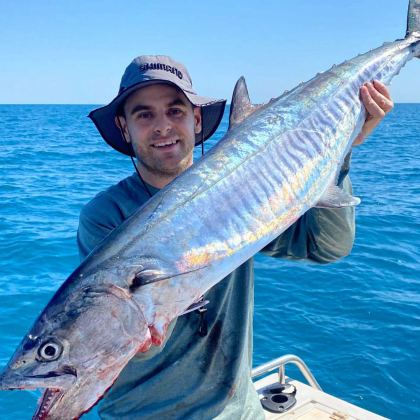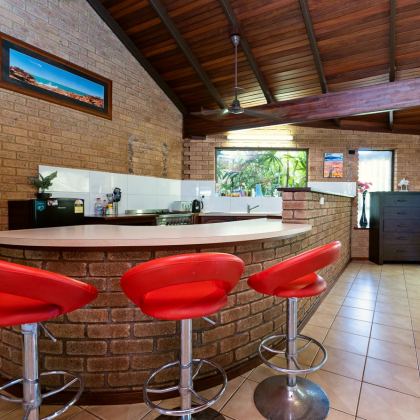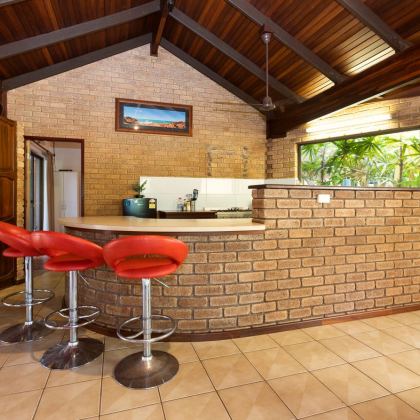 Check In: 14:00 | Check Out: 10:00
The Kirei Pearl B&B is a large lux­u­ri­ous­ly appoint­ed hol­i­day home that fea­tures Japan­ese inspired design ele­ments and crea­ture com­forts that will suit the most dis­cern­ing guests.
You will have access to five bed­rooms in total. Queen Bed­room #1 has a queen bed plus anoth­er sin­gle bed in an adjoin­ing room (sleeps three in total). Bed­rooms 2 and 3 have queen beds while bed­room 4 has twin sin­gles. We can com­fort­ably accom­mo­date nine guests at The Kirei Pearl. As a tra­di­tion­al Broome home it has gen­er­ous open plan liv­ing spaces while the all bed­rooms have full pri­va­cy, ceil­ing fans and are air-con­di­tioned. The large shady patio area con­tains state of the art out­door cater­ing and bar­be­cue facil­i­ties, is cooled by large ceil­ing fans and a below ground pool is set amongst a gor­geous trop­i­cal gar­den. It is only ten min­utes dri­ve (as the crow flies) from the famous Cable Beach at Gantheaume Point and is locat­ed cen­tral­ly to the to the main Broome shop­ping areas. This home is an absolute gem. Alter­na­tive­ly you can access Cable Beach at Zan­ders Restau­rant via an alter­na­tive route, Google map it for details.
Broome is one of Aus­trali­a's most pop­u­lar hol­i­day des­ti­na­tions and is locat­ed in Roe­buck Bay in the Kim­ber­ly region of West­ern Aus­tralia. It has a per­ma­nent pop­u­la­tion of almost 14,00 peo­ple which can dou­ble dur­ing the dry sea­son. It is the home of the Indige­nous Yawu­ru peo­ple who have lived here for over 50,000 years. Broome has a proud tra­di­tion of migrant assim­i­la­tion which start­ed with the pearling indus­try which was almost entire­ly dom­i­nat­ed by Japan­ese and Chi­nese pearlers, many who stayed to make Broome their home. Broome's trop­i­cal cli­mate laid back lifestyle con­tin­ues to draw tourists and fam­i­ly hol­i­day­mak­ers from not only Aus­tralia but all over the world. Broome's icon­ic and pop­u­lar Cable Beach is locat­ed just a ten minute dri­ve as the crow flies so be sure to catch a sun­set camel before you depart. The Kirei Pearl hol­i­day home is locat­ed cen­tral­ly and close to the many fea­ture local­i­ties and numer­ous craft and tourist shops. Step back into his­to­ry at the his­toric ​"fron­tier style" Roe­buck Bay Hotel where cold beer and music that rocks is always on tap. In addi­tion, Broome is a major hotspot for all types of fish­ing whether it is a mar­lin or sail­fish off­shore, a bar­ra­mun­di tak­en from a tidal creek or riv­er or just a fam­i­ly fish from the Broome jetty.
Linen is PROVIDED.
Rates, fees and avail­abil­i­ty sub­ject to final confirmation
Large Luxuriously Appointed Holiday Home
Room Configuration: House
Max Guests: 9
Bed­room 1 — Queen Bed Bed­room 2 — Queen Bed Bed­room 3 — Queen Bed Bed­room 4 — Twin Sin­gle Beds Bed­room 5(adjoins to Bed­room 1) — Sin­gle Bed. Linen is PRO­VID­ED. A Clean­ing Fee of $150 applies to your book­ing Please note that no par­ties or func­tions are allowed at this property.
SECURITY DEPOSIT/BOND (your cooperation and understanding is appreciated in advance)
We will not request a security deposit or bond when you arrive at Kirei Peal Accommodation. We trust that you will care for and respect your holiday home as you would if it were your own. We understand that if minor breakages occur they are usually seen as fair wear and tear and of no consequence. However, please be aware that the property may be inspected and the linen accounted for prior to your departure. To facilitate that please advise us of your departure time beforehand.
VISITORS
Visitors are not permitted to stay overnight and must be off the premised by midnight.
PETS (maximum of 2)
Dogs are permitted but are not allowed inside the house. Dog droppings shall be collected and disposed of by their owners.
POOL RULES
Children must be supervised by an appropriate adult at all times. The pool must not be used after 12PM.
NOISE/UNRULY BAHAVIOUR
The Kirei Pearl is located in a residential are. Therefore no unruly behaviour or excessive noise is permitted, especially after 10PM weekdays and 12PM on weekends. Please be considerate of your neighbours.
BED WETTERS (very important)
Please advise us prior to your arrival if a member of your group are liable to wet the bed. If so we can fit a protective cover to their mattress.
COVID
Please advise us if you or a member of your group is suspected of having Covid. If so we will do everything we can to ensure you still enjoy your holiday.