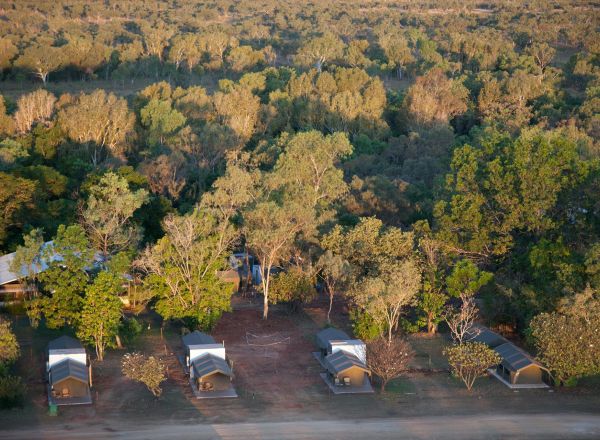 Mount Hart Wilder­ness Lodge offers an authen­tic home­stead expe­ri­ence off the Gibb Riv­er Road, pro­vid­ing accom­mo­da­tion and camping.
An Oasis on the Gibb Riv­er Road — Locat­ed in the heart of the Wunaamin Con­ser­va­tion Park, Mount Hart's prox­im­i­ty to many of the Kim­ber­ley major attrac­tions makes an ide­al base to explore the region.
Orig­i­nal­ly a work­ing cat­tle sta­tion, this unique prop­er­ty offers a rich pas­toral his­to­ry, exudes a rus­tic ambi­ence and offers excep­tion­al hos­pi­tal­i­ty. Set amongst beau­ti­ful gar­dens, our accom­mo­da­tion fea­tures com­fort­able dou­ble, twin and triple rooms with shared facil­i­ties and En-suite Safari Tent options.
En-Suite Safari Tents
Room Configuration: 1 Bedroom
Max Guests: 2
Queen Bed or twin beds Rate includes for din­ner, bed and breakfast
Blankets
Ensuite
non smoking indoors
Patio
Homestead Room
Room Configuration: 1 Bedroom
Max Guests: 3
Dou­ble bed and Sin­gle Bed in each room. Shared Bath­room facil­i­ties. Rate includes din­ner, bed and breakfast.
Air conditioned
Blankets
Ceiling Fan
Laundry Available
Linen Provided
non smoking indoors
Shared Bathroom
Single Beds
Camping
Room Configuration: Un-Powered Site
Max Guests: 6
Un Pow­ered Campsite
Cooking Facilities Limited
Open Fireplace
Outdoor Setting
Washing machine
Cancellation Policy:
If cancellation is made more than 61 days prior to arrival no fees apply. Cancellations must be
received in writing and will become effective as of the date of receipt by Mt Hart Wilderness
Lodge.
If cancellation is made within 60 days of arrival: cancellation of any rooms held incurs a loss of
full contracted room rate per room per night based on original booked dates.
Within 24 hours: full cancellation charge of booked meals applies.