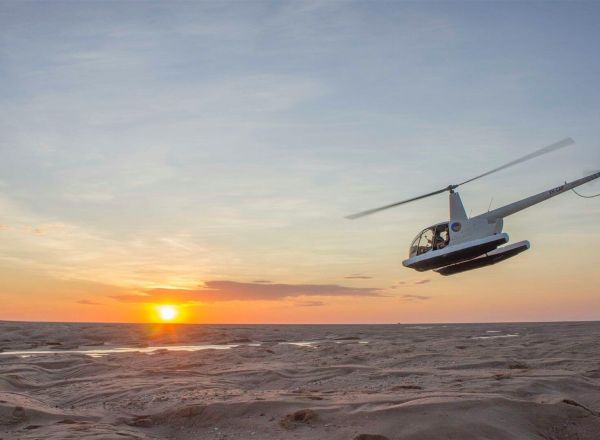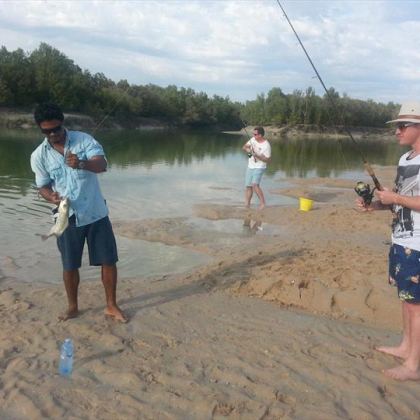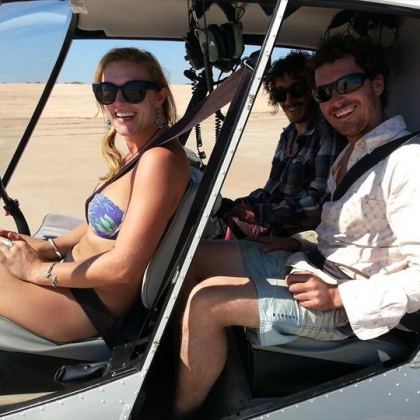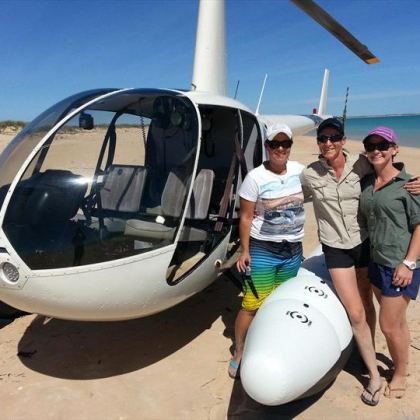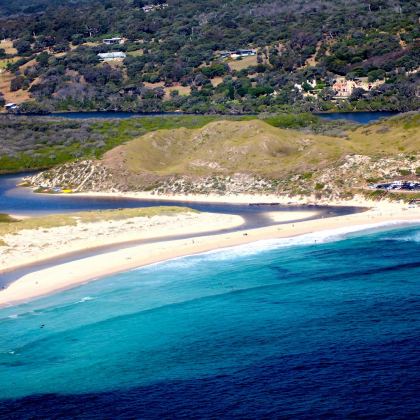 Hours: Margaret River Flights from mid-Oct to March / Broome flights from March to October
See the region in style with Scenic Heli­copters! From mag­i­cal Sun­set Flights to rugged Heli­fish­ing Adven­tures, Beach Romance Pack­ages, Wine Tours and more, there is some­thing for every­one to get excit­ed about!
Our goal at Scenic Heli­copters is to give you the most fun you can have in the sky. We pride our­selves in excep­tion­al­ly high qual­i­ty and per­son­alised ser­vice. All tours can be tai­lored as required.
A note on safe­ty: Relax! You are in safe hands. Our pilots are high­ly trained, and if required, will glide your heli­copter gen­tly and safe­ly to the ground. We even have float­ing skids, which facil­i­tate oper­a­tions over water and the soft­est of water landings!
See the entire stretch of this fan­tas­tic coast­line, from light­house to light­house, between Cape Leeuwin and Cape Nat­u­ral­iste! Fly over beau­ti­ful region­al land­marks includ­ing Duns­bor­ough, Bunker Bay, Moses Rock, Injidup Point, Cape Mentelle, Redgate Beach, Hamelin Bay and the Black­wood Riv­er to name just a few!

We can land along the way for refresh­ments or to stretch the legs and break up this fan­tas­tic route around the South West Cape! From calm gold­en beach­es in Geo­graphe Bay to windswept rocky ocean out­crops at Cape Leeuwin, Boranup For­est to Lake Cave and Canal Rocks, this flight has everything!
From $675 per per­son for a book­ing of 3
Or $825 per per­son for a book­ing of 2

Arrive in true rock­star style, with a tai­lored flight path via 4 crank­ing South West brew­eries, enjoy­ing the best tast­ings on offer at each, and an indul­gent lunch en route!
Sit back, relax and let us show you a per­son­alised and super fun ser­vice as you expe­ri­ence the very best way to see the region (by heli­copter of course!) and the finest selec­tion of local beers and banter.
This tour will take approx­i­mate­ly 5 – 6 hours, includ­ing tast­ing stops of approx­i­mate­ly 1 hour at each loca­tion and lunch along the way. You will be treat­ed to an eye-open­ing flight over Mar­garet River's rugged coast­line and obtain a fan­tas­tic per­spec­tive, with the entire Cape becom­ing vis­i­ble from above.
Brew­eries you can choose from:
Colo­nial Brew­ery, Cow­aramup Brew­ery, Boot­leg Brew­ery, Grove Dis­tillery, Beer Farm, Cheeky Mon­key Brew­ery, Eagle Bay Brew­ery (upgrade).
Total fly­ing time ~ 1hr.
Upgrade to include extra fly­ing time (~30mins) and Eagle Bay Brew­ery with North Cape Beach­es and a loop around Cape Nat­u­ral­iste at 2000 feet!
Take the doors for even more excitement?
Pric­ing $645 per per­son (3 guests), $825 per per­son (2 guests). Eagle Bay / Cape Nat­u­ral­iste upgrade $500 total. For addi­tion­al guests, spe­cif­ic pref­er­ences, or to arrange heli­copter col­lec­tion from your accom­mo­da­tion, please request a quote via our con­tact form, many thanks! :)
A great val­ue flight, allow­ing pas­sen­gers to over­fly beau­ti­ful coun­try­side and land­marks includ­ing Ellen­brook House, Cape Mentelle, River­mouth, Surfer­'s Point and Lake Cave. You'll see farm­land, for­est, coast and winer­ies all in the one flight!
From $175 per per­son for a book­ing of 3
From $225 per per­son for a book­ing of 2

A percentage refund will be afforded to cancellations made prior to 24hrs before departure (50%) 1 week (75%) or one month (100%) excluding any deposit.