Bart Pigram & Friends presents Voices of Broome
Join us for Bart Pigram & Friends presents Voices of Broome

Bart Pigram, founder of Narlijia Experiences Broome, will host five evenings of culture and history at Matso's Broome Brewery. Share in the songs and stories of Broome, as Bart takes you on journey through ancient and modern Yawuru culture.

With the support of Tourism Western Australia, we are pleased to invite you to attend this free event that is sure to entertain, educate and engage you. Bart is one of Broome's best storytellers.

Bart will be joined by family and friends for a musical performance at the conclusion of the cultural presentation.
Read more below about Bart's business Narlijia Experiences Broome.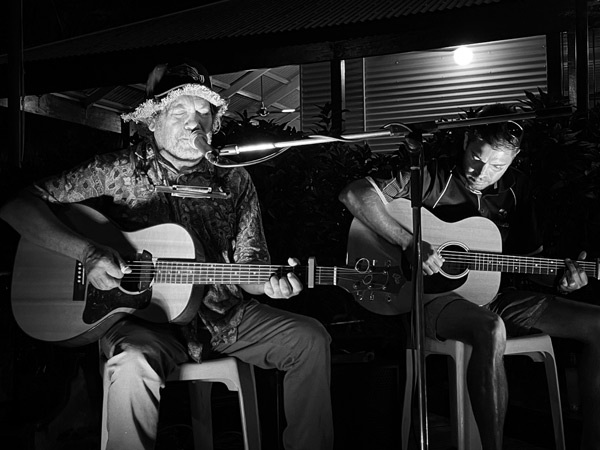 Last Show
Wednesday 9th June
6pm - 8pm

Facebook event here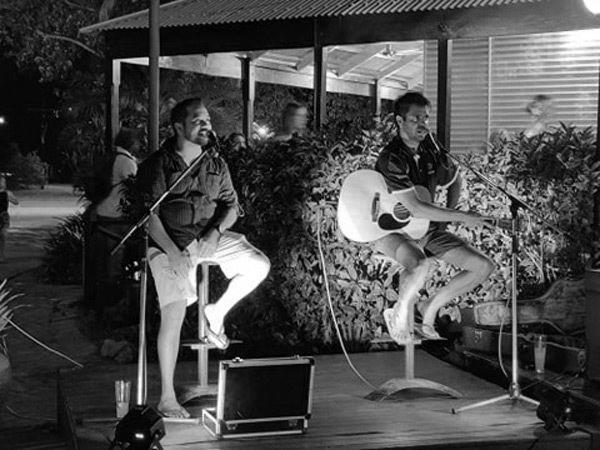 ABOUT BART PIGRAM AND NARLIJIA EXPERIENCES BROOME
In the local Yawuru language 'Narlijia', means 'True for you'.
Bart Pigram is a Yawuru man from the West Kimberley region of northwest Australia. Born and bred in Broome Bart has a passion for telling the complete story of life in Broome. Drawing on knowledge gained from living a saltwater lifestyle as well as professional training as a curator Bart started Narlijia Tours in 2015. Narlijia means 'true for you' in the Yawuru (Australian Aboriginal) language reflecting Bart's wish to tell the 'entire' story sharing his Aboriginal and multicultural perspective first hand.
Being part of the large Pigram-Puertollano family Bart belongs to a long tradition of pearling workers and musicians. This heritage enables Bart many rich and fascinating stories of life around the beautiful turquoise waters of Roebuck Bay, Broome.
Join Bart, a natural entertainer, on one of his unique tours of Broome and the Bay and see the country and lifestyle from his unique perspective including Dampier Creek and the rich pickings in the mangrove forests and on the jabalbal (mudflats).
Bart offers a range of cultural tours and experiences, including the popular Mangrove Discovery Experience. All of Bart's tours are able to be booked in person at the Broome Visitor Centre, online at visitbroome.com.au or directly on his website.
FOR TOUR ENQUIRIES
Narlijia Experiences Broome
(08) 9195 0232
Email
Follow Bart on Instagram and Facebook

ABOUT THE VENUE: MATSO'S BROOME BREWERY

Matso's is an iconic, award winning Broome venue. Located in an idyllic location, with beautiful large verandah and expansive courtyard, it is close to Roebuck Bay, the location that will feature heavily in Bart's cultural and historical presentation. With a wide variety of beverages, including the famous range of craft beers such as Mango and Ginger beer, there is also a wonderful food menu to choose from.

The Matso's menu features the beers throughout, whether as a food match or infused in the dish, with the chefs working hard on that perfect balance of flavours. The chefs have also created a tasty share plate menu (the fritters are delicious), full of local produce that visitors and locals all enjoy.

Matso's also have a new food offering in the outdoor area called Fumiko, Japanese Food Truck.
Awards:
2012 WA's Best Regional Venue 2012
WA's Best Marketed Venue Award
2011 WA's Best Boutique Brewery Award


Matso's Broome Brewery
08 9193 5811
60 Hamersley St, Broome.
Website: matsos.com.au
7 days a week from 7 am till late
Follow Matso's on Instagram and Facebook







ABOUT THE BROOME VISITOR CENTRE
Enquiries regarding these events or tour bookings for Narlijia Experiences Broome:
Broome Visitor Centre
(08) 9195 2200
1 Hamersley St, Broome
Email
Follow us on Facebook and Instagram

Opening hours:
Monday - Friday 8.30am - 4.30pm
Saturday - 8.30am - 1.30pm
Thanks to Tourism Western Australia
An exciting addition to the events we host in beautiful Broome - be sure to add to your calendar!