The town of Wyndham is located on the Great Northern Highway, just over one thousand kilometres northeast of Broome. Established in 1886, it is a working port and service centre for the East Kimberley. With two hotels, a caravan park and an airport, it is also known as Australia's hottest town (highest year round average temperature).
Wyndham lies on Duulngari country. The town has been shaped by Aboriginal, Chinese, Afghan, and English influence. Wyndham has a rich cultural history, and is a fascinating town to visit.

The King, Pentecost, Durack, Forest and Ord rivers merge near Wyndham providing a beautiful, natural location that is surrounded by salt lakes, desert, mudflats and rocky ranges. The Five Rivers Lookout offers dramatic views.
The town has an interesting history, from early beginnings back in the days of the short-lived gold rush at Halls Creek to the present day, where it appeals for being an isolated, outback town - the northernmost town in the Kimberley. The old courthouse and museum are interesting to visit and the Bastion lookout is great for those who love amazing scenery.
The original town site (Wyndham Port) sits on the Cambridge Gulf and the residential area is located in the Three Mile area (Wyndham East). Local industries include livestock export, mining, tourism and crocodile farming.
Wyndham offers amazing landscapes, you can visit the Big Crocodile, great fishing, Warriu Dreamtime Statues, Parry's Lagoon Nature Reserve, Telegraph Hill, Anthon's Landing Jetty and nearby is the Prison Boab Tree (a popular tourist location).
ROAD CONDITION REPORTS
The Shire of Wyndham / East Kimberley Road Conditions page provides a list of current known road conditions and closures in the region. This is updated frequently during major weather events and on an as-needed basis at other times.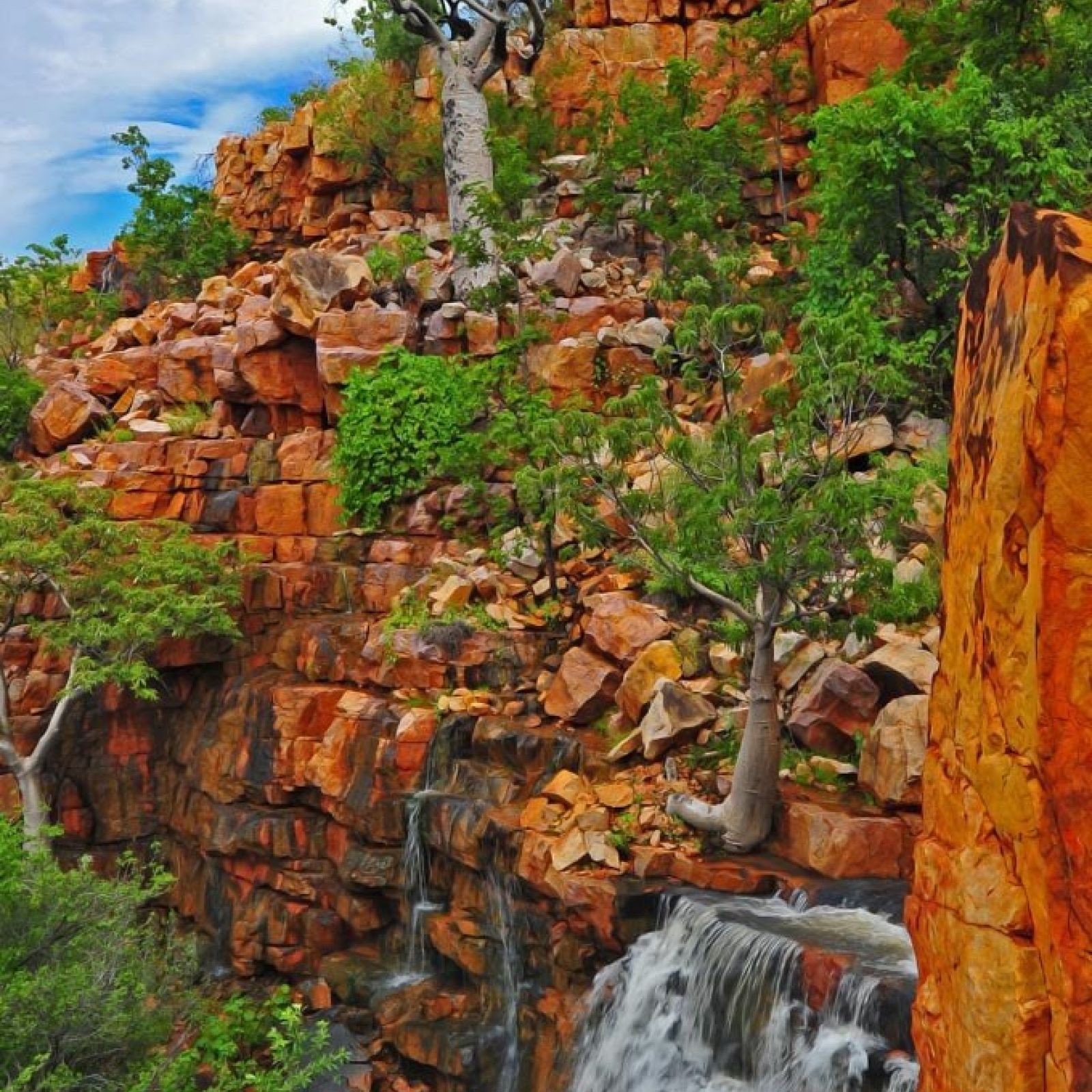 The Grotto
Located 36 km south on the Great Northern Highway to Kununurra, The Grotto (signposted at Grotto Road) is a cool and watery amphitheatre. Staircases carved out of the rock lead to a quiet water hole oasis.

Photo by: Penney Hayley