The Broome Visitor Centre has had to very sadly close its doors as of last night Thursday 26th 2020. Please note that we will be tirelessly working by phone and email to service your needs. So all enquiries and information on your bookings will be dealt with as soon as we possibly can. The latest State and Commonwealth Govt advice yesterday is that all four local Govt regions across the Kimberley will have restricted access and only essential services or supplies and or if you have been quarantined for 14 days from the general public will be allowed to enter the Kimberley region from 9pm last night.
Please all stay safe and stay well out there and strictly follow all Govt advice and updates. We will keep you updated as more advice is issued, and we trust and use only Government as the true source of information. We miss all our visitors and travellers, but we will be here ready and waiting for your next visit to our amazing region. Wishing everyone our best wishes from Broome and the Kimberley.
Broome Visitor Centre
What would you like to discover?
Select an area to explore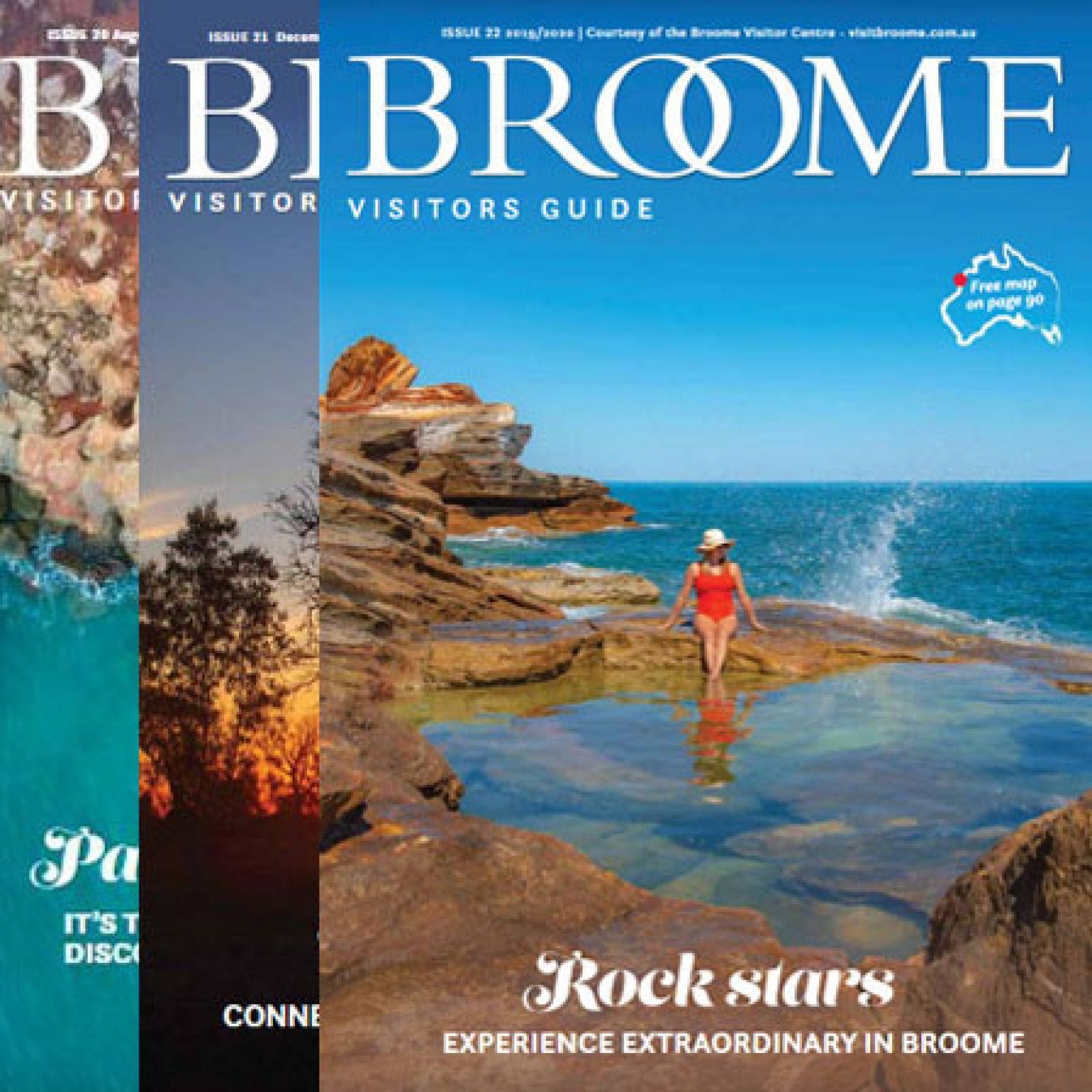 Broome Visitors Guide
Our stylish magazine is filled with interesting articles about Broome and the Kimberley. Discover where to eat, shop and relax when you visit Broome.
Discover the North-West & Coral Coast
Australia's North West covers regions such as the Kimberley, Broome, the Dampier Peninsula and the Pilbara. Covering one million square kilometres, the North West has striking landscapes, billions of years of history, Indigenous culture and outback experiences to remember. After experiencing the best of the North-West, we can guide you south into the Gasgoyne / Coral Coast region. Visit Exmouth, the UNESCO world heritage areas of Shark Bay and the Ningaloo coast (one of the longest near-shore reefs in the world), Denham, Monkey Mia and Kalbarri!