Broome Visitor Centre
What would you like to discover?
Select an area to explore
Changes to Western Australia's border arrangements
As of Saturday, 14 November, WA transitioned to a safe and sensible controlled border arrangement based on the latest public health advice.
WA's existing hard border arrangements and current exemption requirements for travel have been removed, allowing Australians to travel into and around WA, subject to conditions of entry. Remote Aboriginal community restrictions and Residential Aged Care Facilities Restrictions within WA are still in place, as well as a modified 2 square metre rule.

To register your travel, visit G2G PASS. You must complete this before travelling.
Last updated: 9 January 2021 at 12:01am
Based on the recent COVID-19 outbreak in Queensland, there is updated health advice regarding travel from QLD into WA.
For more information see the Controlled interstate border page.
Restricted Travel in remote Aboriginal Communities (COVID-19)
The coronavirus (COVID-19) has the potential to do great harm to the Kimberley's 221 remote Aboriginal communities.
Aboriginal people living in remote areas are more at risk of serious illness from the coronavirus than other people.
If the coronavirus gets into an Aboriginal community, it is likely to spread quickly and make residents very sick.
To help protect our Aboriginal communities, there are strict travel restrictions in place.
Fines of up to $50,000 may apply to anyone who breaches the restrictions.
Only some Aboriginal communities are excluded from the restrictions.

Read more, find out which areas are open and closed, including maps and government information >
Fly between Perth and Broome from $199 one-way!
Historic regional flights deal lands 50,000 tickets for WA's north
The biggest regional flights deal in Western Australian history has been launched, with 50,000 affordable airfares between Perth and Broome, Kununurra and Exmouth on sale now. The partnerships between the State Government, Virgin Australia and Qantas will deliver a vital economic boost to the northern WA tourism regions who were hardest hit by COVID-19. The partnership with Virgin Australia will allow travellers to fly between Perth and Broome from $199 one-way between November 2, 2020 and October 30, 2021.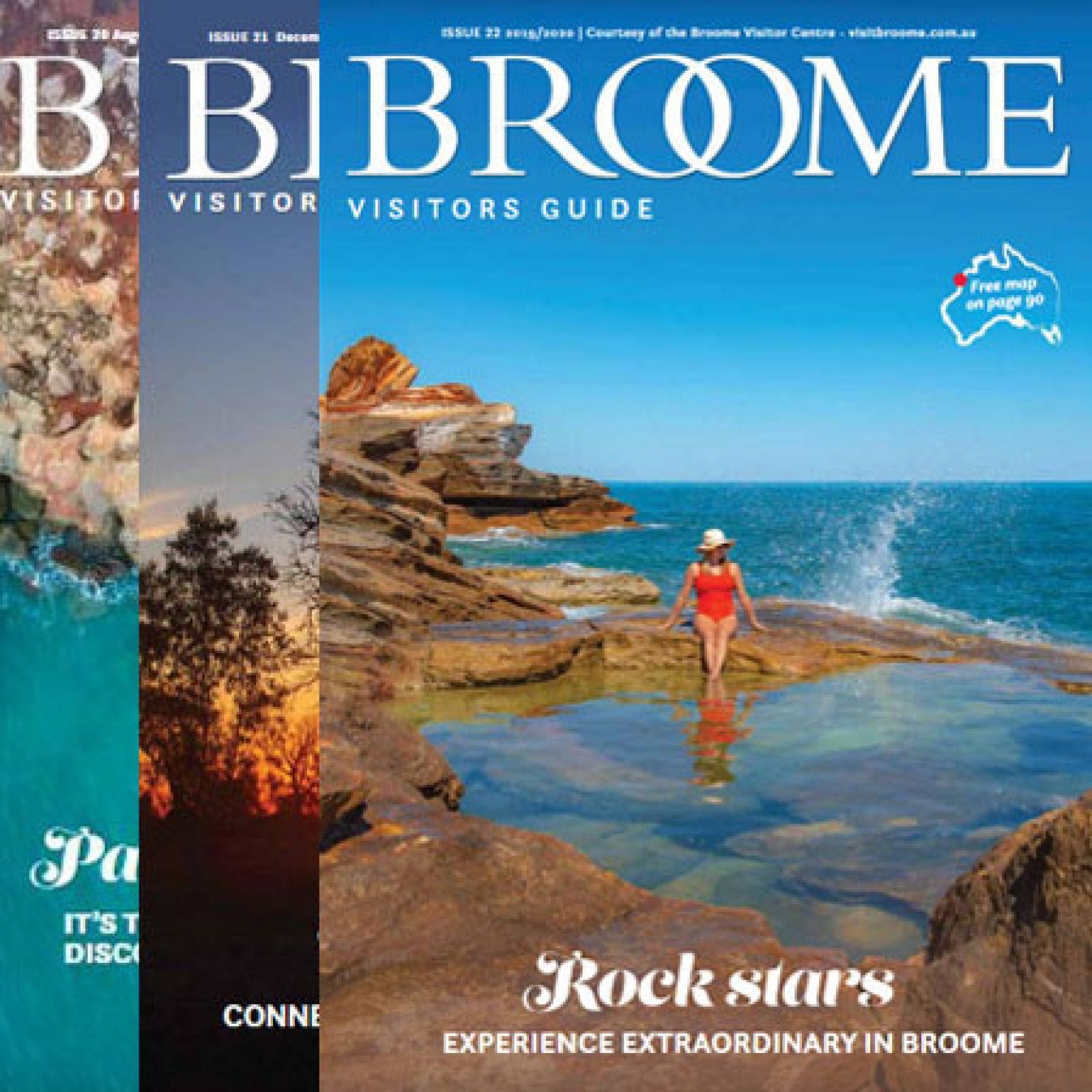 Broome Visitors Guide
Our stylish magazine is filled with interesting articles about Broome and the Kimberley. Discover where to eat, shop and relax when you visit Broome.
Discover the North-West & Coral Coast
Australia's North West covers regions such as the Kimberley, Broome, the Dampier Peninsula and the Pilbara. Covering one million square kilometres, the North West has striking landscapes, billions of years of history, Indigenous culture and outback experiences to remember. After experiencing the best of the North-West, we can guide you south into the Gasgoyne / Coral Coast region. Visit Exmouth, the UNESCO world heritage areas of Shark Bay and the Ningaloo coast (one of the longest near-shore reefs in the world), Denham, Monkey Mia and Kalbarri!