Broome Visitor Centre
What would you like to discover?
Select an area to explore
The Broome Visitor Centre can help you plan your Broome holiday - talk to us today!

Our friendly staff have local knowledge, experience and offer free booking services and itinerary planning assistance.
We invite you to explore Broome, the gateway to the Kimberley in Australia's North West. Broome holiday? Broome tour? Broome trip? We can help.
The colours and vastness of the Broome and Dampier Peninsula landscape, the ancient stories, our natural environment and the fusion of different cultures make Broome a place you will want to revisit again and again.
Not sure where to start when planning a holiday in Broome? Ask us for friendly, local advice when selecting your accommodation and for assistance to book your Broome tours. Our friendly staff have decades of local knowledge, experience and offer free booking services and itinerary planning assistance.

Browse our website for things to do in Chinatown, Cable Beach, Dampier Peninsula, Town Beach, Broome and beyond.

Book your Broome accommodation online for the perfect Broome stay. When you book with us, you are booking with the local visitor centre and assisting us to continue to support tourism in Broome.
Discover Broome's culture, ancient and recent history, First Nations tours, indulge in some retail therapy at our pearl and jewellery showrooms, art galleries and dine at beautiful Broome restaurants.
The Broome Visitor Centre represents over 300 local members and has provided information and booking services to visitors to Broome for over 46 years.

Broome Visitor Centre Opening Hours - December 2023

Ngaji gurrjin! (hello) Welcome to Yawuru country.
The Yawuru (pronounced Ya-roo) people are the native title holders of Broome (Rubibi) and surrounding areas.
As the custodians of our lands and seas, we welcome you to Broome (Rubibi). A welcoming of people onto country is culturally important to Yawuru people to sustain mabujunu liyan (good feeling) between our visitors and Yawuru people. We trust that you will all have a great time and enjoy the physical environment and cultural richness of the Broome area. We wish all visitors a safe and welcoming stay in Yawuru country.

Warany-jarri liyan yargarrgi. In Yawuru this means to agree with one spirit, one feeling and one mind. We believe once you have visited Broome, you will experience this spirit; this feeling and hold it always in your heart.
Galiya! (goodbye; see you soon)!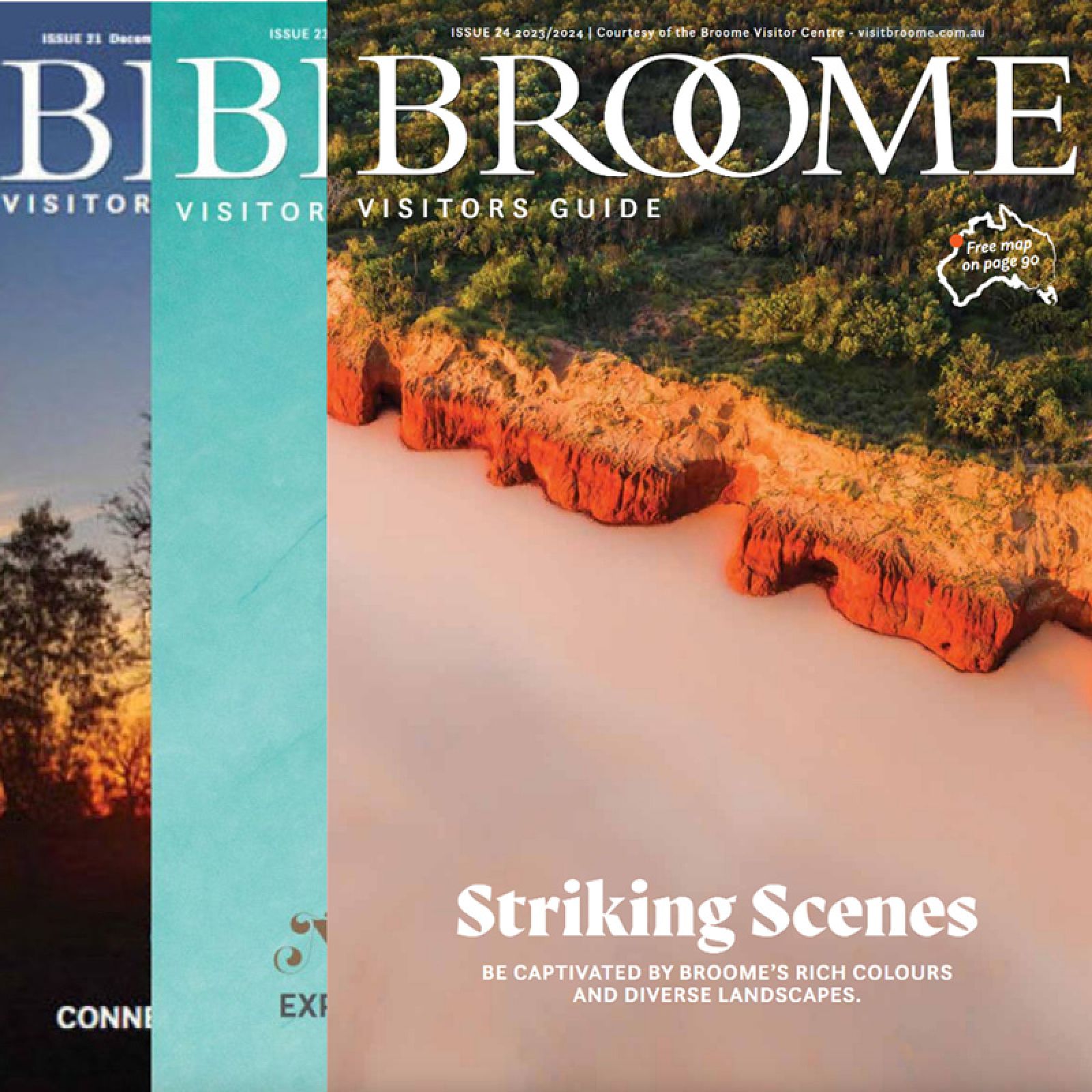 Broome Visitors Guide
Our stylish magazine is filled with interesting articles about Broome and the Kimberley. Discover where to eat, shop and relax when you visit Broome.
Discover the North-West & Coral Coast
Australia's North West covers regions such as the Kimberley, Broome, the Dampier Peninsula and the Pilbara. Covering one million square kilometres, the North West has striking landscapes, billions of years of history, Indigenous culture and outback experiences to remember. After experiencing the best of the North-West, we can guide you south into the Gasgoyne / Coral Coast region. Visit Exmouth, the UNESCO world heritage areas of Shark Bay and the Ningaloo coast (one of the longest near-shore reefs in the world), Denham, Monkey Mia and Kalbarri!