Staircase to the Moon Dates
Staircase to the Moon is a natural phenomenon which occurs when a full moon rises over the exposed tidal flats of Roebuck Bay. The Staircase to the Moon happens 2 - 3 days a month between March and October. Staircase to the Moon markets at Town Beach are held from 4pm to 8pm on selected dates. Here you can sample local produce, buy hand made products, a variety of international food, and enjoy the sounds of local entertainers. Another popular spot to view the event is The Mangrove Hotel Resort, with live entertainment every Staircase night.

Thanks to Greg Quicke, from Astro Tours for kindly providing these dates. Visibility may vary depending on the local weather, tides, sunset and moonrise.

Find out more about the Staircase to the Moon Night Market.

2022 Staircase to the Moon Dates
| July 2022 | August 2022 |
| --- | --- |
| Thursday 14th 6.07pm (Staircase Market 4-8pm) | Friday 12th 5.58pm (Staircase Market 4-8pm) |
| Friday 15th 7.15pm | Saturday 13th 7.01pm |
| Saturday 16th 8.19pm | Sunday 14th 8.00pm |
| September 2022 | October 2022 | November 2022 |
| --- | --- | --- |
| Sunday 11th 6.40pm (Staircase Market) | Monday 10th 6.17pm (Staircase Market) | Wednesday 9th 6.50pm |
| Monday 12th 7.36pm | Tuesday 11th 7.11pm | Thursday 10th 7.45pm |
| Tuesday 13th 8.30pm | Wednesday 12th 8.06pm | Friday 11th 8.40pm |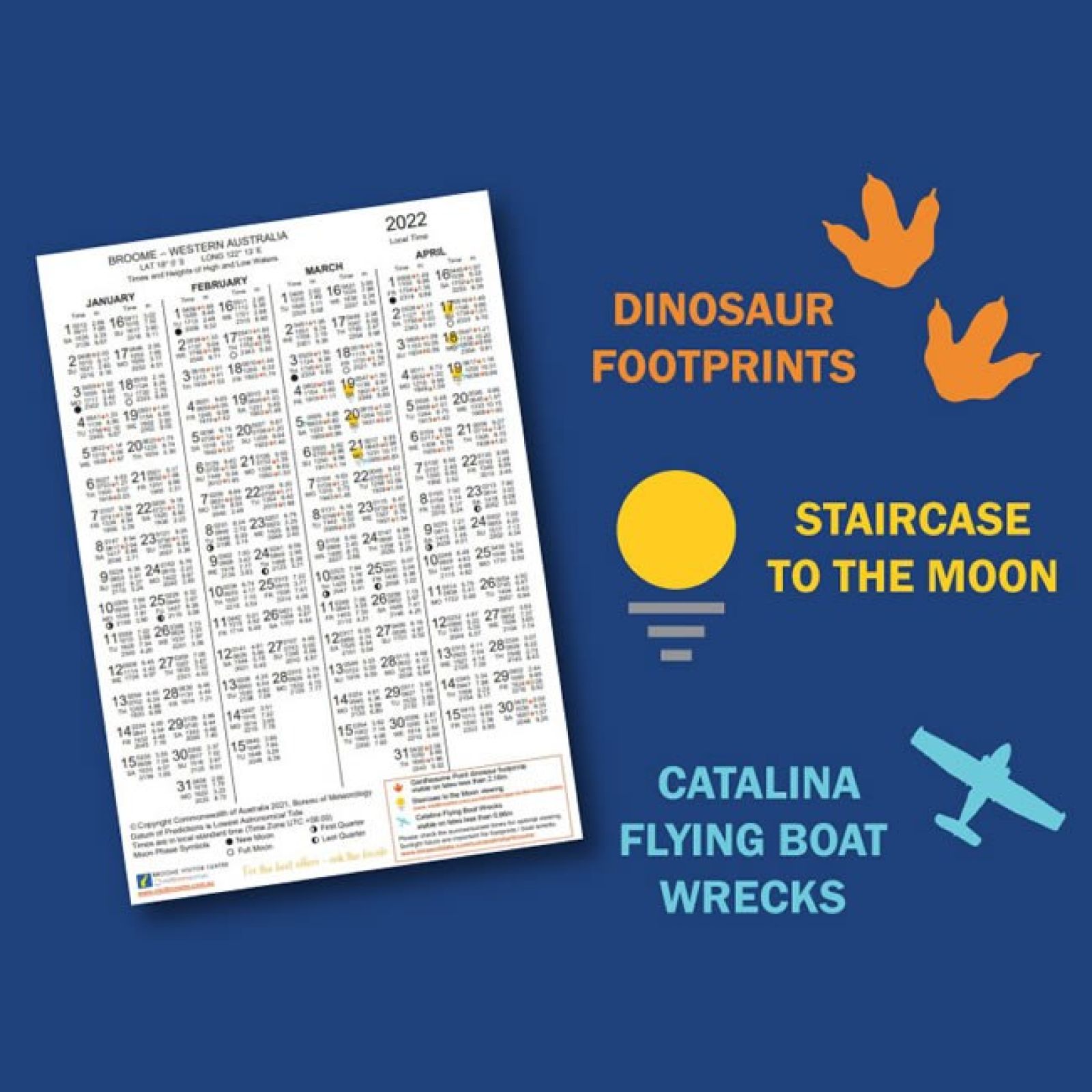 Special dates and Tides - Staircase to the Moon, Dinosaur Footprints and Flying Boat Wreck dates...
We have created a special dates document that is marked with all of the Staircase to the Moon dates, dates the Gantheaume Point Dinosaur Footprints are visible (on tides less then 2.16m) and the Catalina Flying Boat Wrecks (visible on tides less than 0.86m).
This product is based on Bureau of Meteorology information that has subsequently been modified. The Bureau does not necessarily support or endorse, or have any connection with, the product. In respect of that part of the information which is sourced from the Bureau, and to the maximum extent permitted by law: (i) The Bureau makes no representation and gives no warranty of any kind whether express, implied, statutory or otherwise in respect to the availability, accuracy, currency, completeness, quality or reliability of the information or that the information will be fit for any particular purpose or will not infringe any third party Intellectual Property rights; and (ii) the Bureau's liability for any loss, damage, cost or expense resulting from use of, or reliance on, the information is entirely excluded.
2023 Staircase to the Moon Dates
| March 2023 | April 2023 | May 2023 |
| --- | --- | --- |
| Wednesday 8th March 6.50pm | Friday 7th April 6.34pm | Saturday 6th May 5.53pm |
| Thursday 9th March 7.23pm | Saturday 8th April 7.13pm | Sunday 7th May 6.42pm |
| Friday 10th March 7.57pm | Sunday 9th April 7.58pm | Monday 8th May 7.37pm |
| June 2023 | July 2023 | August 2023 |
| --- | --- | --- |
| Monday 5th June 6.26pm | Tuesday 4th July 6.20pm | Wednesday 2nd August 6.15pm |
| Tuesday 6th June 7.31pm | Wednesday 5th July 7.29pm | Thursday 3rd August 7.21pm |
| Wednesday 7th June 8.38pm | Thursday 6th July 8.35pm | Friday 4th August 8.23pm |
| Late August /Sept 2023 | Late Sept / Early Oct 2023 | Late October 2023 |
| --- | --- | --- |
| Thursday 31st Aug 6.03pm | Saturday 30th Sept 6.45pm | Sunday 29th Oct 6.26pm |
| Friday 1st Sept 7.05pm | Sunday 1st Oct 7.45pm | Monday 30th Oct 7.28pm |
| Saturday 2nd Sept 8.05pm | Monday 2nd Oct 8.45pm | Tuesday 31st Oct 8.29pm |