Broome offers some of the most amazing sunset cruises in Western Australia.
Depending on the time of year, the sunsets in Broome provide a magical backdrop for you to relax, unwind and enjoy being out on the water. Whether your cruise departs from Cable Beach or Roebuck Bay, you will see the colours of the Kimberley coastline are like no where else. Pindan and turquoise, blues and pristine white sand - we have it all in Broome. These boating experiences will be a fond highlight of your time in Broome.
Book your Broome sunset cruises with the Broome Visitor Centre. We can also answer any questions you might have about the different tour options and check availability for you (or you can book online with the our members below).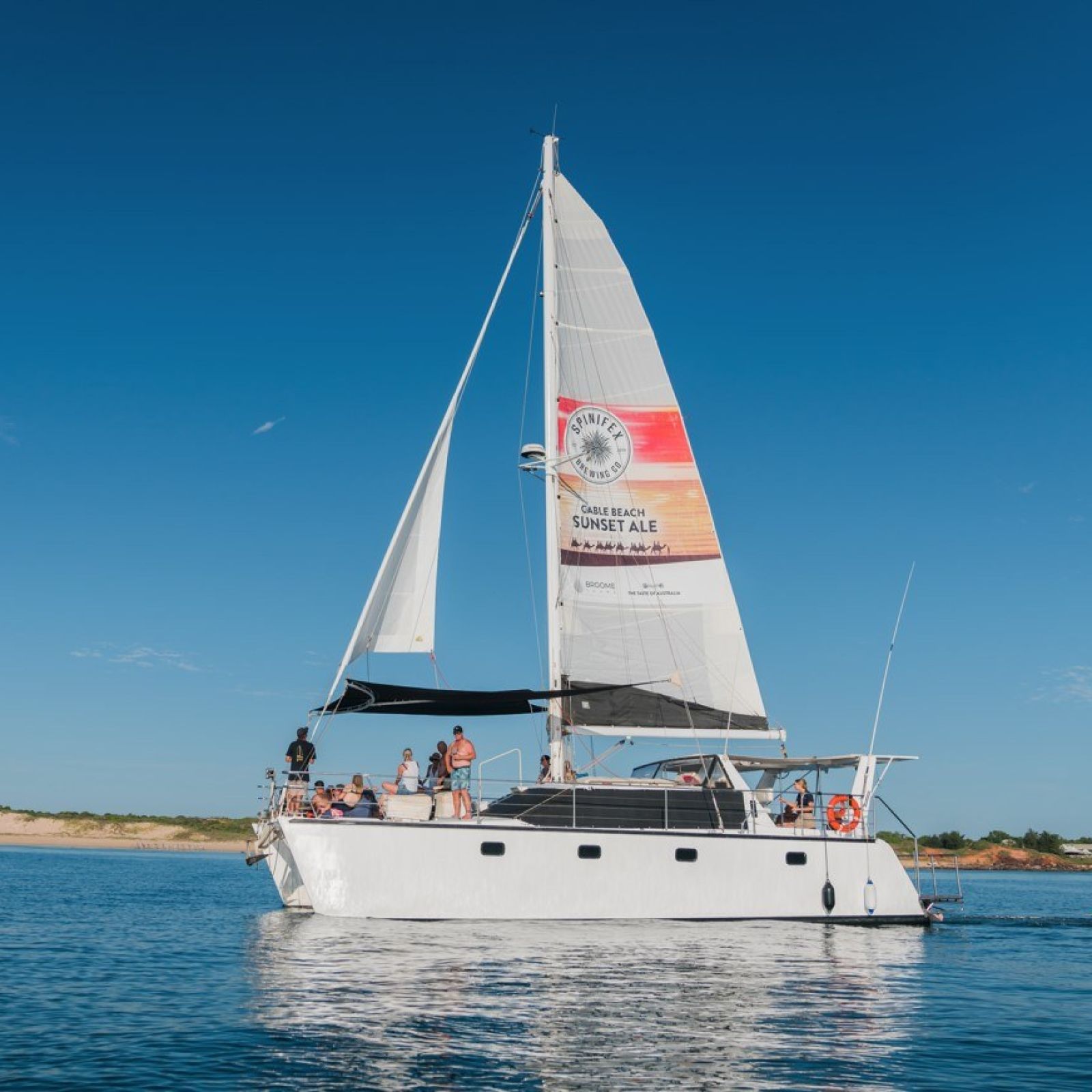 Sunset Cruise with Broome Tours
Cruise or sail along the pristine coastline, jump into our boom net to cool off or simply relax and take in Broome's unique ambiance with a cocktail in hand.

Meet our friendly team as they treat you to delicious complimentary canapés on board 'Ballena'. A selection of chilled alcoholic beverages including beer, wine and cocktails available for purchase from our licensed bar.
To make your cruise with us completely stress free, we will pick you up in our courtesy bus from your accommodation and give you a brief tour and history on route to the beach. Once there, you will be able to kick off your shoes and feel the beautiful sand of Cable Beach, and wet your feet in the warm Indian Ocean as you make your way to our waiting tender, which will transfer you to 'Ballena' for your afternoon on the water.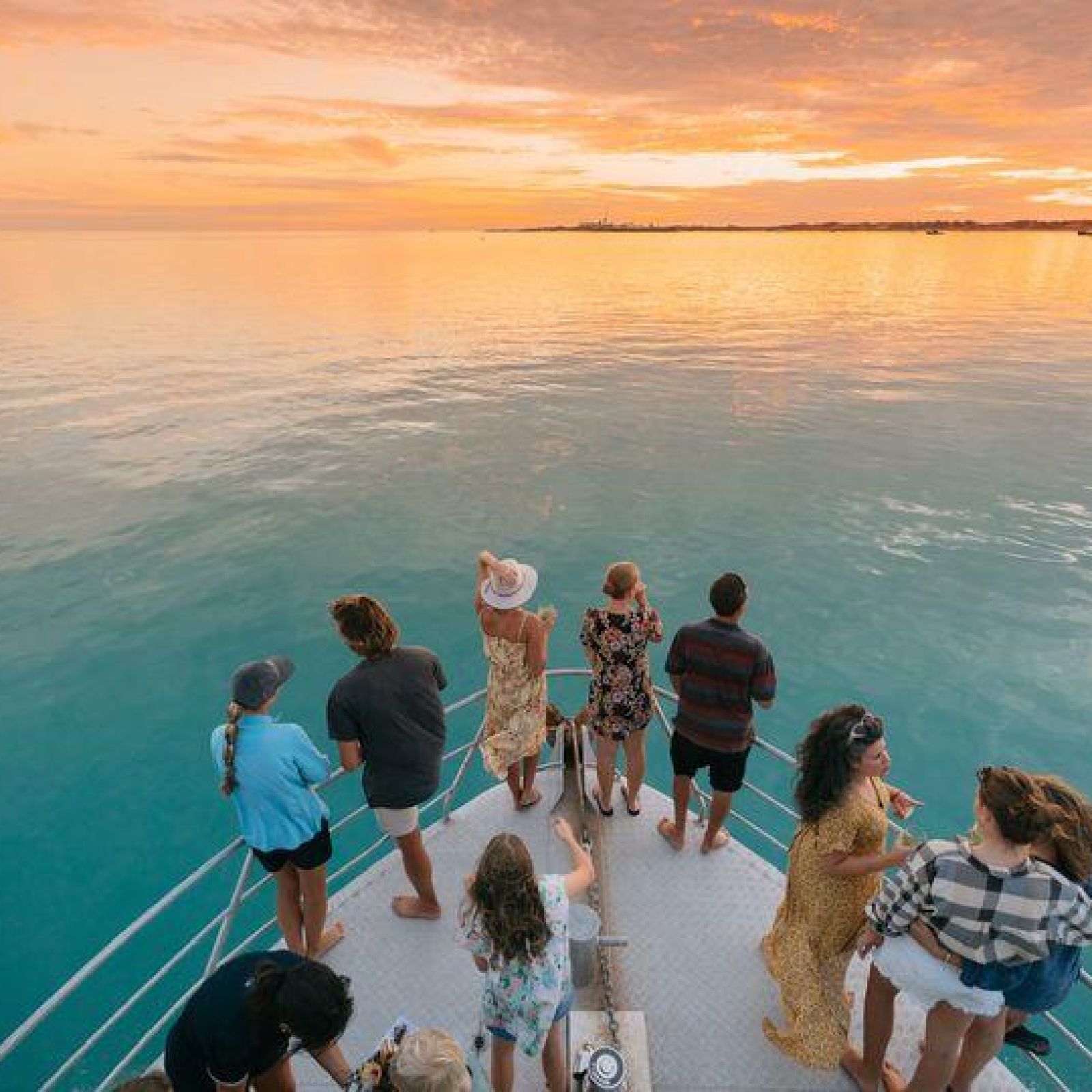 Roebuck Bay Sunset Snubfin Dolphin Cruise with Absolute Ocean Charters
Soak up the scenery in comfort and as we cruise along Gantheaume Point, Reddell Beach, Entrance Point and into Roebuck Bay, learning about the biodiversity of fauna & flora in the area. Spot wildlife such as Snubfin dolphins, Indo Pacific Dolphins, turtles, sea snakes, Manta rays, shore birds and Dugong!
Our qualified marine biologist will be your host on board, providing informative commentary throughout the afternoon. Discover historical sites and landmarks of Broome and get a glimpse of the coastline's history dating back to the days of the dinosaurs!
Enjoy complimentary appetisers, water, soft drinks, tea & coffee, and a refreshing drink from our licensed bar. This eco cruise finishes with a beautiful sunset over the water. Tours operate daily from March to December (weather permitting). The Sunset Cruise goes from 3pm to 6pm, times may vary slightly depending on sunset times. Return transfers are provided from all Broome accommodation. You may meet at the departure point if preferred.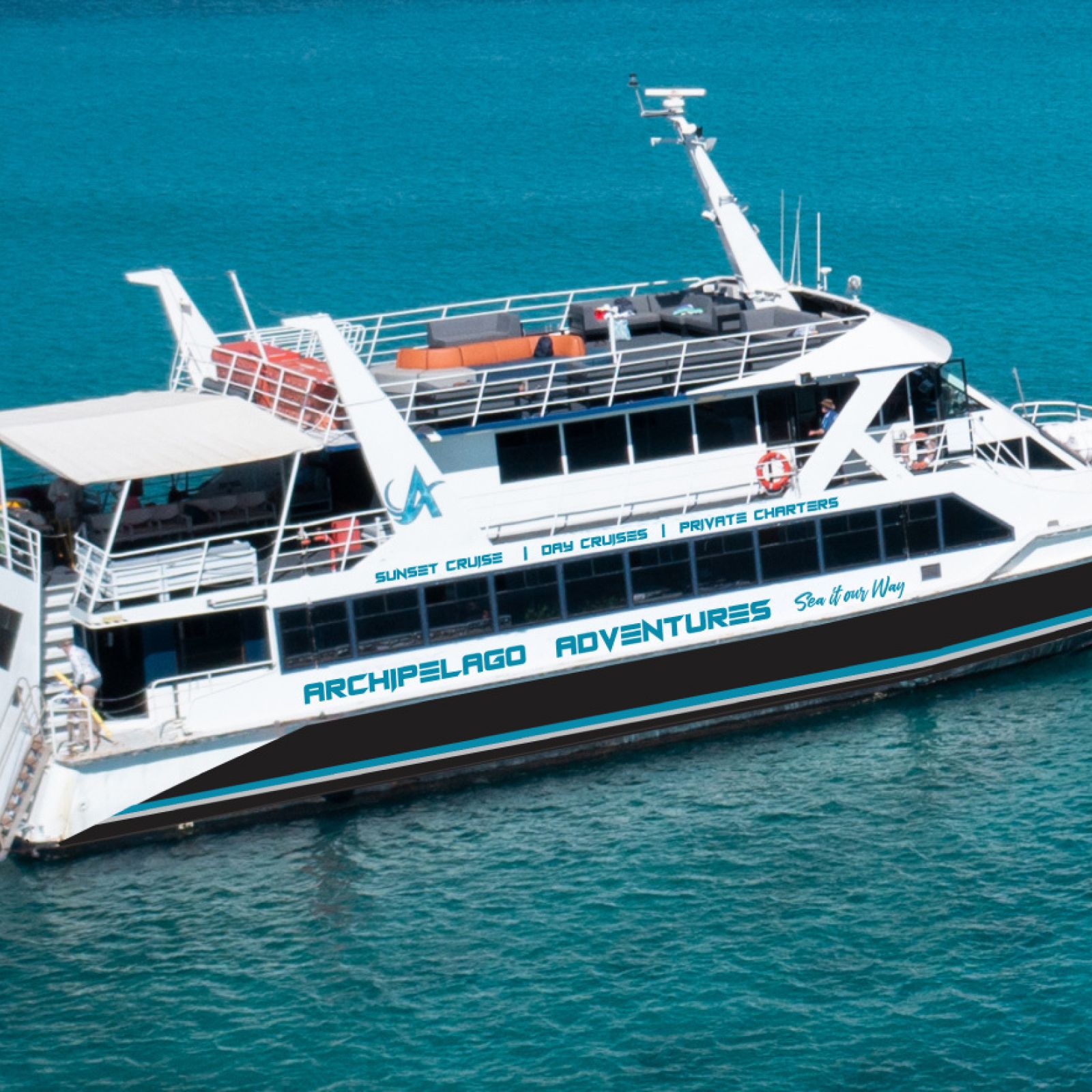 Broome Sunset Cruises with Archipelago Adventures
Watch the sun set and the stars begin to shine on a sensational Broome Sunset Cruise with Archipelago Adventures!
Activities in Broome don't get much better than a sunset cruise aboard a 25- metre catamaran! Step on board and experience the panoramic views of the famous Broome sunset from the ocean and watch Cable Beach come alive with a kaleidoscope of colours.
Our "big cat" is noted for her stable ride and huge deck space, at 10 metres wide and three spacious decks there is plenty of space to sit and relax in comfort. You can choose your level of adventure, feel the wind in your hair on the sun deck, take a sheltered seat in the airconditioned main deck or kick back and enjoy panoramic views from the alfresco lounge on the mid-deck. The boat is well equipped with all the comforts including hotel style amenities required for an evening out on the water and our crew are there to make sure your experience is fun and comfortable.
Wednesday and Friday our on-board chef will serve up fantastic cheese boards to get you started followed by an amazing selection of canape's. On Fridays we raise the volume a little with our resident DJ pumping out party tunes on the mid-deck where there's plenty of room to boogie or you can just lounge about on the sun deck.
Saturday is our Themed Dinner Cruise that offers a sensational gourmet buffet, plus chef's mouth-watering desserts. We cater for everyone, so you won't be disappointed - plus we have live entertainment by either a duo or solo artist.
This experience is a great combination of fun, leisure, a little adventure and stunning scenery.
We look forward to welcoming you aboard Archipelago Adventures on your next Broome cruise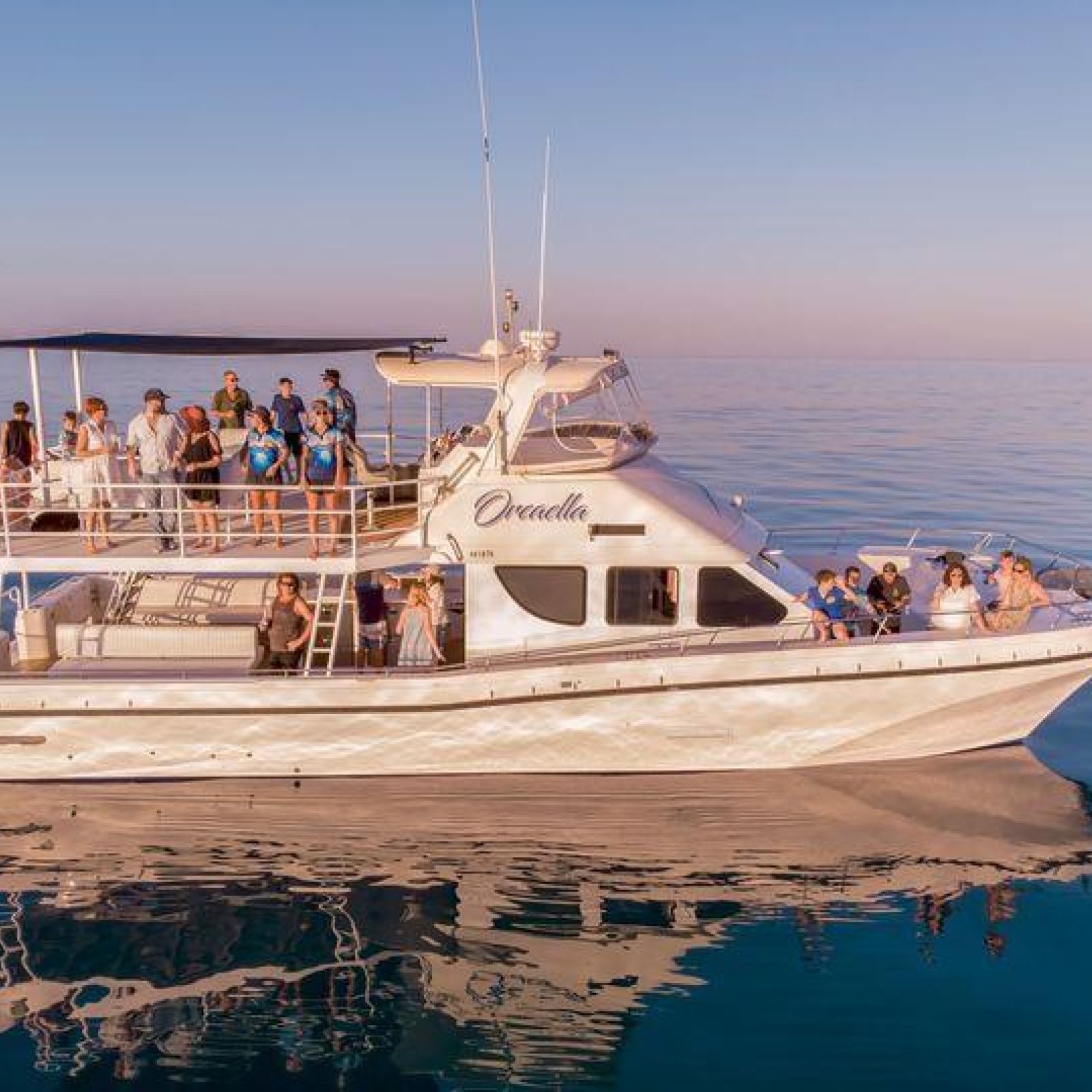 Sunset Cruise with Broome Whale Watching
Looking for something fun and relaxing for your afternoon in Broome? Why not enjoy a sunset cruise through the beautiful waterways of Broome with our welcoming crew? Jump into the boom net for a swim or relax onboard as we treat you to some delicious treats. You are welcome to BYO drinks or purchase from our bar on board. Listen to some chilled music as we top up your drinks and you soak up the surrounding beauties that make Broome a must visit destination. End your day with a perfect backdrop of our remarkable Kimberley sunset sky. The magical skies of Broome never disappoints! Swimming available from April-June and September-October. This activity requires reasonable level of fitness, and you must be a competent swimmer. Children under the age of 12 years must be accompanied by an adult. Courtesy bus transfers included. Duration: 3 hours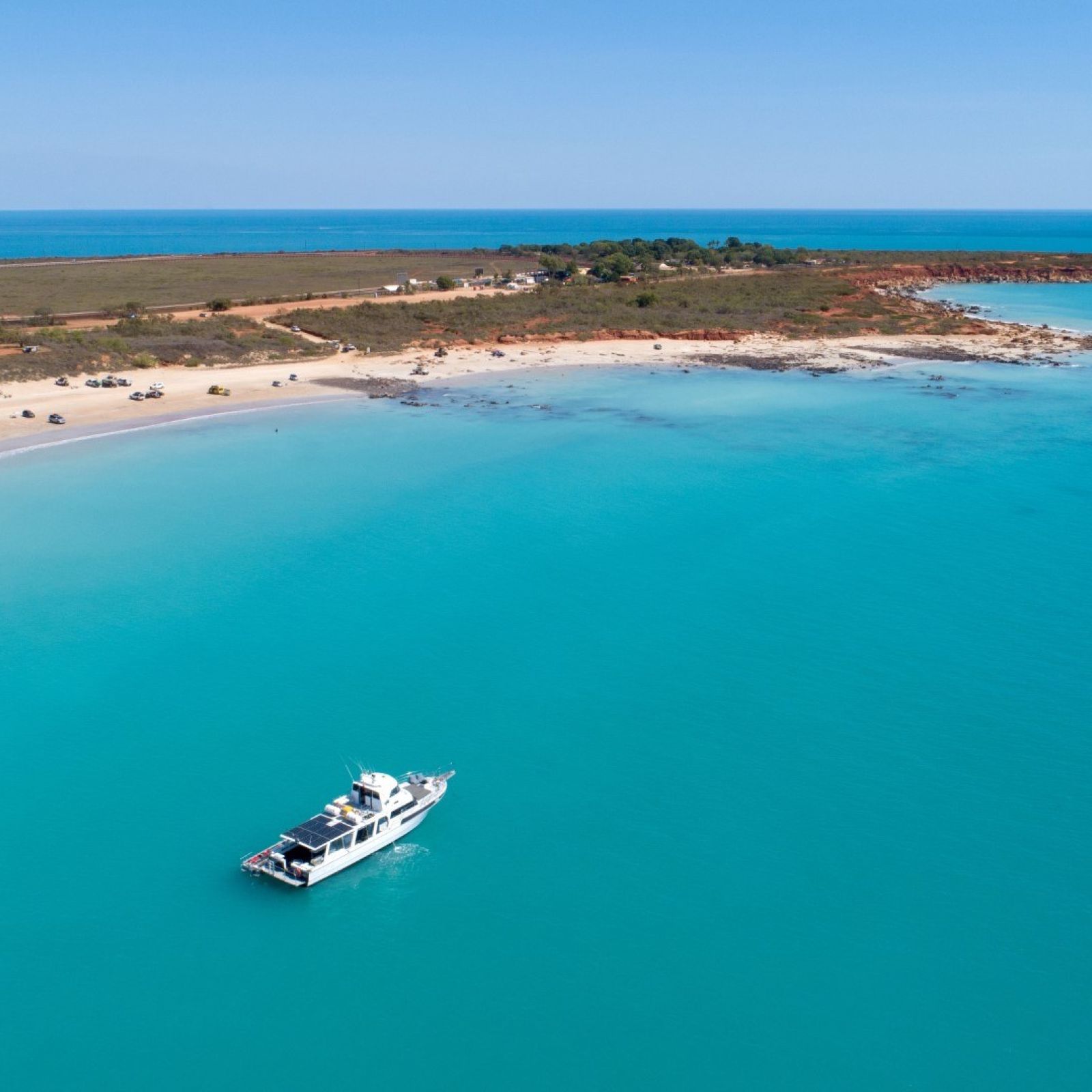 Sun­set, Seafood & Pearling Cruise with Sea West
Season 2023 for Broome Cruises has concluded. Book now for 2024!

Join us for a ful­ly-inclu­sive after­noon and evening cruise on board our deluxe 69-ft triple-deck plea­sure boat in Broome. You'll be treat­ed to an exquis­ite 7‑course menu of WA seafood and fresh local ingre­di­ents, pre­pared by a pri­vate chef on deck. Take in 360-degree views as you sip on pre­mi­um bev­er­ages, served all-inclu­sive through­out the cruise.

We have proud­ly part­nered with the old­est Aus­tralian owned and oper­at­ed pearl farm, Cygnet Bay, to give you a first-hand expe­ri­ence of see­ing a live onboard pearl har­vest. Cygnet Bay is part of the world's only sus­tain­able wild pearl fish­ery, grow­ing the purest and rarest pearls on earth. Care­ful­ly cul­tured over many years, Cygnet Bay's world-class pearls are over a thou­sand times rar­er than diamonds. Our chef then pre­pares a del­i­ca­cy of rare pearl meat for your indul­gence. This marine boun­ty has a fresh and sweet taste, with a love­ly texture. Your seafood feast con­tin­ues as we cruise and anchor close to Cable Beach for seat­ed din­ing. Be mes­merised by Broome's famous gold­en sun­set from this breath-taking van­tage point.
The next day, a com­pli­men­ta­ry coach trip (option­al) will col­lect you from your accom­mo­da­tion to vis­it Cygnet Bay's exquis­ite show­room in Broome's cen­tral Chi­na­town, where you can wit­ness an exclu­sive grad­ing of the har­vest­ed pearl. Broome Cruis­es' Sun­set, Seafood & Pearling Cruise is a com­plete ​'best of Broome' tour pack­age — a breath-taking jour­ney of the sens­es that is the only one of its kind in Australia.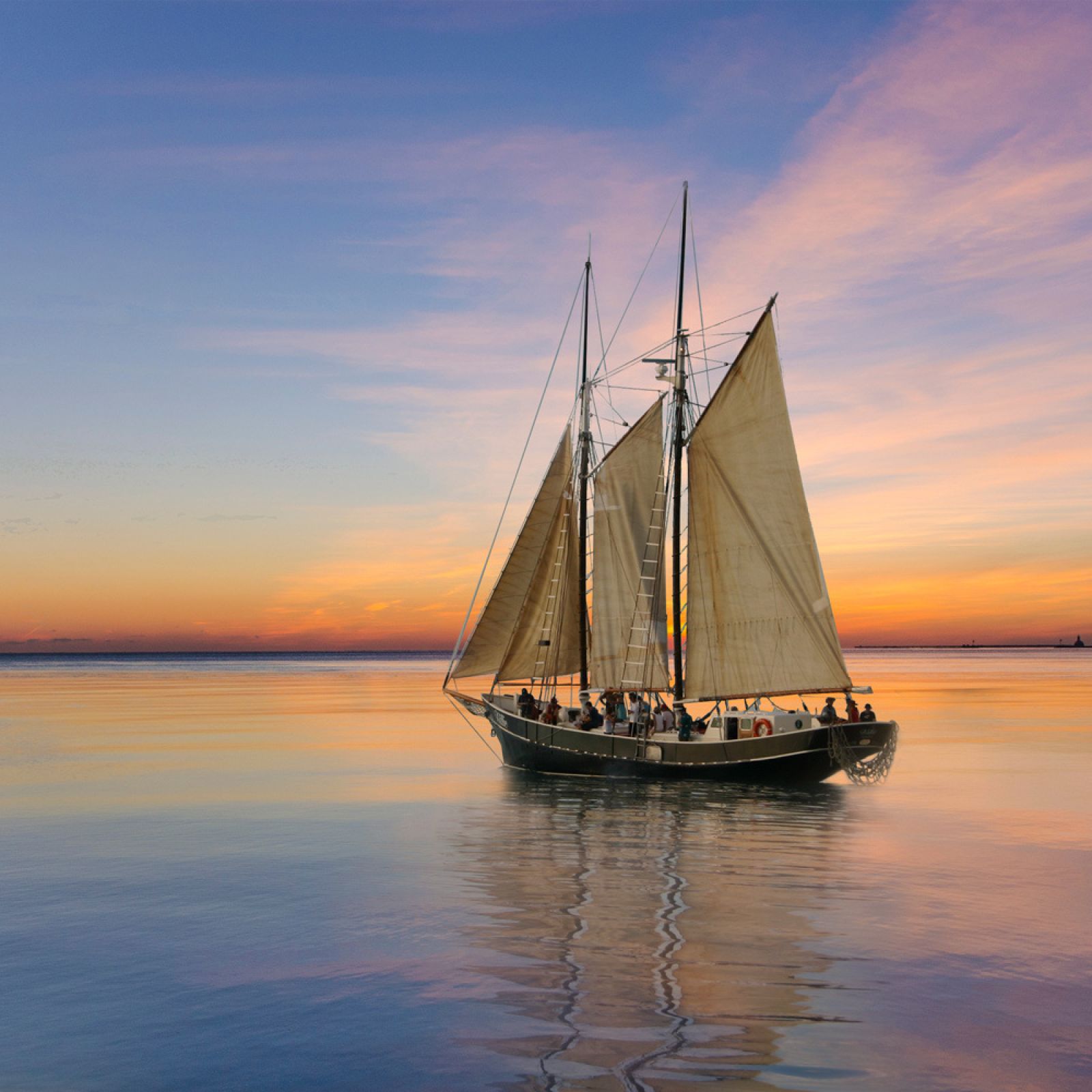 Sunset Pearl Lugger Cruise with Willie Cruises
Willie Cruises and its experienced crew offers people the opportunity to experience the blue waters of Broome in Australia's north west aboard 'Willie', one of the last operating pearl luggers in Australia. 'Willie', a 67' Gaff Rig Schooner modelled on the designs of early 1900 pearl luggers was built to fish for mother of pearl shell Pinctada Maxima, the shell which put Broome on the map and shaped the history of the region as it is today. Sailing the beautiful waters of Broome, 'Willie' allows you to see how a traditional gaff rigged sailing vessel operates with all sails heaved up manually just as our forefathers did, whilst taking in the beautiful sunset. With plenty of comfortable seating options aboard, anyone can enjoy the calm waters and natural beauty of the coastline surrounding Broome.

To make your cruise with us completely stress free we will pick you up in our courtesy bus from your location. Once there you will be able to kick off your shoes and feel the beautiful sand and wet your feet in the warm Indian Ocean as you make your way to our waiting tender which will transfer you to 'Willie'. You can completely relax hearing stories of the rich history and culture of the area, and enjoy the delightful complimentary canapes served by our crew and chilled beverages of your choice from our well stocked open deck bar. Our crew will happily point out the abundance of marine life from turtles, seas snakes, dolphins and the mighty humpback whale, to dugongs, manta rays and the plethora of pelagic fish – all in a day aboard Willie Cruises. Duration approx. 4 hours.

BOOK ONLINE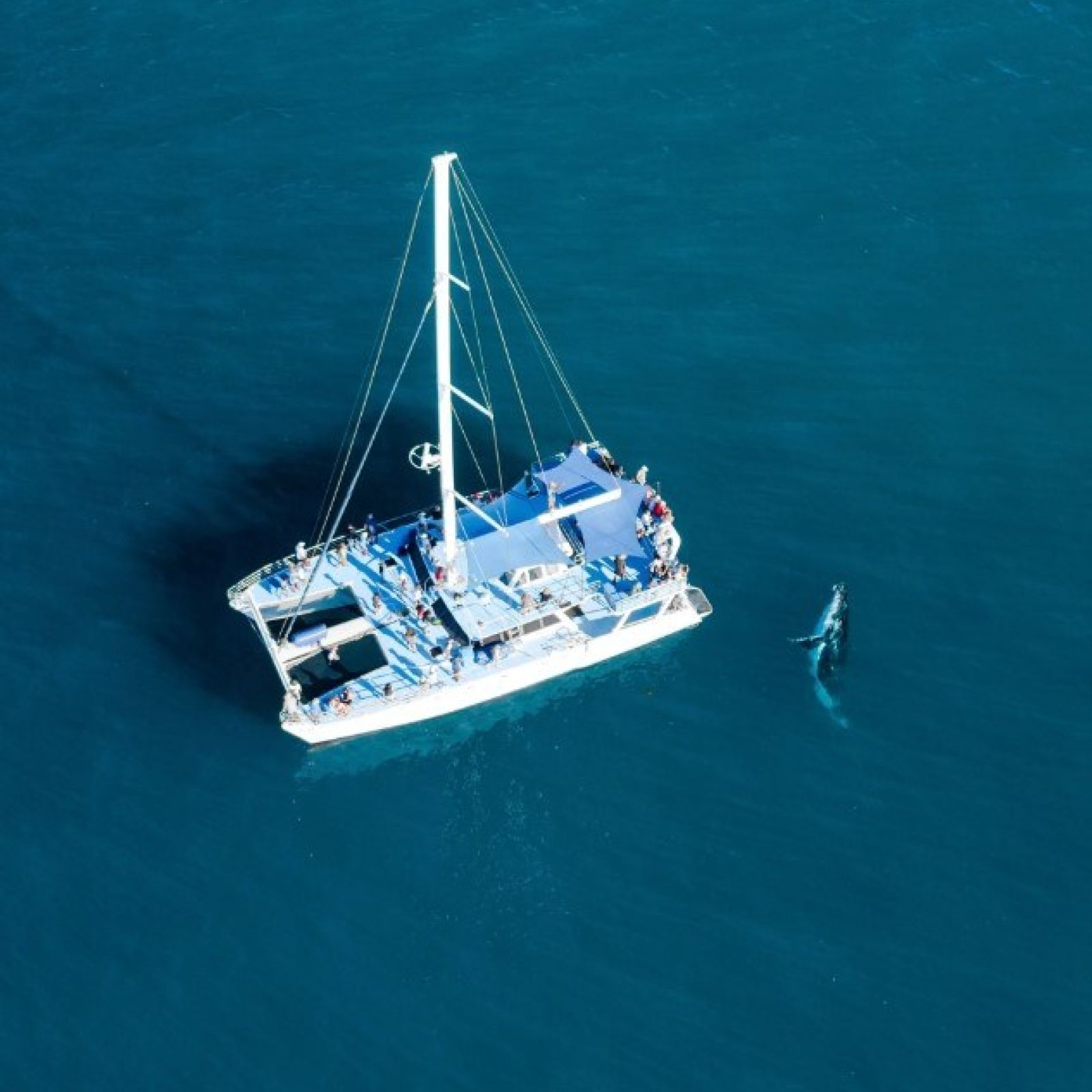 Karma IV
Karma IV have concluded for the 2023 season. Come back in 2024 to book for next season!

Sail the pris­tine waters of Broome on the mag­nif­i­cent Kar­ma IV — West­ern Aus­trali­a's largest sail­ing catamaran. Choose from Whale Watching or Eco Beach Experience.

Karma IV have concluded for the 2023 season.