If Broome is the gateway to the Kimberley, then the Dampier Peninsula is the gateway to the Kimberley Coast.
Your adventure continues beyond Broome, with an Ardi experience. Meaning "north east" in the ancient Bardi language, your journey begins with the 220km stretch of Cape Leveque Road from Broome. It's a journey taken by the local people for thousands of years – an experience that connects you with the past, as you begin to unlock the secrets of this ancient place and culture. The Bardi and Nyul Nyul people can offer you an insight into their ancient methods of hunting, gathering, bush medicine, fishing, crabbing and entertain their guests with story-telling and unique demonstrations.
Your journey takes you to the Dampier Peninsula, through pindan bush, open woodland through to beaches, tidal flats and the mangrove creeks of the Indian Ocean and King Sound. Here is a place waiting to be explored: the red earth landscape, the unspoiled beaches – leave the everyday behind and be guided by your sense of adventure.

The road can be closed after heavy rain so be sure to check. As you travel through this pristine area you are asked to respect the land, culture and privacy of the local people. While fuel supplies are available they are limited and only available at certain times.
The Dampier Peninsula has four major communities One Arm Point (Ardyaloon), Djarindjin, Lombadina and Beagle Bay.
Gambanan Wilderness Retreat has CLOSED for the 2023 season effective from today, Thursday 24 August 2023.
There is NO FREE CAMPING anywhere on the Dampier Peninsula.
UPDATE REGARDING REMOTE ABORIGINAL COMMUNITIES:
Access to remote Aboriginal communities is permitted, however some communities may choose to still apply their own restrictions. We advise all travellers to check before you go, observe all road closures (and any signage and requests made by the community) regarding community health measures. This is important if you are wanting to use amenities or to access food or fuel.

Vehicles & Illegal Camping
Shire of Broome
Throughout the State of Western Australia camping is only permitted in designated camping grounds, caravan parks and on private properties with permission from the owner. If you suspect any unauthorised camping on private property, please contact the Broome Police in the first instance as they may be trespassing.
Permission to stay on the land for extended periods must be sought from the Shire. Whilst the Shire recognises the huge demand for resources during the tourist season, unauthorised camping will not be tolerated and infringement notices will be issued.
Free 24hr roadside rest areas are clearly sign posted and are situated on the Great Northern Highway. Campers staying beyond the legislative period of time may be liable for a $1000 penalty.
For the full list of registered caravan parks in the Shire of Broome please follow this link.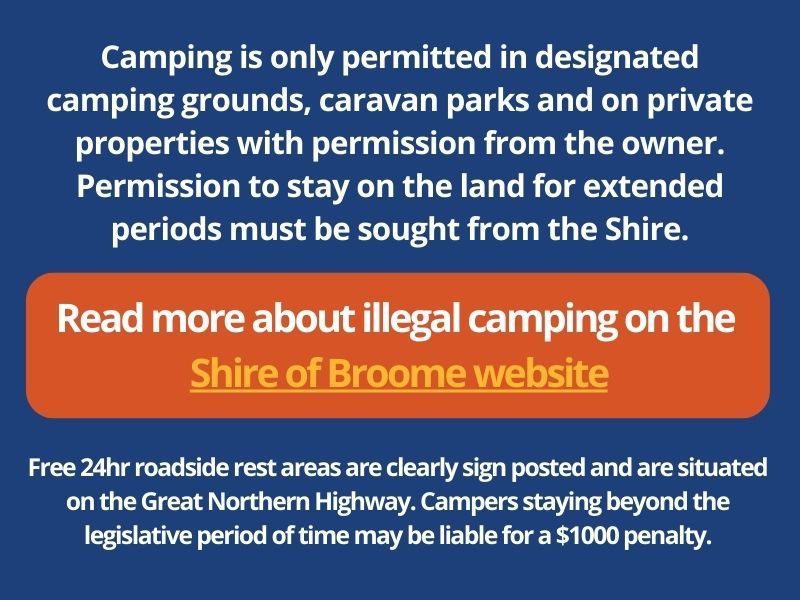 General information
We are sure that you'll agree that Broome and the surrounding areas are spectacular and iconic locations. Please help us ensure it stays that way by -
Book ahead to avoid disappointment. There has been a significant increase in the popularity of tourism in the Kimberley which as a remote area puts pressure on the availability of goods and services.
Managing your waste. Dump points are very limited on the Dampier Peninsula. Protect our local environment from surprise blackwater overflows by ensuring you use the dump points in Broome or along the Great Northern Highway.
Take your toilet paper, food scraps and other rubbish with you. Even biodegradable products don't break down as quickly as you think they might and no one likes finding used toilet paper in the bush.
Being kind to the community. Many businesses are struggling to get staff and may be experiencing supply issues, and deeply appreciate your support. Please be patient and respectful. Do not enter private property or a community without prior approval.