Restricted Travel in remote Aboriginal Communities the Kimberley (COVID-19)
The coronavirus (COVID-19) has the potential to do great harm to the Kimberley's 221 remote Aboriginal communities.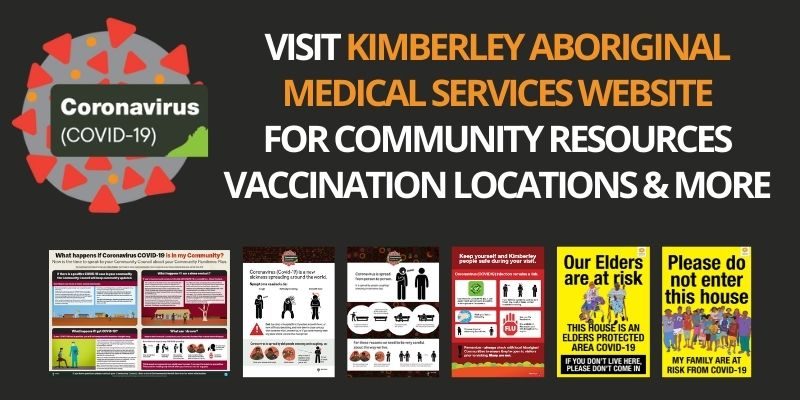 Public health and social measures are in place across WA.

All people arriving into WA, including returning WA residents, must complete a G2G Pass (external link) prior to arrival.
For international arrivals. the Australian Government is responsible for Australia's international border and you are required to meet any Commonwealth requirements to enter Australia.
Visit wa.gov.au for the latest updates
LATEST UPDATE 22 April Public health and social measures to ease as WA's soft landing secured

Changes to TRAVEL since 12.01am Friday 29th April 2022
G2G Pass registration no longer required
Triple dose vaccination no longer required for interstate arrivals
Double dose vaccination requirement for international arrivals will continue as per Australian Government requirements
Unvaccinated Australian international arrivals to continue to quarantine for 7 days
Travel to remote Aboriginal communities remains restricted.
See all details for the latest changes
Current restrictions (what you can and can't do)

COVID-19 coronavirus: Remote Aboriginal communities travel
Under the WA Government's Remote Aboriginal Communities Directions, the only people who can enter a remote Aboriginal community are residents of those communities and those who are:

providing essential services and supplies
going to work or school there
entering for family or cultural reasons
delivering a community program or activity
entering in an emergency
These people cannot enter a community if they have COVID-19 or symptoms of COVID-19, or if they are waiting for a test result or have been in contact with someone who has COVID-19.

Travellers can drive through a remote Aboriginal community only if they do not stop or come into contact with any person in the community.
Police have the power to enforce the travel restrictions, and fines of up to $50,000 can be issued.
For more information read the Restrictions on travel to remote Aboriginal communities – frequently asked questions.
Aboriginal people living in remote areas are more at risk of serious illness from the coronavirus than other people.
If the coronavirus gets into an Aboriginal community, it is likely to spread quickly and make residents very sick.
To help protect our Aboriginal communities, there are strict travel restrictions in place.
Tourists and travellers are not allowed to enter any remote Aboriginal community in Western Australia.
Fines of up to $50,000 may apply to anyone who breaches the restrictions.
Only some Aboriginal communities are excluded from the restrictions.

List of Aboriginal Communities OPEN to visitors here

List of Aboriginal Communities CLOSED to visitors here

Which remote Aboriginal communities, or parts of them, are currently excluded from the entry rules?
Read the latest updated list from wa.gov.au here as the situation may change before we can update this page.

How do we know which communities have entry rules and which don't?

Communities that are covered by the entry rules are listed in (Schedule 1) of the Remote Aboriginal Communities Directions. Before travelling to any remote Aboriginal community, you should look at the list of communities in the Directions. You should also contact the community first to find out what local protocols or risk management measures are in place to prevent the spread of coronavirus.

Community requirements
Some remote Aboriginal communities have their own requirements for people entering. These requirements are in addition to the rules set out in the Remote Aboriginal Communities Directions.
Non-residents wanting to go into a remote Aboriginal community should contact the community before going there to find out what travel restrictions or entry requirements are in place.

Resources for Aboriginal and Torres Strait Islander people and remote communities

Extra COVID-19 health and safety resources are available to Aboriginal and Torres Strait Islander people and remote communities. Please view them here.
The latest newsletters list is here


Useful Maps: Remote Aboriginal Communities

If you are not aware of where remote communities are located, below are links maps of remote Aboriginal communities in the Kimberley region. These maps are publicly available on the Department of Planning Lands and Heritage website. Please do your best to plan before you leave and follow ALL signage instructions to avoid fines and penalties (not to mention the risks to our remote community populations).

EAST KIMBERLEY
Download map - ABL-AboriginalCommunities_East_Kimberley_r.pdf

KIMBERLEY REGION
Download map - ABL-AboriginalCommunities_Map2_A4_r.pdf

WEST KIMBERLEY
Download map - ABL-AboriginalCommunities_West_Kimberley_r.pdf



Where do I go more information?
If you would like more information, please contact the Complex Task Team – Remote Aboriginal Communities at RAC.MU@dpc.wa.gov.au.
You can also call 13 COVID (13 268 43).


COVID-19 coronavirus

Information about travelling into and out of WA.
COVID-19 coronavirus: Travel to WA

Shire of Broome updates
The Shire have a dedicated Covid 19 FAQ's information page here
Kimberley Aboriginal and Medical Service (KAMS) have produced this helpful flyer.
We suggest you open and download a copy of this Be Prepared for Covid-19 PDF or print it up so you can be prepared.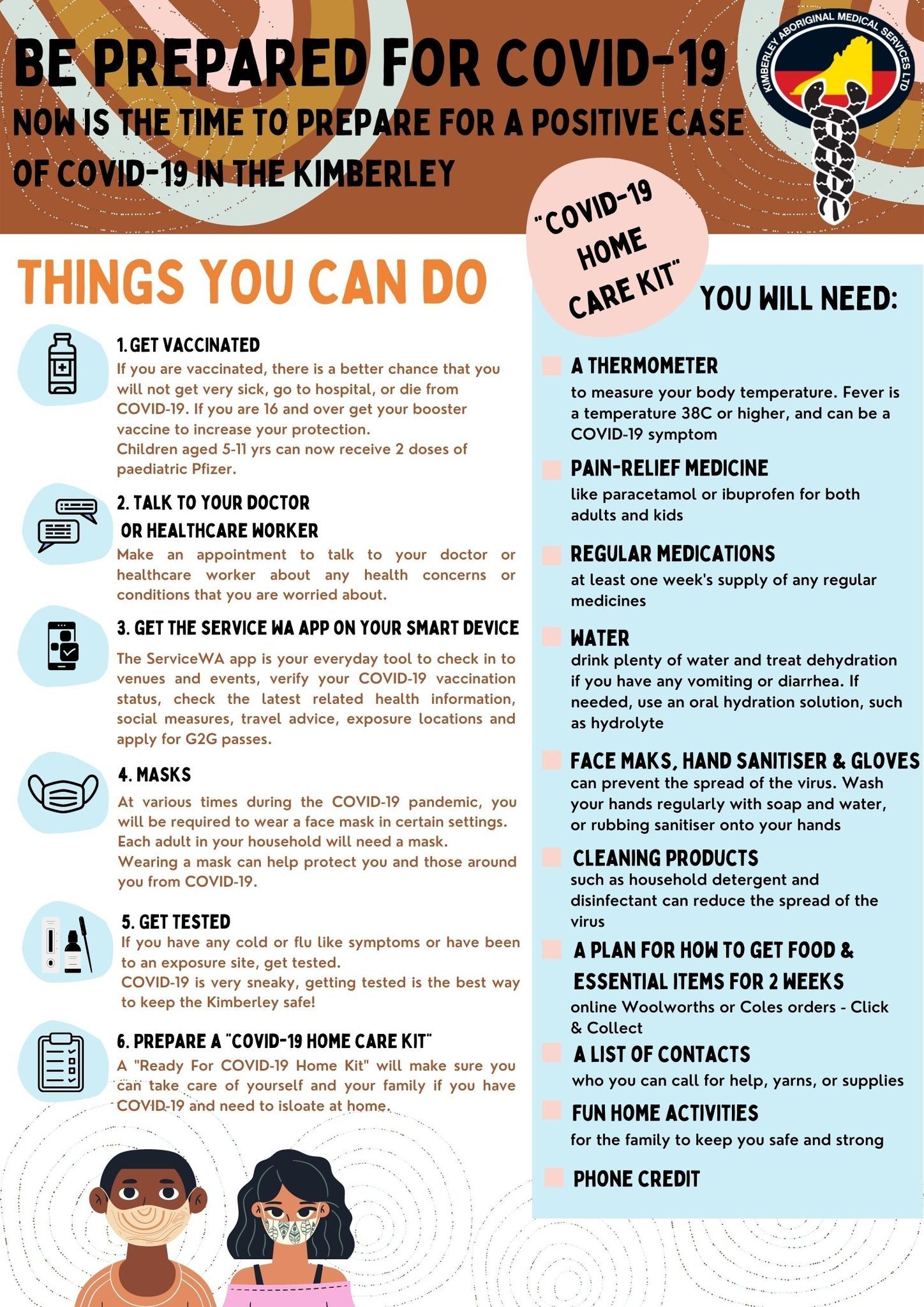 Traveller Health Messaging
The Department of Health has made the following documents available for use by tourism businesses and Visitor Centres -

WE ENCOURAGE ALL LOCAL BUSINESSES TO DOWNLOAD AND PRINT THIS INFORMATION AND DISPLAY TO ENSURE WE CAN SPREAD THIS SAFETY MESSAGE WITH AS MANY VISITORS AS POSSIBLE.
If you are unsure, please contact the nearest visitor information centre to the area you wish to travel to.