Caravan Parks - Extra Information (Broome)
This extra information about local caravan parks and the options available will help you select teh right place for your caravan or camping stay, This includes 'out of town' options.
For availability and bookings please contact the parks direct on the below contact numbers or click the website links.


Broome Caravan Park
14 Wattle Drive, Broome (off Broome Hwy)
08 9192 1776
Email: info@broomecaravanpark.com.au
Pool - yes
Pets - Yes - on selected powered sites only (must pre-book)
Short term ​Caravan Storage for park guests.
Office hours Monday to Sunday - 8:00am to 6:00pm
Website
---
Broome Vacation Village
122 Port Drive, Broome
08 9192 1057
Email info@broomevillage.com.au
Pool - yes
Pets - no
Book chalets here
For camp and caravan sites, you must call them directly for availability.

---
Discovery Parks - Broome formerly Roebuck Bay Caravan Park
91 Walcott Street, Broome
08 9192 1366
Email broome@discoveryparks.com.au
Pool - Yes
Pets - pre- book (on sites only)
Website
---
Cable Beach Caravan Park
8 Millington Road, Cable Beach
08 9192 2066
Email: cablebcp@iinet.net.au
Pool - Yes
Pets - No
Website

---
RAC Cable Beach Holiday Park
Cnr Cable Beach & Murray Rd, Cable Beach
Pool - Yes
Pets - Yes - on selected powered caravan sites (max two dogs per site).
Before completing your booking, please take the time to read through their Pet Policy.
Book online

---
Tarangau Caravan Park
16 Millington Rd, Cable Beach
08 9193 5084
Email tarangau@tpg.com.au
Pool - No
Pets - Yes (Pet Friendly on limited select sites - please call us to enquire)
Motorhome and 5th Wheeler friendly sites. Book­ings essen­tial June, July and August.
(Note: minimum stay of 7 nights powered / 5 nights unpowered in JUNE, JULY & AUGUST)
Website
---
OUT OF TOWN OPTIONS

Broome Bird Observatory (accommodation and unpowered sites)
25kms from Broome, follow Broome Hwy and turn right onto Crab Creek Rd (unsealed)
08 9193 5600
Pool - No
Pets - No
Unpowered campground. Camp kitchen. Not suitable for caravans longer than 16ft.
Note: DO NOT FOLLOW THE DIRECTIONS ON GOOGLE MAPS OR YOUR GPS - they will take you down a difficult and unmarked track that may be boggy on big tides. Please follow the directions and come via Crab Creek Rd. We are located near the end of Crab Creek Rd - approximately 25 km from Broome. Crab Creek Rd is unsealed and the final 6 km are frequently sandy and very corrugated. We are unable to recommend that 2 wheel-drive vehicles drive the road, however they frequently do so safely. Please check with your rental company whether their regulations allow you to drive vehicles on unsealed roads.
Book campground sites online here

---
Broome's Gateway Caravan Park (unpowered sites)
Broome Hwy - 28kms from Broome (View location map)
Located after the croc park, before the Roebuck Roadhouse.
08 9192 2440
Pool - No
Pets - Yes (see the pet policy on their website)
Unpowered sites. Plenty of space for big rigs. Storage options.
7th night FREE* when booking by the week
Office hours 8am to 12pm and 2pm to 5pm.
Preference is for online bookings.
Website
---
Roebuck Roadhouse - Caravan Park (powered sites)
Lot 136 Broome Road, Roebuck
33 kms from Broome town centre (view Google map)
08 9192 1880
Pool - Yes
Pets - Yes
Powered sites. Shaded Sites. Onsite storage.
8 big rig sites and plenty of standard sites.
Office hours Mon-Sun 6am - 10pm
Website


DAMPIER PENINSULA CAMPGROUNDS
Registered caravan parks in the Shire of Broome located on the Dampier Peninsula
Cygnet Bay (Nature based)
Djarindin Roadhouse (Transit Park)
Middle Lagoon (Nature Based)
Note: Nature based parks will provide limited facilities and amenities.
Transit parks have a maximum of 3 night stay.

DUMP POINTS
*All caravan parks in town and the Broome Visitor Centre have dump points. The Broome Visitor Centre dump point is managed by the Shire of Broome. Note: Broome's Gateway Caravan Park out of town does not have a dump point.

HIGH SEASON
Caravan Parks in and close to Broome get booked out very quickly during the busiest months/high season (usually June, July, August) and we recommend pre-booking as soon as you know your travel dates. School holiday dates can also be busy.

MINIMUM NIGHT STAYS
Minimum night stays may apply during peak season for some parks.
Check directly to confirm availability and the minimum stay requirements (as they vary from park to park).

OVERFLOW AREAS
The Overflow Parks are now closed for the 2023 season. Information on 2024 overflows is not yet available,

Vehicles & Illegal Camping
Shire of Broome
Throughout the State of Western Australia camping is only permitted in designated camping grounds, caravan parks and on private properties with permission from the owner. If you suspect any unauthorised camping on private property, please contact the Broome Police in the first instance as they may be trespassing.
Permission to stay on the land for extended periods must be sought from the Shire. Whilst the Shire recognises the huge demand for resources during the tourist season, unauthorised camping will not be tolerated and infringement notices will be issued.
Free 24hr roadside rest areas are clearly sign posted and are situated on the Great Northern Highway. Campers staying beyond the legislative period of time may be liable for a $1000 penalty.
For the full list of registered caravan parks in the Shire of Broome please follow this link.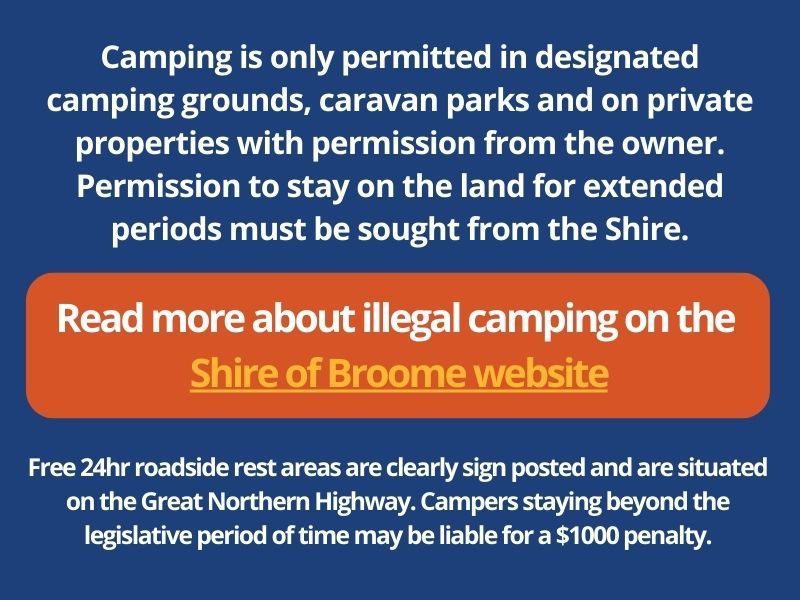 General information
We are sure that you'll agree that Broome and the surrounding areas are spectacular and iconic locations. Please help us ensure it stays that way by -
Book ahead to avoid disappointment. There has been a significant increase in the popularity of tourism in the Kimberley which as a remote area puts pressure on the availability of goods and services.
Managing your waste. Dump points are very limited on the Dampier Peninsula. Protect our local environment from surprise blackwater overflows by ensuring you use the dump points in Broome or along the Great Northern Highway.
Take your toilet paper, food scraps and other rubbish with you. Even biodegradable products don't break down as quickly as you think they might and no one likes finding used toilet paper in the bush.
Being kind to the community. Many businesses are struggling to get staff and may be experiencing supply issues, and deeply appreciate your support. Please be patient and respectful. Do not enter private property or a community without prior approval.