Flights to the Broome and the Kimberley
There are various options for flights into Broome and the Kimberley. Please note: COVID-19 is impacting flight schedules and availability. We encourage you to check all terms and conditions carefully before making a purchase decision. The Broome Visitor Centre is pleased to promote this information, but please always check with the airline or provider for more information and specific pricing information including terms and conditions.
BROOME INTERNATIONAL AIRPORT

The Broome International Airport offers scheduled services with connections to Port Hedland, Kununurra and Darwin, and to all major capital cities across Australia. Details on our local airport can be found at www.broomeair.com.au. The Broome International Airport is located right in the heart of Broome. Call + 61 8 9194 0600.

FOR INTERNATIONAL TRAVELLERS
International flights arrive at Perth Airport daily. From Perth, you can fly direct to Broome (approx. 2 hours 35 mins flight time) or Kunnunurra. (approx. 3 hours 10 mins flight time). International visitors arriving in Brisbane, Sydney and Melbourne can board seasonal flights to Broome (see domestic information below). From Perth Airport, you can book your onward journey both domestically and internationally. Contact the Perth Airport airlines using the numbers on this page.

FOR DOMESTIC TRAVELLERS
Flying from Perth to Broome

Qantas and Virgin Australia have direct flights to/from Perth. From Perth, you can book your onward journey both domestically and internationally.

Qantas - Check out the Qantas Perth - Broome airfares online
Virgin Australia - Book your flights to Broome with Virgin Australia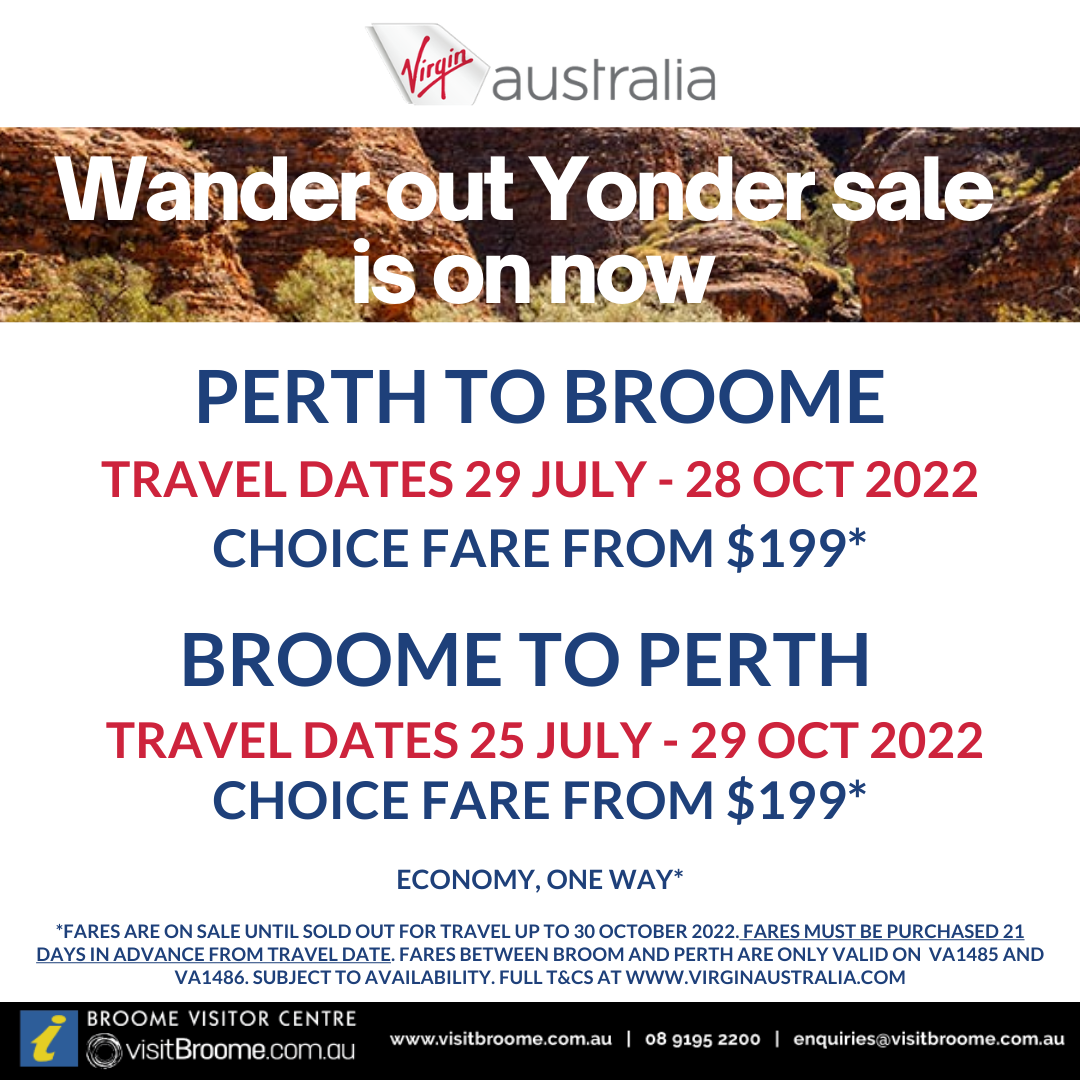 Don't forget Visit Broome offers a free, personalised booking service for tours, accommodation, vehicle hire and more in the Broome and the Kimberley region. Call us on 08 9195 2200 or email enquiries@visitbroome.com.au

SEASONAL FLIGHTS TO BROOME

DARWIN / BROOME (via Perth)
Qantas flies from Darwin to Broome on Fridays with a stop in Kununurra.
Airnorth operates a regular schedule to/from Darwin with a stop in Kununurra.

SYDNEY / BROOME (via Melbourne and Perth)
Seasonal flights (usually in peak/high season) are available.

Qantas flies direct from Sydney to Broome on a seasonal schedule:
Tuesday 28th June, 5th July - 25th October
Thursday 23rd June - 29th September
Saturday until 29th October

BRISBANE / BROOME (via Perth)

Seasonal flights (usually in peak/high season) are available.
Qantas flies direct from Brisbane to Broome on a seasonal schedule:
Sunday 6th June - 29th August


MELBOURNE / BROOME (via Perth)
Qantas flies direct from Melbourne to Broome on a seasonal schedule:
Sunday until 23rd October
Monday 27th June - 29th August
Wednesday until 28th September
Friday 3rd June - 30th September
Saturday 25th June - 30th July
FLYING MELBOURNE TO KUNUNURRA

FLYING PERTH TO KUNUNURRA
Airnorth flies from Perth to Kununurra on Tuesday and Saturday.
Virgin Australia flies direct from Perth to Kununurra each Monday, Thursday and Friday.

FLYING DARWIN TO KUNUNURRA
Air North flies from Darwin to Kununurra on Sunday, Monday, Tuesday, Wednesday and Friday.

INTER REGIONAL FLIGHT NETWORK
Karratha | Newman | Port Hedland | Paraburdoo | Broome

Aviair operate Regular Public Transport (RPT) flights connecting the Kimberley and Pilbara regions. The flight network provides a time and cost-effective alternative to existing travel options of flights via Perth or travelling hours by road. Aviair operates scheduled flights from Kununurra to Halls Creek, Balgo, and Kalumburu and from Karratha to Newman, Port Hedland, Paraburdoo and Broome. Aviair also operates RPT services between Newman and Port Hedland. COVID-19 may be affecting some schedules/flights. Be sure to check with service providers.
For the latest flight schedules visit https://www.aviair.com.au/scheduled-flights/schedules

View the flight schedules at Aviair


Wheels up on Derby to Broome flights!
Derby residents will have three return flights per week to Broome after the State Government entered into a deed of agreement with Aviair to provide the new service following a public tender process. The State Government subsidised service will initially operate for a 12-month trial period, enabling regular, affordable flights for Derby residents. Seats on the nine-seat aircraft will be available at the fixed price of $119 each way.

Passengers can travel with 23 kilograms of checked luggage. This is the same allowance as most other airlines, allowing passengers to easily transfer to and from connecting flights. Tickets can be booked via Aviair's website at http://www.aviair.com.au Aviair scheduled services operate from the Aviair Terminal located at 9 Gus Winckel Drive, Broome WA.

Aviair offer a courtesy transfer in Broome. Pick up and drop off from: accommodation places, airport terminals, car hires depots and some residential areas. Pick up times are automatically set at 45 minutes prior to departure. Earlier times can be arranged by prior phone call only.

PLEASE NOTE: There are currently regional travel restrictions in place within WA and Remote Aboriginal Communities have also restricted non-essential travel. This will affect some of Aviair's services and we are currently seeking further clarification from the government as to what services we are able to continue to provide. Aviair will be updating guests, providing as much notice as possible, as soon as they hear more. In order to avoid refusal of entry to remote communities and potential fines, we recommend that you contact the community to advise your intent to travel, before confirming your booking with Aviair. Your Aviair ticket does not automatically authorise access to communities, any forced return travel cannot be guaranteed and will be charged at the full fare.
---------
IMPORTANT NOTE:
*Please check all dates with your chosen airline or flight provider for up to date information. Some details may have changed. Terms and conditions apply for all flight bookings, so please check with the service provider to confirm prices, taxes, travel dates and pricing.