Looking for work in Broome and the Kimberley?
We have gathered some of the job vacancies in Broome and the Kimberley for you to browse below. Please enquire directly with the advertiser.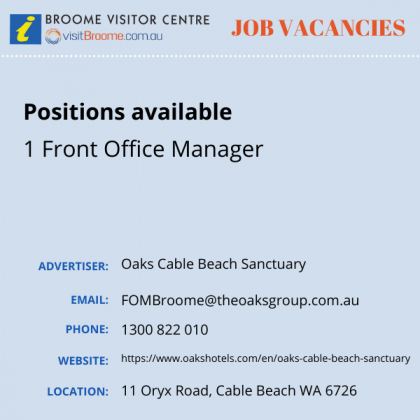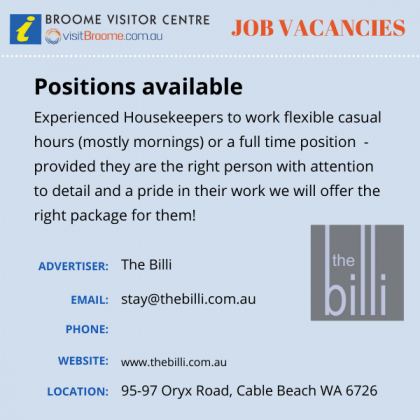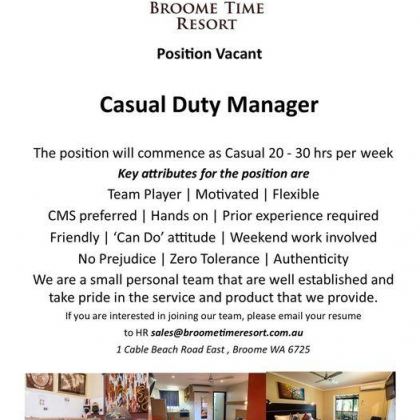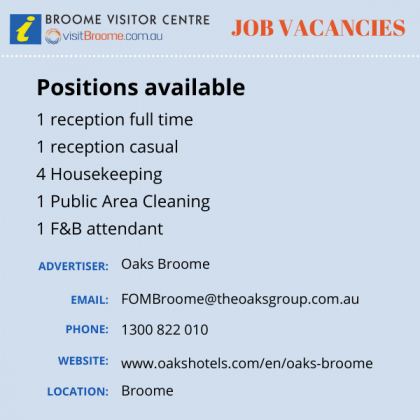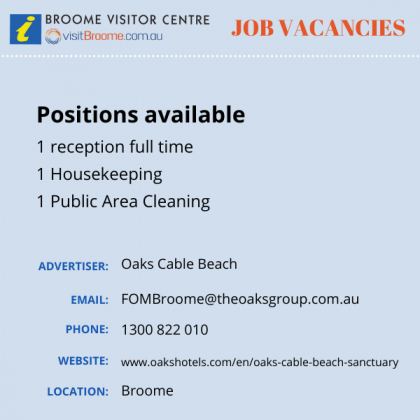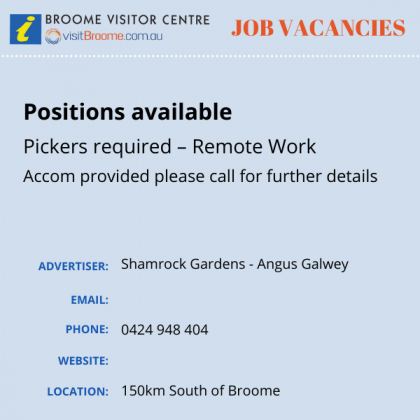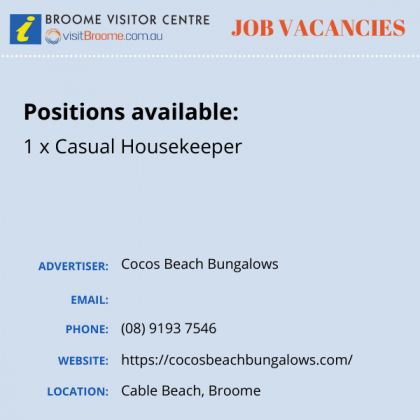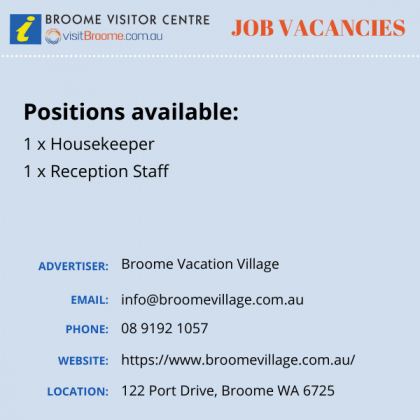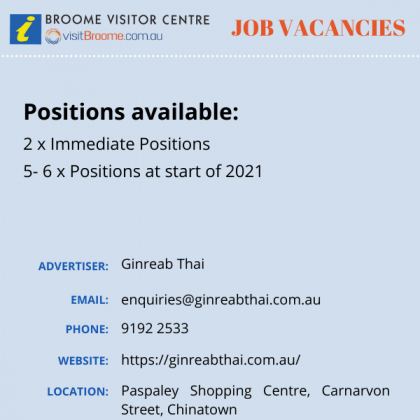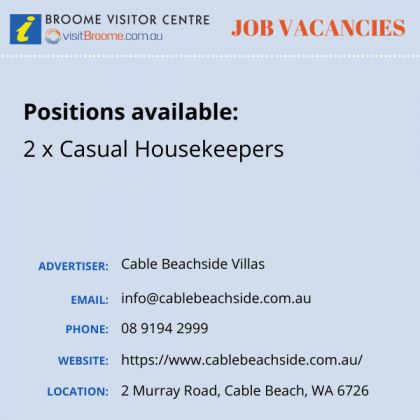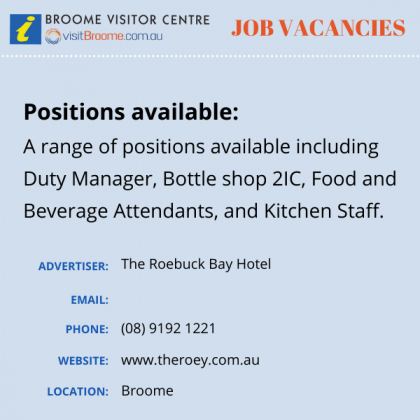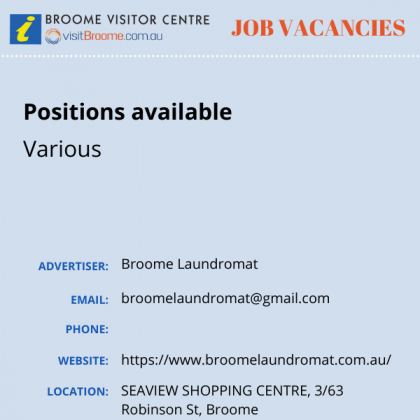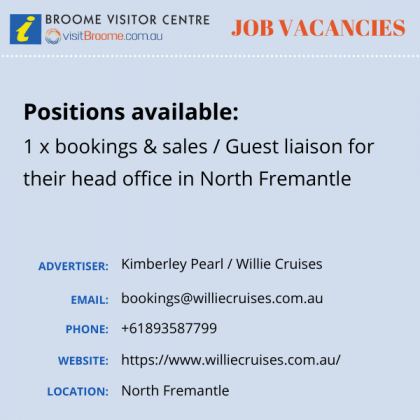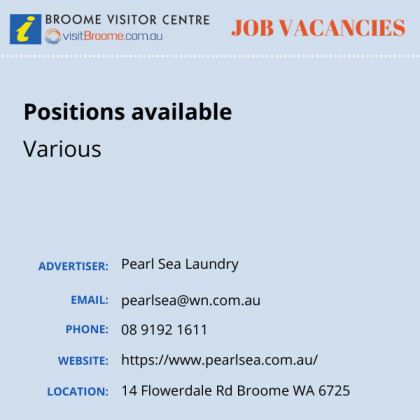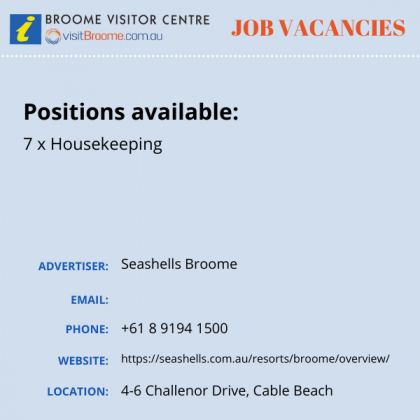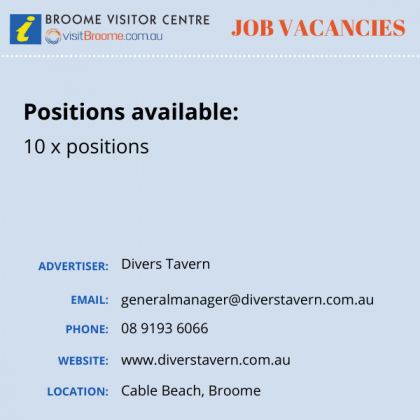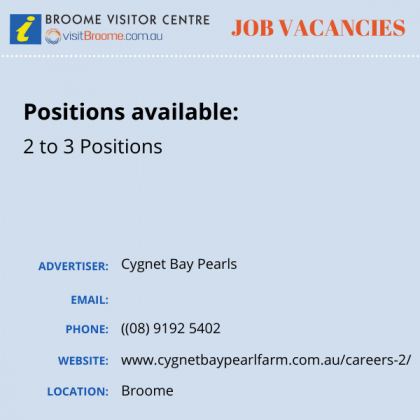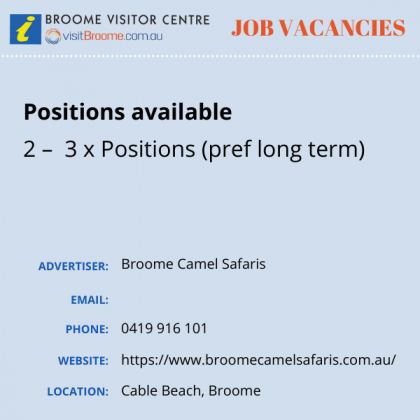 View job vacancies in Broome and the Kimberley at Seek
View job vacancies listed at LoveBroome here
Work in Paradise - Kooljaman Cape Leveque
KOOLJAMAN CAPE LEVEQUE
Kooljaman Resort, Cape Leveque is seeking Sous Chef and Chef de Partie's for the 2021 season.

Kooljaman is an off the grid Wilderness Eco Resort located at Cape Leveque. Surrounded by beautiful rugged coastline, stunning white sand beaches and the clear blue Indian Ocean. This really is a special and unique place to be given the opportunity to work and live.Our restaurant overlooks the ocean and comprises of a small kitchen/restaurant team producing high quality meals using the surrounding land and ocean as inspiration for the al a carte menu. We offer breakfast, lunch and dinner for in house guests and tour groups thus requiring a team that can work well together and enjoy working in a busy environment
.Requirements• Minimum 3 years experience in al a carte dining• Passionate about food and creating and producing high quality meals with attention to detail• Ability to work under pressure to high standards • Ability to tolerate working in hot open kitchen conditions• Customer focused• To work efficiently and be able to adapt to surprise situations• Able to complete work autonomously• Approachable and friendly attitude
Couples are welcome to apply as we will be seeking to fulfill Front of House positions for the season. These are live in roles with on site accommodation supplied. Please email your resume to reservations@kooljaman.com.au or call 08 9192 4970 for further information.
School Bus Driver Broome · Part-time
BROOME EXPLORER BUS
We are looking for a friendly, caring driver for a school bus driver position. Immediate start. Hours - 7 - 8.15am & 2 - 3.15pm. Ring now for more details! 0429 832 058.
Gardener
BALI HAI RESORT & SPA
Join our team!!!
We are looking for Casual Gardener/Maintenance.
Please email your resume to accounts@balihairesort.com or drop off your resume into the Bali Hai Resort Reception.
Groundsperson
BLUE SEAS RESORT
Groundsperson wanted for resort in cable beach. Work available every day form approx 8am to 12 noon. Duties include testing and cleaning pools, cleaning bbqs and common areas, gardening. Immediate start available, experience not required.
Kitchen Steward
DMK - THE KITCHEN
Cleaning dishes, benches, floors Willing to work alone after the kitchen closed for service. Required 3 hours or more from 6pm - 9pm/Finish the job. Only best candidate will be contacted.
(08) 9193 6272
https://www.facebook.com/dmk.b...
Matso's is Hiring!
MATSO'S BROOME BREWERY
We are looking for new team members in all departments, plenty of hours available. Experience is great, but not essential. Drop in and say hi, or email a CV
Waitstaff | Chefs | Kitchen hand
THE AARLI
CHEFS | WAITSTAFF | KITCHEN HANDS

Full-time positions available for 2021. http://theaarli.com.au

Apprenticeship in Aircraft Engineering – Avionics.
AVIAIR
Are you looking to start your career in aircraft engineering? Aviair is a major regional aviation company that has bases in Broome, Kununurra, Karratha and Adelaide. Aviair proudly provides charter, RPT and tourism services to the regions with a varying fleet including PC-12, B200 King Air, C208 Caravan B58 Baron and Airvan. Aviair are seeking an enthusiastic and self-motivated individual to commence an apprenticeship in Aircraft Engineering – Avionics.
This apprenticeship presents with opportunities to travel and work at our different bases, with the prospect of exposure to work on our helicopters within our sister company, Helispirit. The successful applicant will be reliable, hardworking, committed to aviation safety, and be able to pass an aptitude test and trade school modules. Aviair is committed to providing opportunities for the local community and encourage Broome residents to apply.
Email applications and Curriculum Vitae or enquiries to careers@aviair.com.au

Full-time
Kununurra, Western Australia
TECHNICAL SYSTEMS OFFICER Broome · Full-time
SSJG HERITAGE CENTRE BROOME
The Heritage Centre is a place for sharing social history related to the Sisters of St John of God (SSJG) and the people of the Kimberley. The SSJG is a group of religious women who, for over 100 years, have offered a wide range of health care, education and other services to the people of Australia.

Position

An opportunity to join our small friendly team working in the Heritage Centre in Broome has become available. We offer a flexible working environment in either a part time or a full time role for the ideal candidate who can demonstrate the following knowledge and skills:

• Information Technology (IT) day to day help desk support
• Digitising and restoring photographs and documents (Photoshop experience preferable but not essential) with a high attention to detail
• Software applications include Microsoft Office, Adobe CC and industry specific applications
• Administration of IT function including management of the external IT contract for network and server support, regular liaison with the cloud hosted web application used to store and make available to the public the Heritage Centre's Collection (digital database), and management of the IT budget
• Willingness to work within the mission and values of the organisation

We offer a competitive salary with salary packaging benefits and a flexible family friendly work environment.

We will also provide a comprehensive handover and relevant training for the successful applicant. The successful applicant will need to have permanent Australian residency, National Police and Working with Children Checks. Please submit your resume and application addressing the above selection criteria to recruitment@ssjg.org.au and initial contact may be made by phoning 0438927876.
Housekeeping roles
KOOLJAMAN CAPE LEVEQUE
We are seeking members of the housekeeping team to ensure that public amenities, camp kitchens, reception, & guest rooms of Kooljaman are presented to visitors in a pristine condition throughout the year. Assist in the planning and implementation of guest room, staff housing and public area maintenance to ensure health, hygiene and excellent product presentation.
Knowledge and Experience
• housekeeping experience within an environment of high expectations
• knowledge of cleaning and sanitation products, techniques and methods
• understanding of and pride in the importance of the housekeeping role
• physical stamina and mobility including ability to reach, kneel and bend
• ability to lift, push and pull required load (to approximately 15 kg)
• attention to detail
• ability to tolerate hot working conditions
• ability to work under pressure to high standards• customer focused
• reliable
• able to work well within a team of varying abilities
• adaptable
• able to plan and carry out work efficiently
• high personal integrity
• honest
• able to maintain high physical energy levels in difficult working conditions.

Please send resume to reservations@kooljaman.com.au or phone 08 9192 4970 for more information.
Front of House Staff
KOOLJAMAN CAPE LEVEQUE
We are seeking Front of House Staff to assist with preparation for the daily activities in our Raugi's Restaurant. Must be able to make great coffee, wait tables, take part in kitchen duties. Interact and liaise with providers of cultural experiences, tour providers and guests. Present a happy can-do attitude providing friendly and helpful service at all times.
Responsibilities
• Meet the needs of guests within the restaurant.
• Prepare food and beverages as directed.
• Provide excellent table service.
• Accurately enter all sales ensuring correct policies and procedures are followed.
• Greet all guests – house, charter, day visitor, local people in a friendly and appropriate manner.
• Calculate bills, process payments, undertake sales.•
Ensure restaurant area is neat, clean and stock is presented in an attractive way.
• Ensure guest complaints are received respectfully and refer to management where unable to satisfy a guest's requirements to guest satisfaction.
• Proactively engage guests in Kooljaman dining options, and liaise with colleagues.
• Potwash
• Other duties as reasonably requested by management.
WHAT WE NEED FROM YOU
• At least 2 years experience working in a fast paced café/restaurant.
• Ability to tolerate hot working conditions
• Ability to work under pressure to high standards
• Customer focussed
• Reliable and able to work flexible shifts
• Able to work well within a small team of varying abilities
• Experienced barista
• Able to plan and carry out work efficiently
• High personal integrity, honest
• Can carry 3 plates and manage drink tray service
• Impeccable presentation, hygiene and grooming
Please send your resume through to reservations@kooljaman.com.au or phone 08 9192 4970 for further information
The Zookeepers Store is hiring
ZOOKEEPERS STORE
WE ARE HIRING!
The Zookeepers Store is a WA family-owned and operated restaurant located a short stroll from world-renowned Cable Beach. The Zookeepers team are currently seeking talented and dedicated people to join our gourmet delicatessen restaurant that offers a range of gourmet and local produce and fresh house-made delicacies that will make your mouth water!
We are looking for down-to-earth, hands-on, go-getters who can fill the positions in beautiful Broome. The roles available require a 100% can-do attitude, a happy calm disposition, a real passion for selling a West Australian product, and must enjoy working alongside team members.
Visit our website for role-specific information:
Housekeepers - Immediate Start
THE PEARLE OF CABLE BEACH
The Pearle of Cable Beach is looking for housekeepers - immediate start. Email info@thepearle.com.au or call 08 9194 0900 to enquire.
Reservations Team Member
KIMBERLEY AIR TOURS - KUNUNURRA
2021 Trainee Station Hand positions
SEEKING INDIGENOUS TRAINEE STATIONHANDS
Roebuck Station are sourcing suitable candidates for their 2021 Trainee Station Hand positions.

No previous experience is required
Indigenous 15 to 25 years
Shortlisted clients will be required to complete:
Police Clearance • Pre-employment medical certificate

Applications close on Monday 08th February
Shortlisted participants will participate in the Warrmijala Murrgurlayi Agriculture Pre-employment program commencing Monday 15th February for a duration of 7 weeks, before selection of participants. Email resume and relevant documents to: youthtrainingemployment@yawuru.org.au or drop them off to Nyamba Buru Yawuru offices; Attention Carol-Anne Bernard
If you are linked in with Transition to Work please notify your case managers if you are interested.
Opportunities at Shire of Broome
View job vacancies at the Shire of Broome here
Art Centre Manager
MOWANJUM ARTS - DERBY
An exciting opportunity to work at a major indigenous art centre in the Kimberley. We are seeking an Art Centre Manager and Art Development Coordinator to join our team.
Email manager@mowanjumarts.com for a recruitment package.
PART-TIME ADMIN OFFICER
Regional Development Australia Kimberley
Full time sales position
Anastasia's of Broome
Anastasia's of Broome is an Award-Winning Jewellery Store, providing personal one on one customer service & creating an experience for every customer that walks in to our showroom.
Anastasia's specialise in Diamonds, whether it be for investmenr or personal use; South Sea Pearls; Ladies & Men's Watches; Gold & Silver Jewellery, plus jewellery design, manufacture & repairs, as well as Giftware.
We are looking for a person, experience preferred but not essential, to grow & advance with the team, to assist customers in the selection & purchase of ladies & men's jewellery, watches & other items for sale in the showroom. They must be able to advise customers who are looking to have jewellery made or watches repaired, for both in house repairs & referrals to the watch maker.
This role is perfect if you are looking for work/life balance & it is located in Chinatown, the retail centre of Broome.
To be successful for the role you must have the following:
▪️A passion for sales
▪️A willingness to learn & expand your knowledge with jewellery, pearls & diamonds
▪️Outstanding customer service skills
▪️Building & maintaining customer relationships & effective in dealing with client inquiries face to face, over the phone & via email.
▪️Preferably a background & understanding of retail operations
▪️Able to work as part of a team & autonomously
▪️A great eye for detail & creativity
What's in it for you?
▪️On the job training - right through to back of house production
▪️Great pay package
▪️Perfect work life balance
▪️Amazing location & easily accessible
▪️A permanent full-time position
Benefits:
▪️Competitive salary
▪️Opportunity to develop & grow your career with the business
If you are interested in applying for the role, please provide a copy of your resume & accompanying this with a handwritten one-page summary of why you would fit this role.
**Please not the requirement of both documents is essential if you wish to be considered for the role.
Our mailing address is:
Anastasia's of Broome
PO Box 547
Broome
WA 6725
As part of our recruitment process, the successful applicant/s will be required to complete a State & Federal Police Check from the relevant State and/or Territory he/she resides in before receiving an Employment Offer.
Applications close on 20th February 2021
Kimberleyland Waterfront Holiday Park
CLEANING POSITIONS - KUNUNURRA
Kimberleyland Waterfront Holiday Park, Kununurra Western Australia, requires an energetic, reliable couple or singles to job share cleaning amenities and cabins for an immediate start. Must be available for a 7 day roster. You must be physically fit, have an eye for detail, have pride in your work and work well in a team. This will be an ongoing position for the right couple. Must have a manual c class licence. Please send resume to manager@kimberleyland.com.au . Only shortlisted applicants will be contacted.