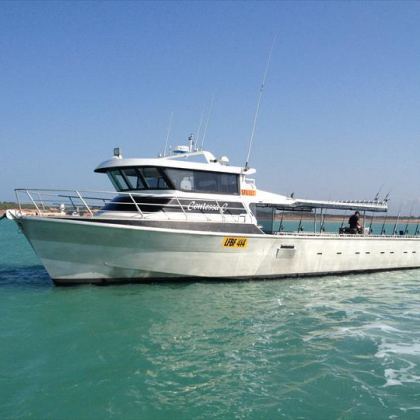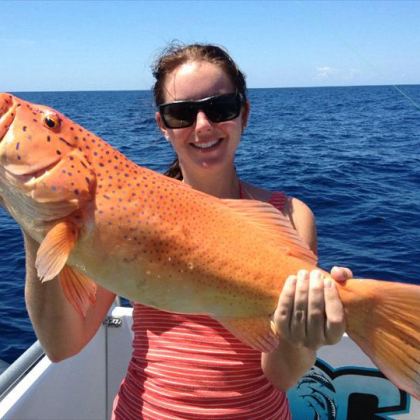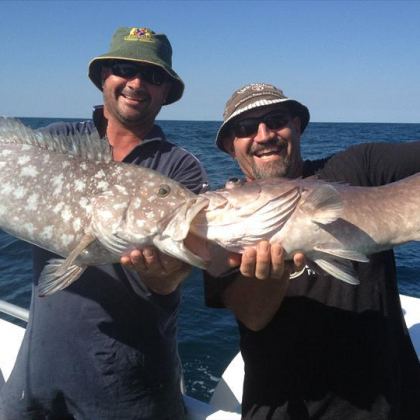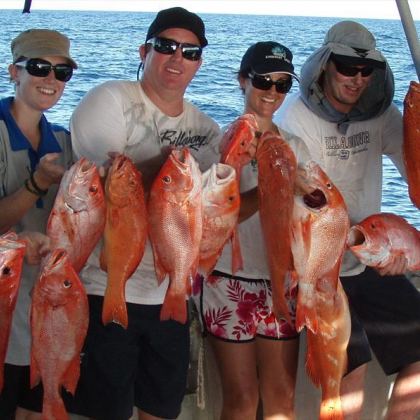 Wel­come to Absolute Ocean Char­ters, we are an owner/​operator busi­ness with over 15 years expe­ri­ence explor­ing the turquoise waters of Broome. Our aim is to pro­vide excep­tion­al val­ue for mon­ey tours and first class service.

We offer a vari­ety of tours spe­cial­is­ing in full and half day Reef Fish­ing, Creek Fish­ing and Mud Crab­bing char­ters. Whale Watch­ing tours, Eco Sun­set tours and Div­ing are on offer through­out the year. We also offer Exclu­sive Whole Boat char­ters where you can cus­tomise a char­ter to suit your needs, for your next par­ty or event.


Our ves­sel ​'Con­tes­sa C' is a 20m Leg­end Design Alu­mini­um Cruis­er, pow­ered by a 1300hp Cat engine. She has a top speed of 30kts and cruis­es effort­less­ly at 24kts to get you to the awe­some grounds in no time.
'Con­tes­sa C' pro­vides a huge shad­ed deck and plen­ty of com­fort­able sit­ting room to relax and soak up the beau­ti­ful envi­ron­ment

There is a full size toilet/​shower onboard, kitch­enette and air con­di­tioned wheelhouse.

Absolute Ocean Char­ters pro­vides every­thing you need to enjoy your day, includ­ing food, non alco­holic drinks, fish­ing gear and sunscreen.

We offer a com­pli­men­ta­ry air con­di­tioned return trans­fer ser­vice from your accommodation.

Begin­ner or expert, our high­ly trained and very expe­ri­enced staff will always be on hand to help you enjoy your day.
Fam­i­lies and young chil­dren are wel­come, you may wish to share a line with your child.


We pride our­selves on an excep­tion­al lev­el of cus­tomer ser­vice and will take the time and effort to make your day the most enjoy­able, whichev­er tour you choose!

Enjoy a Full Day Reef fish­ing char­ter catch­ing qual­i­ty table fish for din­ner, or earn brag­ging rights land­ing a great fight­ing sport fish! Every­thing is pro­vid­ed includ­ing return trans­fers from your accom­mo­da­tion, all you have to do is remem­ber to bring your camera!
Ama­teurs, experts, fam­i­lies & chil­dren wel­come. You may wish to share a line with your child.
Absolute Ocean Charters reserves the right to cancel or postpone a charter if weather conditions are unsafe or unsuitable.


In the event of the skipper cancelling a charter you can either reschedule your trip for another day take a gift voucher for a future trip or receive a full refund.

A cancellation fee of 50% will apply to bookings withdrawn no less than 72hrs prior to departure date.
No refund will be given if withdrawal is received less than 24hrs prior to departure date.