Broome Whale Watching Charters
Tours and Activities
Water Based Tours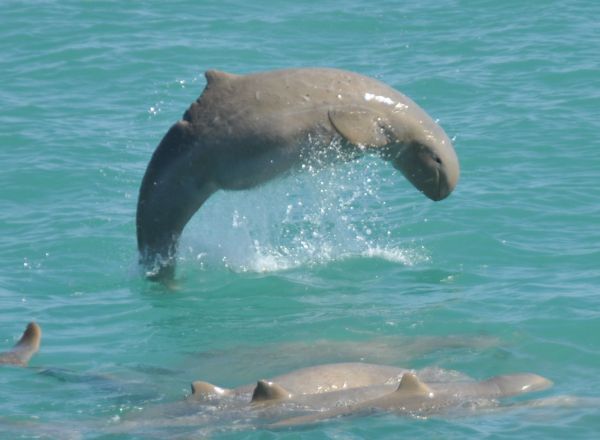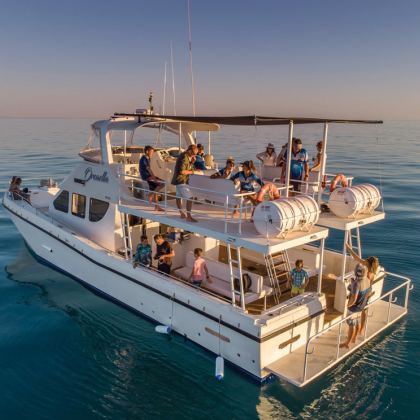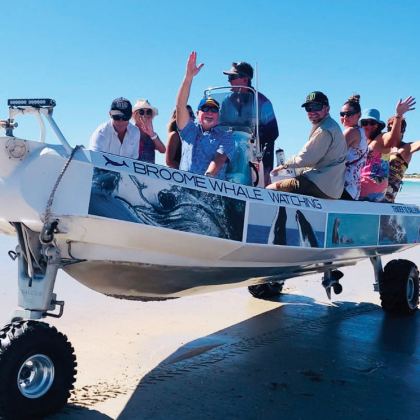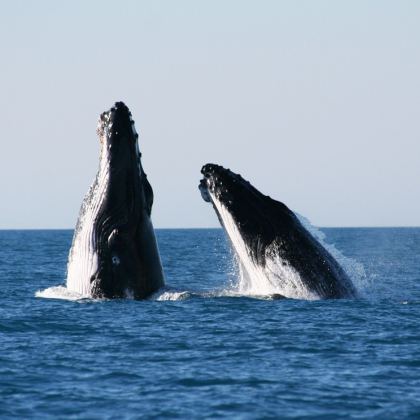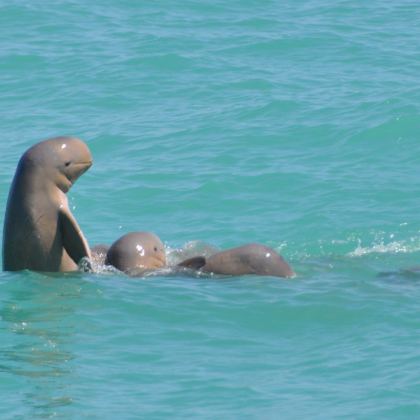 Broome Whale Watch­ing is an award-win­ning marine tourism oper­a­tor offer­ing unfor­get­table wildlife eco cruis­es in the Kim­ber­ley. With over 20 years' expe­ri­ence in marine inter­ac­tion along the WA coast, you are bound to enjoy inti­mate encoun­ters with whales, snubfin dol­phins and an array of marine life. As pion­eers of the whale watch­ing indus­try in the Kim­ber­ley and founders of Australia's first Snubfin Dol­phin cruis­es, Broome Whale Watchi­ng believe in a wholis­tic approach towards eco­tourism. Focus­ing on sus­tain­able prac­tice and deliv­er­ing mem­o­rable expe­ri­ences on board, is what makes their tours the best cruis­es in Broome.
Relax on board their 50foot cata­ma­ran ​'Orcael­la' or take in the stun­ning scenery from their top deck and help the ​'Skip­per' spot wildlife. Sip on a glass of bub­bles and soak up Broome's mag­nif­i­cent sun­set. Dis­cov­er the rea­son 35,000 hump­back whales embark on their annu­al migra­tion to Broome.
If you are keen on a morn­ing of fun, join their expe­ri­enced crew on a dis­cov­ery of Roe­buck Bay. Find out why Sir David Atten­bor­ough vis­it­ed Broome to film the Aus­tralian snubfin dol­phins. Treat your­self to their deli­cious fresh­ly baked good­ies and learn all about the incred­i­bly diverse eco sys­tem of the bay.
Whether you're with friends, fam­i­ly or the kids, this is a once in a life­time expe­ri­ence. Let their friend­ly crew take you on an unfor­get­table eco-cruise through the stun­ning waters of Broome.
A lit­tle wor­ried about get­ting wet when you board on to the boats? Broome Whale Watch­ing have it cov­ered. ​'Sealegs', their amphibi­ous trans­fer ves­sel will get you from shore to ​'Orcael­la' dry and safe, ready for your day on the water.
FREE whale work­shop for kids. Ages 2 or younger trav­el free (select infant rate). Child rate is for chil­dren aged 3 – 14 years old.
Whale Watch­ing & Sun­set Cruis­es sell out weeks ahead of time. Book ear­ly so you don't miss out.
Broome Whale Watch­ing are here to cre­ate unfor­get­table mem­o­ries with you!
In
2007
, our fam­i­ly pio­neered the very first whale watch­ing char­ter in the north­west region. With over
35
,
000
hump­back whales fre­quent­ing our waters cou­pled with ide­al cruis­ing con­di­tions, we believe Broome is the ide­al des­ti­na­tion for whale watch­ing in Aus­tralia. Join us for an after­noon as we cruise Broome's tran­quil waters aboard ​
'
Orcael­la', our cus­tom built
50
foot cata­ma­ran. Our ful­ly qual­i­fied and infor­ma­tive crew will take you out for an after­noon of inter­ac­tive fun observ­ing the mag­i­cal crea­tures of the deep, our hump­back whales. Lis­ten to the whales singing to each oth­er with our hydrophone or sit back and embrace their majes­tic per­for­mances. ​
'
Sealegs' our amphibi­ous trans­fer ves­sel will take you out to ​
'
Orcael­la' so you arrive safe and dry ready to enjoy your after­noon on the water.
Enjoy a
3
.
5
hr morn­ing cruise explor­ing the pris­tine wilder­ness of Roe­buck Bay, home to dugongs, tur­tles, migra­to­ry shore­birds, and the rare Aus­tralian Snubfin Dol­phin. As we take you on a morn­ing adven­ture learn­ing about the diverse ecosys­tem, help our team spot the wildlife of the bay. There is no bet­ter way to start your morn­ing with our fresh­ly made morn­ing tea, a cup­pa in hand and a cruise through the turquoise waters of Broome. Your morn­ing includes an infor­ma­tive com­men­tary, cour­tesy bus trans­fers, tasty snacks, hot
&
cold bev­er­age. If the con­di­tions are right, have a go at boom net­ting but remem­ber to pack your bathers and tow­el! Wildlife sight­ings vary from day to day.
Recent­ly, Roe­buck Bay was declared Australia's newest marine park. Home to rare Aus­tralian snubfin dol­phins, Roe­buck Bay and it's sea-grass mead­ows is a major nurs­ery for numer­ous marine life. Enjoy a morn­ing cruise explor­ing the pris­tine wilder­ness of Roe­buck Bay, as we search and inter­act with Australia's largest pop­u­la­tion of
SNUBFIN
dol­phins. Help our team spot tur­tles, sea snakes, dugongs and even man­ta rays as we take you on a morn­ing adven­ture learn­ing about the diverse eco-sys­tem of the Bay. Enjoy a friend­ly and per­son­alised tour as we pro­vide you with home made morn­ing tea, fruit plat­ters and cof­fee. As our depar­ture is from Roe­buck Bay, we are able to spend less time trav­el­ling and more time enjoy­ing the inter­ac­tions of our Snubfin Dol­phins. Roe­buck Bay pro­vides an incred­i­ble haven for nature lovers!
Look­ing for some­thing fun and relax­ing for your after­noon in Broome? Why not enjoy a sun­set cruise through the beau­ti­ful water­ways of Broome with our wel­com­ing crew? Jump into the boom net for a swim or relax onboard as we treat you to some deli­cious treats. You are wel­come to
BYO
drinks or pur­chase from our bar on board. Lis­ten to some chilled music as we top up your drinks and you soak up the sur­round­ing beau­ties that make Broome a must vis­it des­ti­na­tion. End your day with a per­fect back­drop of our remark­able Kim­ber­ley sun­set sky. The mag­i­cal skies of Broome nev­er dis­ap­points! Swim­ming avail­able from April-June and Sep­tem­ber ‑Octo­ber. This activ­i­ty requires rea­son­able lev­el of fit­ness, and you must be a com­pe­tent swim­mer. Chil­dren under the age of
12
years must be accom­pa­nied by an adult. Cour­tesy bus trans­fers included.
TRAVEL RESTRICTIONS
Where you cancel due to travel restrictions other than vaccination or testing requirements you will be offered a refund or credit note (to be used at a later time) where such an offer is at the absolute discretion of Broome Whale Watching.
We reserve the right to withhold some monies to cover administrative expenses and other losses dependent on when notice of cancellation is given by you.
UNSUITABLE WEATHER CONDITIONS LOW PASSENGER NUMBERS
All tours are both weather dependent and require a minimum number of passengers to confirm departure. In the event of a cancellation due to weather or low passenger numbers you may be contacted and rescheduled to a different time of day otherwise a refund will be provided. Broome Whale Watching reserves the right to cancel departure with minimal notice if unforeseen weather conditions are experienced before departure.
Where you cancel for concerns of weather conditions within 48 hours of departure you will not be issued a refund.
In the event of unsuitable conditions Broome Whale Watching will notify you of changes to tour departures via text message sent from mobile number +1(855) 656 -1272.
COVID 19 & CLOSE CONTACT CANCELLATIONS
Where you cancel within 48hrs of departure for a positive test to COVID 19 or identified as a close contact therefore required to isolate you will forfeit some of the monies paid.
In the event of a sudden business shutdown whereby Broome Whale Watching staff are identified as close contacts therefore required to cancel tours and isolate you will receive a full refund.
When making a booking you acknowledge and agree that you may be subject to a temperature reading prior to boarding. We reserve the right to cancel or amend your reservation if you present with a higher than 37.8 degrees. Where your cruise is cancelled you will forfeit some of the monies paid.
OTHER CANCELLATIONS
Where you cancel for other reasons and do not provide a minimum of 48 hours' notice before departure you will forfeit all monies paid.
Where you cancel an exclusive charter and do not provide two weeks' notice before departure you will forfeit all monies paid.
Where you cancel a reservation for four or more passengers and do not provide one weeks' notice before departure you will forfeit all monies paid.
We reserve the right to withhold all monies to cover income losses for customers who do not arrive to their departure point by the specified time.
BOOKING CONFIRMATION
When making a booking either by phone email or through our online service you will receive an email confirmation from our reservation system with a booking number and detailed information about the reservation. If you do not receive the email confirmation contact us by phone.
As a condition of the booking you must provide the correct details in the booking form including a contact mobile number. If you become aware of any incorrect information noted on the booking form or need to make an amendment to the booking (including location for pick up point) you must notify us by phone or by email. Broome Whale Watching will also notify you of any changes to your booking either by phone or via text message from mobile number +1(855) 656 -1272. You are responsible for checking tour update messages sent to the mobile number provided by you on the booking form.
HEALTH AND FITNESS
Broome does not have a boating facility. Beach access is the only means to access a boat. You warrant that you have a basic level of physical fitness and mobility and can negotiate uneven surfaces climb stairs and board boats. Broome Whale Watching reserves the right to deny you permission to travel or participate in any aspect of a tour at any time and at your own risk and expense where Broome Whale Watching determines that your physical or mental condition renders you unfit for travel or you represent a danger to yourself or others.
Pregnancy is considered a medical condition and must be disclosed at the time of booking.
You are responsible for assessing whether a tour is suitable for you. Broome Whale Watching does not provide medical advice. It is your responsibility to assess the risks and requirements of each aspect of the tour based on your own unique circumstances limitations fitness level and medical requirements.
SPECIAL REQUIREMENTS
Any special requirements including food allergies and dietary restrictions must be disclosed to Broome Whale Watching at the time of booking. We will use reasonable efforts to accommodate special requirements or requests but this is not always possible.
SPECIAL FACILITY LICENCE
Broome Whale Watching reserves the right to refuse service to any person who in their judgment shows signs of intoxication fails to provide acceptable identification when requested or does not comply with our house rules or behaviours appropriately. You are permitted to BYO alcoholic beverages on tour. You agree to comply to the 'No Self Service' policy and have your beverages kept chilled by our staff. Red wine homemade beverages and bottles of spirits are strictly not permitted. All vehicles and vessels are 'non-smoking' areas.
AGE REQUIREMENTS
Anyone under the age of 18 on the date of first travel is a minor. Minors must always be accompanied by an adult. Broome Whale Watching does not provide care services for minors and expressly disclaims any responsibility for chaperoning or controlling any minor(s).
HOW TO CANCEL OR AMEND YOUR BOOKING
For urgent changes or cancellations of a booking that falls within the same week of departure contact us by phone on 08 9192 8163.
Send us an email to cancel or amend a reservation made for later in the season.