Discovery Holiday Parks - Broome
Accommodation
Caravan Parks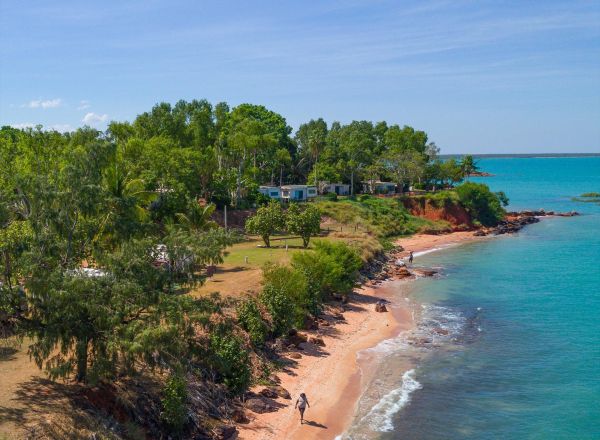 Check In: 14:00 | Check Out: 10:00
At Dis­cov­ery Parks, it's not about us; it's all about you. We are com­mit­ted to pro­vid­ing you with the best hol­i­day expe­ri­ences in the coun­try – good times and great memories.
Dis­cov­ery Parks — Broome (for­mer­ly Roe­buck Bay Car­a­van Park) is the only park in Broome locat­ed on a beach, with unin­ter­rupt­ed views over the turquoise waters of Roe­buck Bay.
Wit­ness the phe­nom­e­non ​"Stair­case to the Moon" on your front car­a­van-step in West­ern Aus­trali­a's spec­tac­u­lar get­away and final fron­tier: Broome. After wak­ing up to the gen­tle crash­ing of waves on the shore, head for a cup­pa at the Town Beach Café on site. When you're ready, lace up your boots and take on this adven­ture town. What to choose? Cruise through Hor­i­zon­tal Falls, watch a croc­o­dile live feed­ing, or see dinosaur foot­steps embed­ded in the rock. Are you more low key? Try out a few of the Abo­rig­i­nal art gal­leries or meet the res­i­dents of the Broome Bird Obser­va­to­ry. Whether we're the begin­ning or the end of your car­a­van­ning jour­ney, stay at Dis­cov­ery Parks — Broome to vis­it this unfor­get­table Top End destination.
All Accommodation Bookings
Acceptance of an accommodation booking is acknowledgment and agreement to these terms and conditions.
The tariff is based on the number and type of guests for the specified time and duration. Any changes thereto may change the tariff.
Prices quoted are current at time of booking inclusive of GST and firm upon full payment for the specified time and duration.
Bookings cancelled 14 days or more prior to the arrival date will be refunded less one nights accommodation.
Where bookings are cancelled less than 14 days prior to arrival an amount equalling 25% of the total accommodation quoted above will be retained (or one nights accommodation whichever is greater). Bookings can be moved however prices may change depending on the new booking period and amendment fees may apply. Customers may hold credit on their client account for up to 12 months.
The same cancellation requirements as indicated above apply to Group bookings (two or more on-site accommodation) however 30 days notice must be given in this case.
No refunds are given for early departures or cancellations once arrived.
Stricter cancellation conditions may apply for individual parks during their peak season. Refer to the terms and conditions outlined in your booking confirmation.
Only one promotional/membership offer can be redeemed on any booking.
Promotional code voucher or membership discounts must be redeemed at time of online booking. Discounts will not be applied or refunded after a booking has been confirmed.
In the respect for the comfort of others staying at each of the Discovery Parks we only allow one vehicle per booking.
We reserve the right to refuse entry into Parks. A full refund will be issued under these circumstances.
Persons under 18 years of age must be accompanied by a parent or guardian.
Each online booking website has its own cancellation/refund policy that might also be relevant to the specific deal that is being offe