ECO ABROLHOS - Kimberley Cruises
Tours and Activities
Water Based Tours
Extended Cruises
Travelling North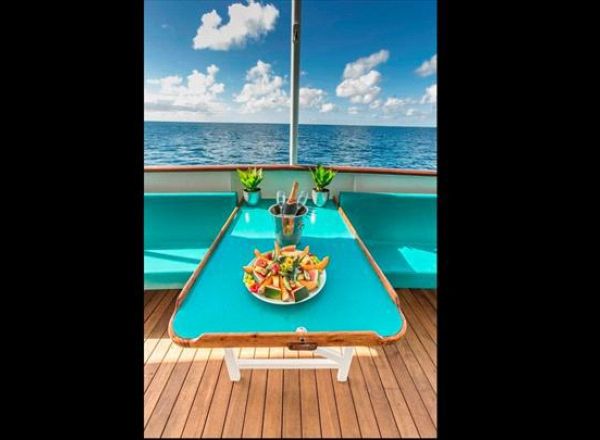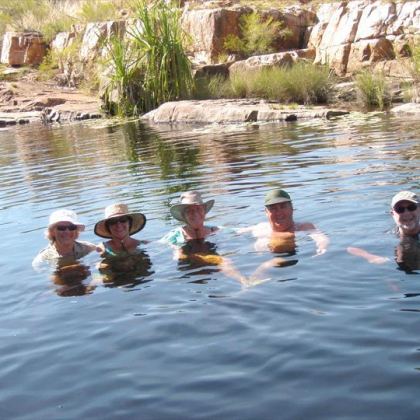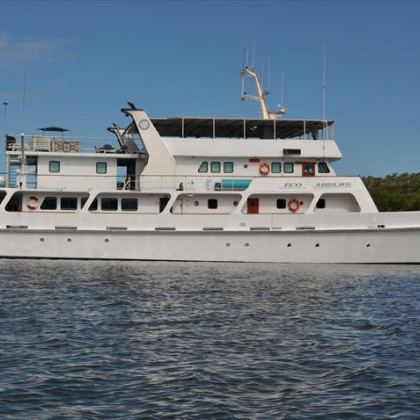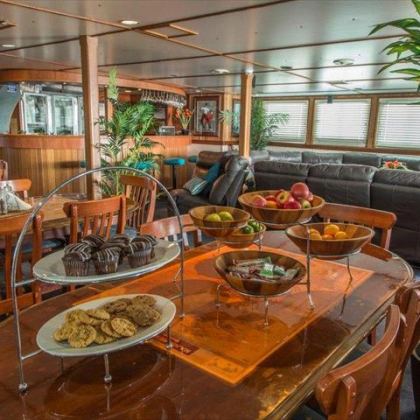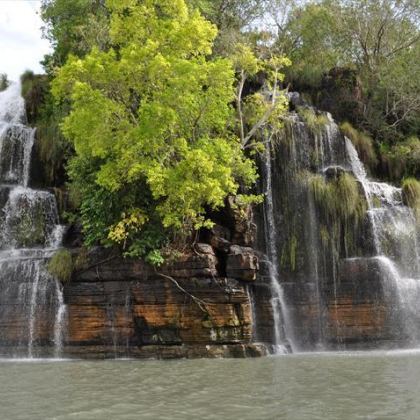 Hours: Monday - Friday 9.00 - 5.00pm
Mini cruise ship 19 en-suit­ed cab­ins inti­mate 32 pas­sen­gers 4 ten­der boats 360 degree view­ing deck
13 Night Adven­ture Tour Broome to Dar­win or Dar­win to Broome. On the Eco Abrol­hos the pas­sen­gers feel like fam­i­ly. Our relaxed, laid back atmos­phere ensures you have a won­der­ful time.
Length : 35m catamaran
Accom­mo­da­tion: 4 low­er deck sin­gle bed bunk cab­ins, 3 mid­dle deck king sin­gle bunk cab­ins, 2 queen bed mid­dle deck cab­ins, 2 mid­dle deck dou­ble bed state­rooms, 1 mid­dle deck king bed deluxe state­room, 5 top deck king bed deluxe state­rooms. All cab­ins have their own en-suite.
Covid 19 Booking Policy To help our guests make future bookings and payments with confidence Eco Abrolhos Cruises have temporarily implemented a Covid 19 Booking Policy. This policy will apply to bookings made after 1st May 2020 and will also cover instalment payments received by us after 1st May 2020. Should any of the following events prevent you from joining your tour booking: 1. you are unable to join a tour due to Australian Government travel restrictions relating to Covid 19 2. you have been diagnosed with Covid 19 3. you have been required to undertake Covid 19 isolation then Eco Abrolhos Cruises will reschedule your booking to a later date when you are able to join us OR we will issue a refund less $110 administration fee for any funds received after 1st May 2020. Reasonable substantiation of your claim such as a medical certificate will be required. Eco Abrolhos Tours travel to remote wilderness areas that take us great distances from medical facilities. During the tour there are walks and climbs over uneven and unstable terrain and you may experience physical discomfort. It is for this reason our tours are intended for persons in reasonably good health and fitness that are prepared to accept the risks involved of an adventure tour. Passengers who are not fit for such a tour for any reason including disability limited mobility or other health conditions which may entail a risk to your health and/or the enjoyment of fellow travellers are advised to contact us to assess our tour's suitability for you before booking. DEPOSIT PAYMENT SCHEDULE •A completed Booking Form + 20% non-refundable deposit of the total tour price is required within seven (7) days of making a booking. By making payment of the deposit to Eco Abrolhos Cruises (Eco) the passenger implies acceptance of the booking terms and conditions. •When the deposit has been received and Eco confirms the booking in writing to the passenger (or passengers travel agent) a contract is made. •The balance of the cruise price is due ninety (90) days prior to departure. •All prices are quoted in Australian dollars and are exclusive of GST unless otherwise stated •Payment to Eco is required in Australian dollars to Eco's nominated account being Westpac BSB: 036-103 Account: 504433 or by Credit card (Mastercard or Visa). Credit card payments incur a 1.5% surcharge •Failure to make payment(s) as they fall due will entitle Eco to consider the booking contract to be cancelled by the passenger and the notification date will be deemed as the payment default date. Standard cancellation policy will apply. CANCELLATION POLICY •Notification of a cancellation must be made by written communication to Eco. The following cancellation fees will apply based on the notification date: 91 days or more before the departure date the cancellation fee is equivalent to your 20% deposit 90 days or less before the departure date the cancellation fee is the equivalent of the full cruise price •Failure to board the vessel on the departure date will be deemed a cancellation of the tour by the passenger and the cancellation fee is the equivalent of the full cruise price •Changes to booking details incur a $200 administration fee and are at the discretion of Eco TRIP CANCELLATION MEDICAL AND INTERRUPTION INSURANCE •Eco strongly recommends that passengers purchase tour cancellation medical and interruption insurance as protection against financial loss from circumstances that may require you to cancel or leave a tour whilst in progress. Also recommended is adequate insurance to cover luggage personal effects and all other risks. TOUR CHANGES DELAYS OR CANCELLATIONS •Eco will endeavour to follow the tour itinerary however Eco reserves the right to change the itinerary because of some unexpected event or prevailing weather conditions. The passenger will have no claim against Eco should this occur. •If Eco cancels or changes the departure date or time of a tour the passenger will have no claim against Eco for hotel travelling expenses or other loss delay inconvenience or expense due to a cancellation or change. •Eco will not be liable to the passenger for any delay in providing tours caused by any Force Majeure Event. Force Majeure Event means any event cause or circumstance beyond Eco's responsibility or control including any act of God fire perils of the sea harbours rivers or other navigable waters inclement weather cyclones act of government or ruling authority change to Laws epidemics strikes civil commotion war hostilities riots strikes labour stoppages acts of terrorism accident collision stranding theft barratry or any other crime lockouts faults or errors of navigation or management of this or any other vessel seizure of the vessel under legal process compliance with a government or other authority requirement discontinuance or shortage of any goods required to provide the Services fuel shortages or abrupt and unexpected increase in fuel costs or problems or delays with services or personnel required to supply the Services. PASSENGER HEALTH AND RESPONSIBILITIES •The Passenger represents and warrants that they are physically fit and capable of undertaking the agreed tour & that they have disclosed any pre-existing illness disability or pregnancy or any other condition at the time of booking. If any such condition arises after booking it must be reported to Eco in writing as soon as the illness or disability is known •Eco may in its sole discretion require the production of a doctor's certificate from the Passenger to certify that the Passenger is physically fit and capable of undertaking the agreed cruise (Certificate of Fitness). •Eco reserves the right to refuse passage to a passenger who has failed to give proper notice of physical disability illness or handicap requiring special care attention or treatment or who in Eco's opinion is physically or mentally unfit for travel. In such event the Fare will be refunded at the sole discretion of Eco and Eco shall be entitled to deduct any expenses associated therewith. •The Passenger must always obey the rules of the vessel as notified to the Passenger by Eco or Eco's employees or contractors from time to time. •Eco may refuse to transport and may disembark any passenger at port at any time due to illness disease injury mental problems vulgar or improper conduct abuse of alcohol or drugs refusal to obey regulations or whose presence in the opinion of the master may be detrimental to the comfort or safety of other passengers the vessel or the crew. Eco shall not be liable for any expenses incurred in declining to carry a passenger or for the involuntary disembarkation of a passenger •Any charges incurred by passengers for medical reasons (for example physicians surgeons hospitals off ship accommodation medication air or ground ambulance evacuation) will be the sole responsibility of the passenger •Smoking is not permitted anywhere within the vessel interiors. Smoking is only permitted on the vessel in the designated smoking area. LIMITATION OF LIABILITY •Eco and the vessel shall not be liable for any Liability death or delay of or injury to any passenger or Loss or damage or delay to Luggage personal effects or other property arising from any Force Majeure Event. •Eco's Liability shall not exceed $100 in the event of loss damage or delay to any of the Passenger's Luggage or other property taken with him or her on the tour. •Liquor laws prohibit passengers from bringing supplies of liquor onboard the vessel. •Eco is not responsible for money jewellery documents and any other valuables which passengers keep on their persons in their cabins or in their Luggage. •No modification or alteration of the terms of this Agreement shall be binding unless made in writing and duly executed by the parties BOOKING AGENTS •Eco will not be responsible for payments made by a passenger to a booking agent until these payments are forwarded & received by Eco •Cancellations must be made through your booking agent and any refund will be obtained directly from the booking agent. The booking agent may retain a booking fee as per their terms and conditions. •Eco will not be held responsible for the accuracy of any marketing materials reproduced on third party websites. Upon boarding of the Eco Abrolhos you will be required to sign a Disclaimer & Limitation of Liability Form. A copy of this form may be obtained by emailing & requesting the form from info@ecoabrolhos.com.au or by calling us in the office on (08) 9964 5101