Broome Bird Observatory TOURS
Tours and Activities
Water Based Tours
Land Based Tours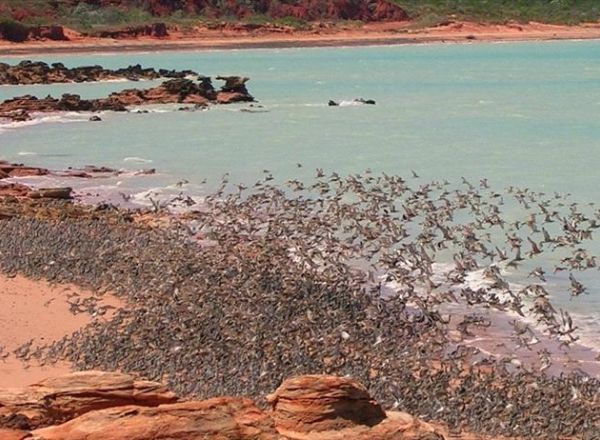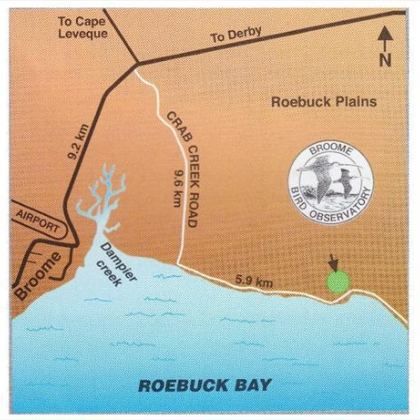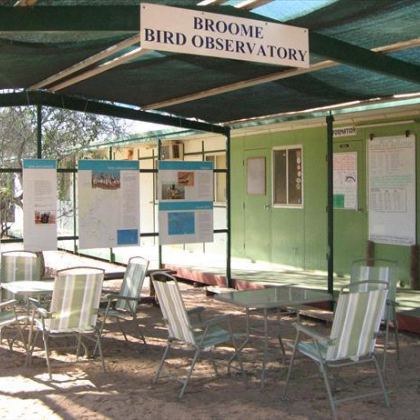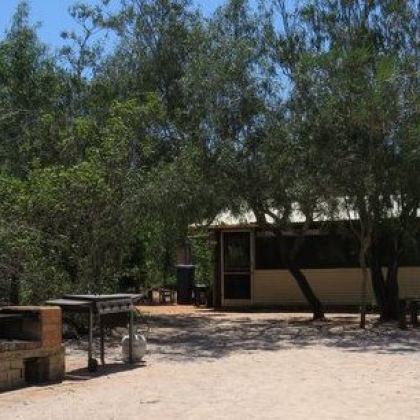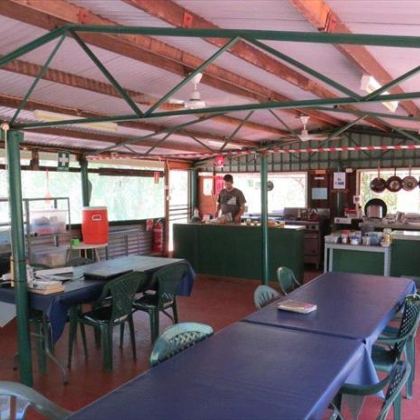 Hours: 8:00 AM to 4:00 PM March through November. These hours apply to the office and shop, but the Observatory trails and facilities are accessible at all hours.
Broome Bird Obser­va­to­ry is locat­ed on the north shore of Roe­buck Bay, shore­bird cap­i­tal of Aus­tralia and one of the world's great bird-watch­ing des­ti­na­tions.
We are a not-for-prof­it organ­i­sa­tion for research, edu­ca­tion and recre­ation­al bird-watching.
Join one of our tours and expe­ri­ence Broome's amaz­ing birdlife  — we offer 1hr, 2.5hr and full-day tours to Roe­buck Bay and beyond.
Stay overnight in our basic but com­fort­able air-con rooms, or camp in our bush camp­ground ($15 per adult per night, chil­dren 8 – 12 years $7.50, under 8s free)
Take a short walk down to the beach or explore the trails around the BBO grounds.
Join us for Bird Log every evening — share your obser­va­tions and hear what oth­er birds and ani­mals have been seen around the area.
Learn about research based at the BBO — vis­i­tors are wel­come to par­tic­i­pate in our reg­u­lar mud-sam­pling and shore­bird band­ing activities.
We offer a vari­ety of bird­watch­ing and nature tours, each show­cas­ing a dif­fer­ent habi­tat found with­in 70 km of the obser­va­to­ry. Mar­vel at man­groves and 10 metre tides, spy on flocks of thou­sands of roost­ing shore­birds on red sandy beach­es, see the life that exists only with fresh water at ephemer­al wet­lands, and enjoy the set­ting West­ern Aus­tralian sun over vast emp­ty plains.
With over 300 species record­ed in the Broome area, we are sure to add some long-desired species to your list. New to bird­watch­ing? Our tours are a great start­ing point for those who just want to get out and appre­ci­ate nature. Tar­get­ing some­thing spe­cif­ic? No prob­lem! Our guides are expe­ri­enced bird­watch­ers with an inti­mate knowl­edge of our regions birds and can help get you onto that long-await­ed addi­tion to your life list. We can even tai­lor a tour to suit your needs.
First a short talk — hear all about the Broome Bird Obser­va­to­ry, research based here and the ecol­o­gy of our amaz­ing shore­birds. Then a guid­ed walk to the bay and around the
BBO
grounds – bor­row some binoc­u­lars and see what you can spot. Final­ly join us for refresh­ments in the shade­house while we see who comes to the bird baths.
Just inland from the
BBO
, Roe­buck Plains offers a spec­tac­u­lar land­scape of grass­land and sam­phire flats, fringed by pin­dan and paper­bark wood­land. Inac­ces­si­ble in the wet sea­son, the flood­ed plains teem with water­birds. The plains trans­form dur­ing the dry and are dom­i­nat­ed by dry grass­land species. We'll dri­ve out across the plains, stop­ping to view birds and oth­er wildlife. Our late after­noon tours return at dusk when there is a chance to see the enig­mat­ic North­ern Nail-tail Wal­la­by emerg­ing to feed.
This tour is a full-day dis­cov­ery of the var­i­ous habi­tats and birds of Roe­buck Plains Sta­tion. We explore fresh­wa­ter lakes, as well as the open plains and bush between the lakes. Birds observed around the lakes include ducks, ibis, grebes, and fresh­wa­ter shore­birds. The lakes and plains also sup­port an excel­lent vari­ety of birds of prey, and it is not unusu­al to see a dozen rap­tor species in the day.
The man­grove com­mu­ni­ty exists in the ever-chang­ing inter­tidal zone, where land meets sea. A fas­ci­nat­ing range of species are found exclu­sive­ly in the man­groves. We'll dri­ve a short way to One Tree, then walk about
1
km along the beach towards Crab Creek, where we'll explore the man­groves and the mud­flats beyond, before return­ing back along the beach. Join us in the shade­house for refresh­ments after the tour. Please note that dai­ly tim­ings for this tour vary depend­ing on the tides.
This tour focus­es on view­ing the birds for which Roe­buck Bay and the Obser­va­to­ry are so famous. We spend approx­i­mate­ly two hours inves­ti­gat­ing roost sites along the north­ern shores of the bay dur­ing the high tide peri­od. At this time, the shore­birds are forced from their feed­ing areas by the ris­ing tide and come to rest at spe­cif­ic loca­tions along the shore­line. You will have an oppor­tu­ni­ty to view a wide vari­ety of shore­bird species at rel­a­tive­ly close range, allow­ing you to dis­cern the some­times sub­tle fea­tures that dis­tin­guish them. Your guide will describe key iden­ti­fi­ca­tion cri­te­ria, as well as dis­cuss the ecol­o­gy and con­ser­va­tion impor­tance of Roe­buck Bay and the incred­i­ble life cycle of the migra­to­ry shore­birds that utilise the bay. You will also hear about the exten­sive research that is con­duct­ed on the shore­birds of the bay, of which
BBO
is an inte­gral part. Trav­el between the roost sites is by vehi­cle and very lit­tle walk­ing is required for this tour. Please note dai­ly tim­ings for this tour vary depend­ing on the tides.
Roe­buck Plains is the most acces­si­ble and reli­able place in the world to find Yel­low Chat, one of Aus­trali­a's least known endem­ic species. There­fore, the best way to see this species is on a
BBO
Yel­low Chat Twitch! Many Aus­tralian bird­watch­ers have nev­er had the plea­sure of watch­ing flocks of this high­ly spe­cialised and beau­ti­ful species bounce through the des­o­late sam­phire flats. Yel­low Chat is one of the ​
"
must see" birds of the Broome region, and you should not miss what is like­ly your best oppor­tu­ni­ty to see this hard-to-find species. These tours are avail­able by request at a time to suit guests. We rec­om­mend ear­ly morn­ing or late afternoon.
Full refunds available for cancellations made 30 days or more prior to booked date of arrival. No refunds available for cancellations made less than 30 days prior to booked date of arrival.