Accommodation
Eco Retreats
Travelling South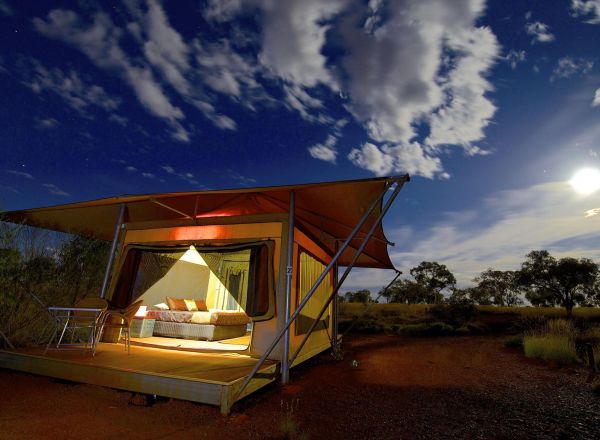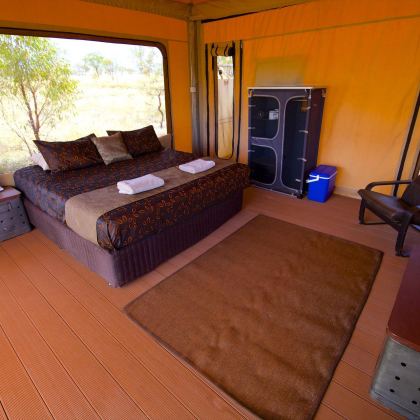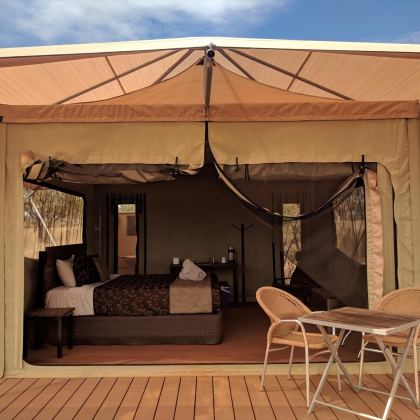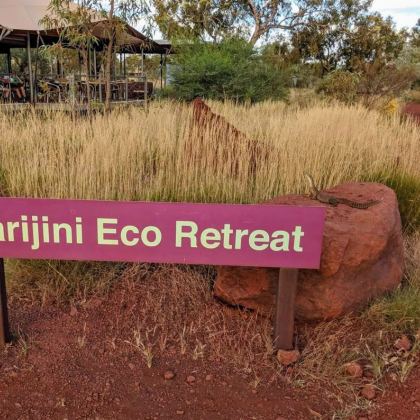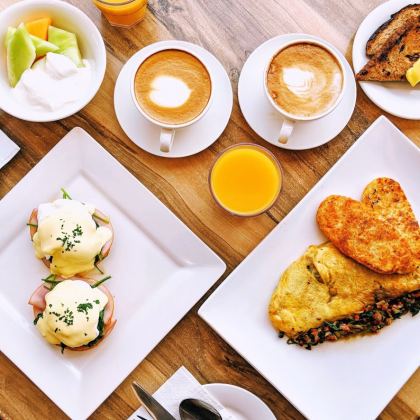 Check In: 14:00 | Check Out: 10:00 Hours: 7.00am to 9.00pm daily
Lux­u­ry Eco Tents in Kar­i­ji­ni Nation­al Park.
Kar­i­ji­ni Eco Retreat
–An Authen­tic Out­back Experience!
Ide­al­ly locat­ed in the Kar­i­ji­ni Nation­al Park just 35km from the Kar­i­ji­ni Vis­i­tor Centre
and in close prox­im­i­ty to the Jof­fre, Weano and Han­cock Gorges, Kar­i­ji­ni Eco Retreat is
the first and only accom­mo­da­tion of its kind in the Park and offers a selec­tion of afford­able options.
After a day of explor­ing the spec­tac­u­lar Kar­i­ji­ni Nation­al Park, enjoy an out­back BBQ
in one of the bush BBQ kitchen facil­i­ties. Or join us for a scrump­tious meal and unique
din­ing expe­ri­ence at the onsite 100 seat licensed alfres­co restau­rant and din­ing facil­i­ty offering
qual­i­ty Aus­tralian out­back style cui­sine and a unique din­ing expe­ri­ence. Break­fast, din­ner, lunch and packed pic­nic lunch are avail­able dai­ly along with a selec­tion of drinks and snacks avail­able from the kiosk.
Envi­ron­men­tal­ly Friend­ly Eco Tents
The unique Deluxe Eco Tents at Kar­i­ji­ni Eco Retreat offer guests en-suite bath­rooms and the com­fort of qual­i­ty king size or twin beds with full linen, nat­ur­al ven­ti­la­tion, out­door deck with table and chairs and an unob­tru­sive design that blends har­mo­nious­ly with the gor­geous yet rugged out­back set­ting and nat­ur­al envi­ron­ment. Camp­sites (non pow­ered) are also on offer for the nature lov­ing guests who pre­fer to pitch their own tents or have car­a­vans or camper­vans. Full use of com­mu­nal show­ers, toi­lets and Bush BBQ Kitchen facil­i­ties. All camp­site guests are
wel­come to make full use of the din­ing facility.
Kar­i­ji­ni Nation­al Park
Kar­i­ji­ni Nation­al Park is locat­ed 1400km north of Perth and boasts spectacular
sights, gor­geous gorges, won­der­ful water­falls and pleas­ant pools. Please note that once inside the Nation­al Park, the Eco Retreat is reached via just 3km of unsealed (grad­ed) road. We rec­om­mend 4WD or AWD vehicles.
Kar­i­ji­ni Eco Retreat is 100% owned by Gumala Enter­pris­es Pty Ltd.
Deluxe Eco Tent - High Season
Room Configuration: 1 Bedroom
Max Guests: 3
King Dou­ble bed or King Twin beds. Ensuite facil­i­ties. Extra pax are accom­mo­dat­ed on a fold­er bed or bunk bed. Includes con­ti­nen­tal break­fast. Packed Pic­nic Lunch for 2 pax is avail­able for $49.50 Din­ner prices vary depend­ing on your selec­tion from the menu at our unique out­back fusion style restau­rant. Extra per­son rate includes con­ti­nen­tal breakfast
Should the need arise to cancel or reschedule your reservation please advise more than 7 days prior to your arrival to avoid forfeiting your deposit.