Kimberley Adventure Tours
4WD Tours
Land Based Tours
Tours and Activities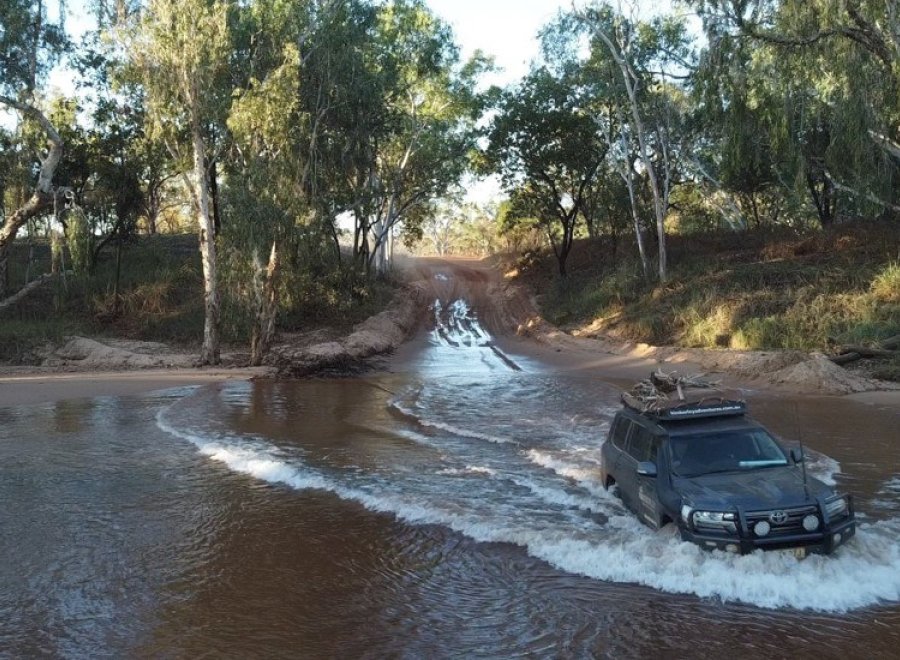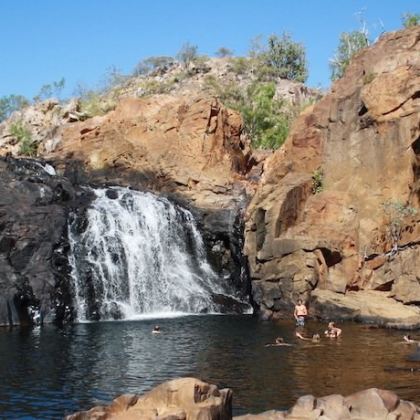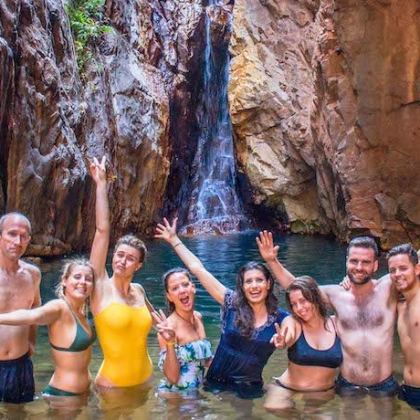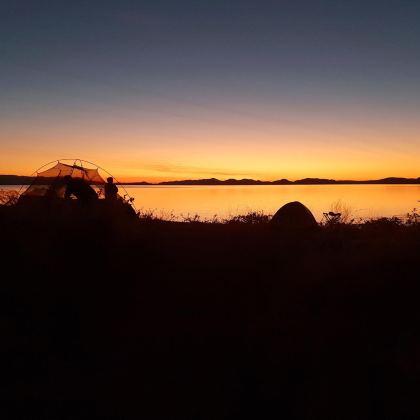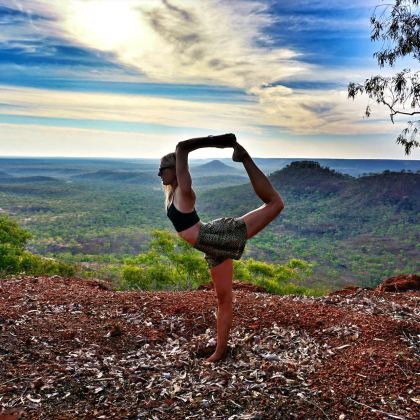 If you are look­ing for the ulti­mate wilder­ness adven­ture and want to enjoy the real Aus­tralia, then Kim­ber­ley Adven­ture Tours has just what you are look­ing for. Our tours of Kim­ber­ley Aus­tralia may be the most fun you will ever have. Pri­vate Access to Cat­tle Sta­tions and Abo­rig­i­nal Land for Camp­ing, Hik­ing and Indige­nous Art. Small Groups, Self Dri­ve Options,Adventure Activ­i­ties, we hike, swim and explore further
Our tours of Kim­ber­ley Aus­tralia may be the most fun you will ever have. Our Kim­ber­ley safaris run from May to Novem­ber each year, the tours are 9 days long and oper­ate between Broome and Dar­win, you can trav­el from Broome to Dar­win, or from Dar­win to Broome. This is a small group camp­ing trip which gets you off the well worn tourist routes and into the Kim­ber­ley wilder­ness where you can camp, hike, swim and enjoy one of Australia's true wilder­ness destinations.
Our Kim­ber­ley Camp­ing Tours Are Always an Adventure.
If there is one thing that our cus­tomers who book one of our 4wd tours of Kim­ber­ley has to say at the end of their trip, it is that it was one of the best adven­tures they have ever had. What makes our Kim­ber­ley safaris so spe­cial is that this area of north­ern Aus­tralia is still large­ly unseen. Our tours of the Kim­ber­ley region will take you into areas steeped in Abo­rig­i­nal and pio­neer­ing his­to­ry. Your trip through Kim­ber­ly will take you into areas most Aus­tralians have nev­er heard of let alone actu­al­ly seen in person.
Our Kim­ber­ley Adven­ture Tours Are for Those Who Are Fit and Healthy.
As our Kim­ber­ley Tours will be tak­ing you into some of the most remote ter­rain in north­ern Aus­tralia, you need to be rel­a­tive­ly fit and healthy. These are camp­ing tours of Kim­ber­ley. Once you depart on your trip through the Kim­ber­ley, you will be treat­ed to camp­ing out under the stars, cook­ing on the camp­fire and swim­ming in water­falls. Our 4wd tours will take you into what many con­sid­er to be one of the last great wilder­ness areas in all of Aus­tralia; the Kim­ber­ley will sim­ply take your breath away.
Booking tips for this operator
When you book the "10 Day Kimberley Adventure Tour" on our website, please select 1 QTY adult rate only - as the total price for 1 adult includes 2 persons in the one vehicle. So, one vehicle with two persons - please select only 1 qty under the ADULT dropdown menu below. If you require additional passengers beyond the included 2, please call us to book by phone 08 9195 2200.
We sup­ply you with a mod­ern 4WD vehi­cle set up for tour­ing the rugged Kim­ber­ley which you drive.
We start the tour with 4WD instruc­tion on the use of the vehi­cle and teach you about dri­ving on dirt roads and cross­ing rivers etc.
In total we will have up to 5 vehi­cles trav­el­ling at the same time, each vehi­cle is in con­stant con­tact with a lead vehi­cle via UHF radio.
The lead vehi­cle is dri­ven by the head guide who will not only take you to lots of secret and unknown spots in the vehi­cle, but who will also guide you on walks and hikes, expect ancient art sites, swim­ming in water­falls and through gorges and lots adventure.
The head guide is also assist­ed by a tour host, the tour host is respon­si­ble for sup­ply­ing and cook­ing the camp food.
Each night to group will camp togeth­er, some­times in camp­grounds but often in beau­ti­ful wilder­ness areas we have to ourselves.
At every camp we have a hot show­er and flush­ing toi­let, even at the remote wilder­ness camps.
This prod­uct pro­vides the best of both worlds, it is a tour with every­thing organ­ised, all you do is arrange to get to Broome, but you also have the inde­pen­dence to dri­ve your own vehicle.
KIMBERLEY ADVENTURE TOURS reserves the right to amend vary or cancel a tour where in its best judgment road climatic political or other circumstances deem it to be necessary.
KIMBERLEY ADVENTURE TOURS cannot guarantee the exact arrival and departure times and is not liable for any failure by you to make connection with any other service or carrier.
KIMBERLEY ADVENTURE TOURS recommends that you take out comprehensive travel insurance.
You understand and accept that the tour may require physical exertion.
You understand and accept that the tour may operate in remote areas.
You agree to observe the safety and other instructions that the tour guide for the duration of the tour.
Our tours require pro-active participation in a remote and rugged region with a small degree of personal risk. Travel Insurance is recommended to cover any unforseen circumstances such as loss or damage of personal equipment evacuation and medical costs.
KIMBERLEY ADVENTURE TOURS accepts no liability for such events as:
• Tour cancellations

• Evacuation costs

• Personal injury

• Loss or damage to personal items

Deposits Payments Cancellations and Refunds
Prices quoted are in Australian dollars and are valid to December 31 of the year in which the tour is undertaken. Bookings may be made direct to our office or website or through any travel agent. A 10% deposit within 7 days of booking will confirm that booking with the balance payable 30 days prior to departure. If circumstances arise that make it necessary for you to cancel your booking the following charges will be incurred:
• 30+ days prior to departure 10%

• 15 - 29 days prior to departure 50%

• 0 - 14 days prior to departure 100%

KAT will make no refunds to passengers who leave the tour for any reason whatsoever.
Travel Insurance
We recommend that all passengers have appropriate travel insurance.