Accommodation
Eco Retreats
Travelling North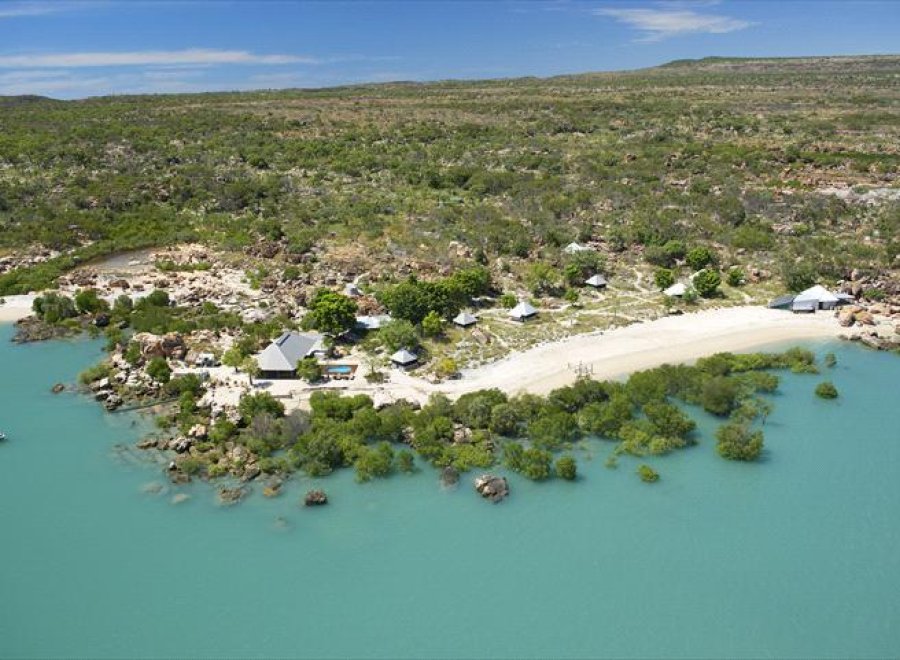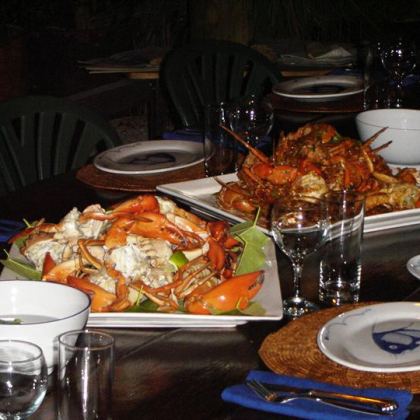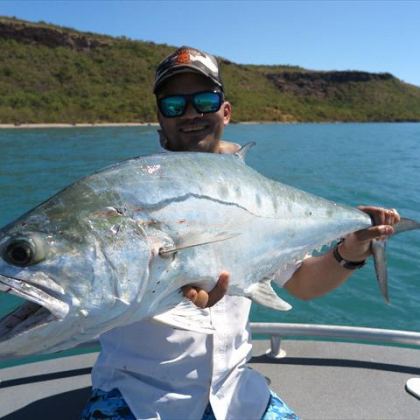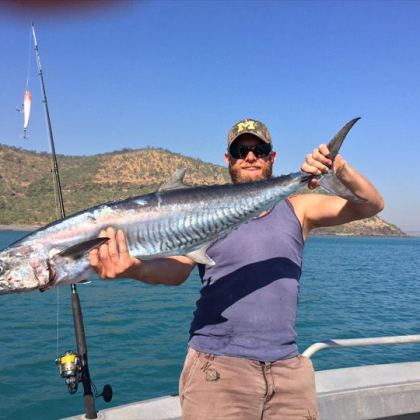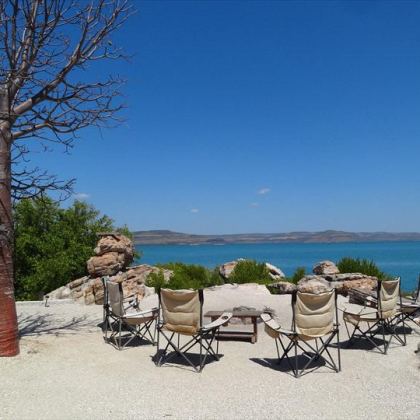 Check In: 11:00 | Check Out: 11:00
There are very few places in the world where you can enjoy fab­u­lous scenery, gourmet food, com­fort­able accom­mo­da­tion, spec­tac­u­lar fish­ing and ancient rock art com­bined with unpar­al­leled hos­pi­tal­i­ty in a remote wilder­ness loca­tion. Kim­ber­ley Coastal Camp is one of them.
Kim­ber­ley Coastal Camp is a unique wilder­ness retreat sit­u­at­ed in Admi­ral­ty Gulf on the far north Kim­ber­ley Coast. Because Kim­ber­ley Coastal Camp is acces­si­ble only by air or sea, we can promise you a stress and crowd free escape.

Kim­ber­ley Coastal Camp com­bines all the joys of iso­la­tion with lux­u­ry camp­ing at its best. Sleep in fly screened com­fort in your spa­cious gaze­bo-style room with fans and panoram­ic views.
Gourmet meals are pro­vid­ed with fresh­ly sourced ingre­di­ents, pas­sion and flair. Every­thing is home­made on the premis­es from the breads and pas­tries, to the jams and pick­les. Spe­cial dietary needs are hap­pi­ly catered for. Fish has nev­er been this fresh, this delicious.
The Ulti­mate in Wilder­ness Fish­ing
Your hosts and fish­ing guides have the expert knowl­edge which can only be gained from years of expe­ri­ence in Admi­ral­ty Gulf. Throw in a line form Bar­ra Rock, right in front of camp, or troll for mack­er­al or any oth­er num­ber of warm water species. Anchor off a reef or island and catch your lunch, or ven­ture up the man­grove lined creeks for a catch of deli­cious mud crabs.
Explore the Untamed Wilder­ness
From the high black basalt cliffs to the pris­tine white shell beach­es and the sand­stone coun­try with its rives and caves — expe­ri­ence this land of con­trast. Go beach­comb­ing on a desert­ed island, sit by a fresh­wa­ter bill­abong or sim­ply laze the day away by the pool.
Explore our Ancient Heritage
Come with us into the untouched wilder­ness and search for rock art, the ori­gins of which are lost in time. Kim­ber­ley Coastal Camp is at the cen­tre of one of the worlds largest and most fas­ci­nat­ing repos­i­to­ries of indige­nous rock art, includ­ing the ele­gant Brad­shaws or Gwion Gwion figures.
All these activ­i­ties are ful­ly-guid­ed and includ­ed in the price of your package.
Rates are per per­son per 24 hours, includ­ing accom­mo­da­tion, all meals and ful­ly guid­ed activities.
Con­tact us to dis­cuss a tai­lor­made pack­age with light air­craft and heli­copter trans­fers from Dar­win, Kununur­ra, Broome or Mitchell Plateau.
Bungalow
Room Configuration: 1 Bedroom
Max Guests: 2
Rates are $990 per per­son per 24 hours includ­ing accom­mo­da­tion, gourmet meals and ful­ly guid­ed activ­i­ties. Pack­ages includ­ing air trans­fers can be arranged from Broome, Kununur­ra, Dar­win or Mitchell Plateau. Our unique gaze­bo style rooms can be con­fig­ured for 2 sin­gle beds or a king dou­ble bed. A child can share with par­ents if required. Every room has its own views, large celi­ing fans, fly­screened walls and 24 hour pow­er. Break­fast and all oth­er meals are includ­ed in the tar­iff — as are your choice of ful­ly guid­ed activities.
Bookings
A 30% deposit of camp component payable within 7 days non-refundable.
The total remaining balance (Final Balance) is payable 61 days prior to arrival.
Deposit invoice & Final Balance invoice will be sent separately.
We STRONGLY recommend that all guests obtain comprehensive travel medical and cancellation insurance at time of booking & deposit payment.
Payments not received by the due date may be treated as package stay cancelled and dates may be released at our discretion.
Please see our Amendment & Change of Date Fee below.
G2G pass is currently a requirement when visiting WA.
Cancellation Policy:
Deposit non-refundable.
60 to 31 days prior to arrival ??? no refund of total camp component.
30 days prior arrival ??? no refund of all monies.
Cancellation must be advised in writing.
COVID-19 Cancellation Policy
If your travel is affected by border restriction or lockdown 7 days or less prior to arrival date you will be eligible for a credit voucher for the full package value of your booking.
You will have 24 months to use your credit voucher from date of issue.
Please note any additional or unforeseen fees & charges or rate increases will be applicable.
Credit is not is it redeemable for cash.
Valid for bookings made from 01 July 2021.
Amendment Fee/ Change of Date Fee
Amendment Fee
$350 flat rate for any date or time changes (including all charter transfers) subject to availability
Any additional rate increases aircraft upgrades or fees & charges as a direct result of the amendment shall be at the cost of the client
Change of Date Fee:
$1350 per person for a change of accommodation dates less than 60 days prior to arrival.
Plus any additional rate increases other fees & charges incurred.
Dates subject to availability.
This fee is payable in full prior to any future dates booked.
No change of date 30 days prior to arrival please see our cancelation policy above.