Accommodation
Eco Retreats
Travelling North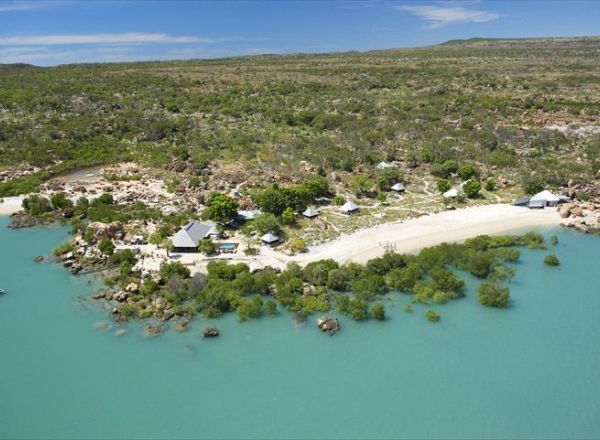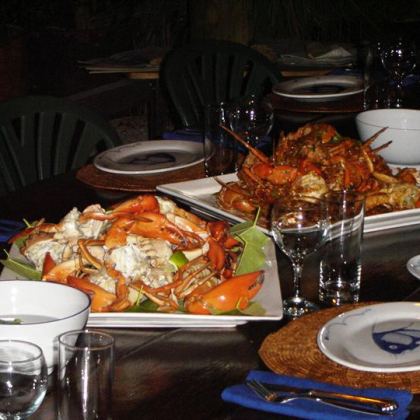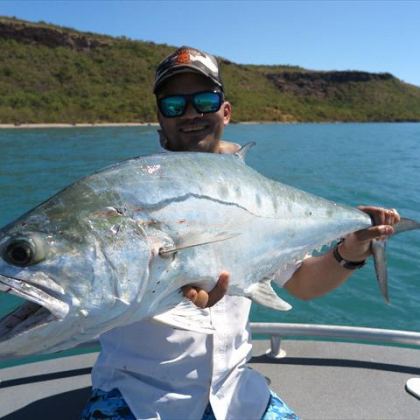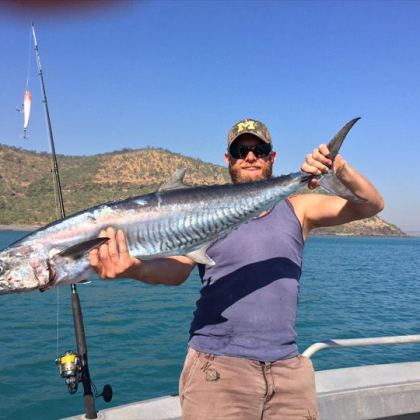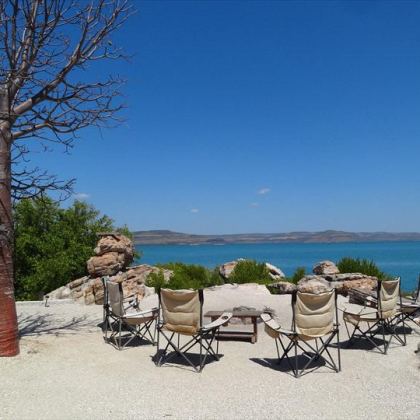 Check In: 11:00 | Check Out: 11:00
There are very few places in the world where you can enjoy fab­u­lous scenery, gourmet food, com­fort­able accom­mo­da­tion, spec­tac­u­lar fish­ing and ancient rock art com­bined with unpar­al­leled hos­pi­tal­i­ty in a remote wilder­ness loca­tion. Kim­ber­ley Coastal Camp is one of them.
Kim­ber­ley Coastal Camp is a unique wilder­ness retreat sit­u­at­ed in Admi­ral­ty Gulf on the far north Kim­ber­ley Coast. Because Kim­ber­ley Coastal Camp is acces­si­ble only by air or sea, we can promise you a stress and crowd free escape.
Click here to down­load loca­tion maps.
Kim­ber­ley Coastal Camp com­bines all the joys of iso­la­tion with lux­u­ry camp­ing at its best. Sleep in fly­screened com­fort in your spa­cious gaze­bo-style room with fans and panoram­ic views.
Gourmet meals are pro­vid­ed with fresh­ly sourced ingre­di­ents, pas­sion and flair. Every­thing is home­made on the premis­es from the breads and pas­tries, to the jams and pick­les. Spe­cial dietary needs are hap­pi­ly catered for. Fish has nev­er been this fresh, this delicious.
The Ulti­mate in Wilder­ness Fish­ing
Rocky Ter­ry, your host and fish­ing guide, has the expert knowl­edge which can only be gained from years of expe­ri­ence in Admi­ral­ty Gulf. Throw in a line form Bar­ra Rock, right in front of camp, or troll for mack­er­al or any oth­er num­ber of warm water species. Anchor off a reef or island and catch your lunch, or ven­ture up the man­grove lined creeks for a catch of deli­cious mud crabs.
Explore the Untamed Wilder­ness
From the high black basalt cliffs to the pris­tine white shell beach­es and the sand­stone coun­try with its rives and caves — expe­ri­ence this land of con­trast. Go beach­com­ing on a desert­ed island, sit by a fresh­wa­ter bill­abong or sim­ply laze the day away by the pool.
Explore our Ancient Heritage
Come with us into the untouched wilder­ness and search for rock art, the ori­gins of which are lost in time. Kim­ber­ley Coastal Camp is at the cen­tre of one of the worlds largest and most fas­ci­nat­ing repos­i­to­ries of indige­nous rock art, includ­ing the ele­gant Brad­shaws or Gwion Gwion figures.
All these activ­i­ties are ful­ly-guid­ed and includ­ed in the price of your package.
Rates are per per­son per 24 hours, includ­ing accom­mo­da­tion, all meals and ful­ly guid­ed activities.
Con­tact us to dis­cuss a tai­lor­made pack­age with light air­craft and heli­copter trans­fers from Dar­win, Kununur­ra, Broome or Mitchell Plateau.
Gazebo room
Room Configuration: 1 Bedroom
Max Guests: 2
Rates are $990 per per­son per 24 hours includ­ing accom­mo­da­tion, gourmet meals and ful­ly guid­ed activ­i­ties. Pack­ages includ­ing air trans­fers can be arranged from Broome, Kununur­ra, Dar­win or Mitchell Plateau. Our unique gaze­bo style rooms can be con­fig­ured for 2 sin­gle beds or a king dou­ble bed. A child can share with par­ents if required. Every room has its own views, large celi­ing fans, fly­screened walls and 24 hour pow­er. Break­fast and all oth­er meals are includ­ed in the tar­iff — as are your choice of ful­ly guid­ed activities.
60 days or more prior to arrival: full refund less $550 per person; 30-60 days prior to arrival 30% penalty; 30 days or less prior to arrival no refund.
Kimberley Coastal Camp operates in remote and rugged locations. Guests must be in good health and have a reasonable degree of fitness.
Although all precautions will be taken Kimberley Coastal Camp will accpet no responsibility for personal injury loss or damage to personal effects or expenses incurred as a result of any delay cancellation or alteration of an service due to cicumstances beyound our control.
We strongly recommend that all guests obtain travel insurance including a cancellation policy.