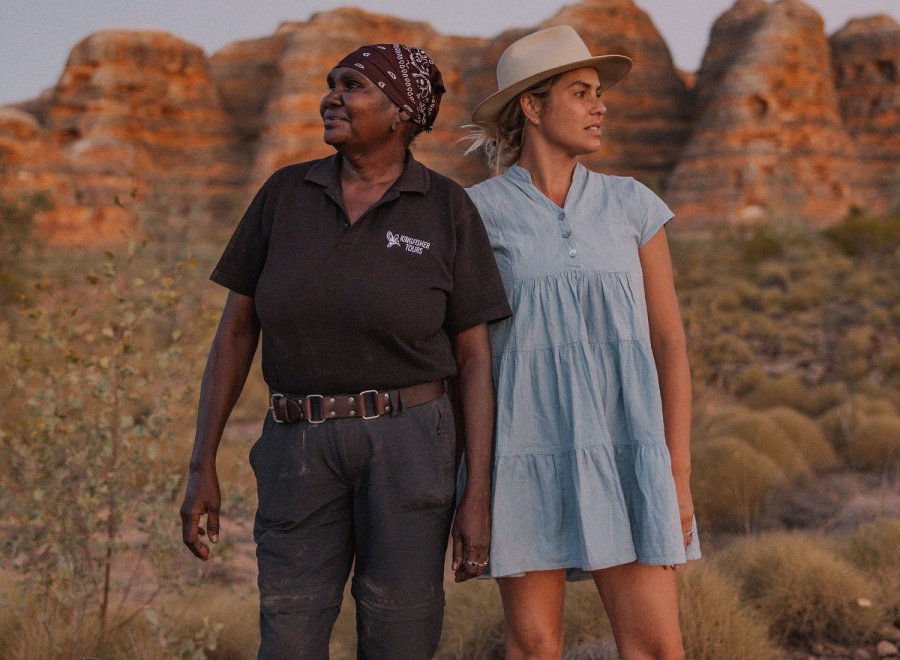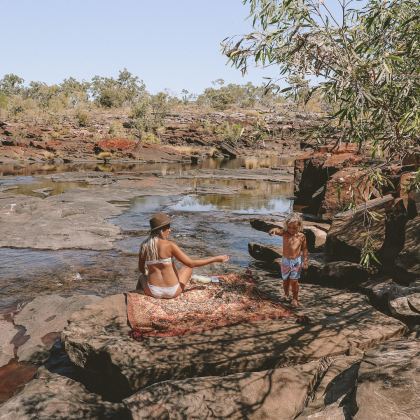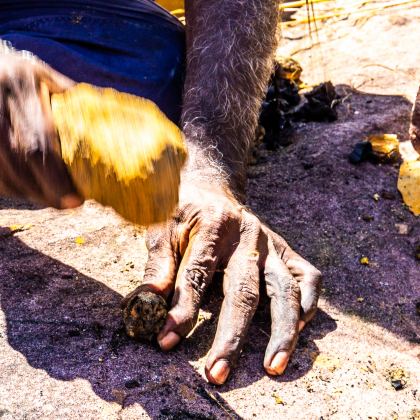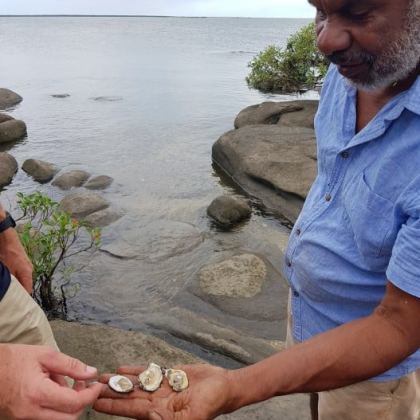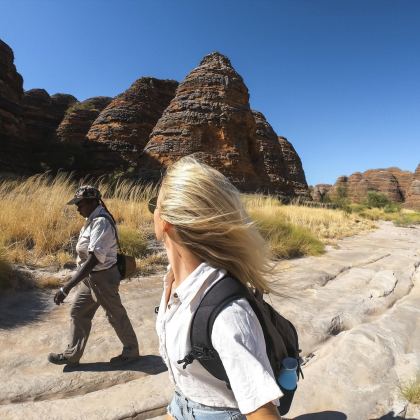 EXPE­RI­ENCE THE KIM­BER­LEY AS AN ADVEN­TUR­ER, NOT A TOURIST King­fish­er Tours embraces the adven­ture of the Kim­ber­ley region with our lux­u­ri­ous and excit­ing tour expe­ri­ences from the sub-Saha­ran land­scapes of the Bun­gle Bun­gle Range to the sub-trop­i­cal oases found between grand gorges in hues of red and orange, right out to the exquis­ite turquoise waters of the North­ern Kim­ber­ley coast. With King­fish­er Tours, you have the oppor­tu­ni­ty to expe­ri­ence the uncom­mon beau­ty of these land­scapes by Air, 4WD and on foot. We are an ECO and ROC Cer­ti­fied sus­tain­able tourism com­pa­ny with local and abo­rig­i­nal guid­ed tours leav­ing you with enrich­ing mem­o­ries of the Kimberley.
King­fish­er Tours have been oper­at­ing for 9 years in the Kim­ber­ley and we have cre­at­ed unique prod­ucts that allow our guests to sub­merge them­selves in the land­scape, soak­ing in the ancient knowl­edge of the region with our knowl­edge­able guides who share the rich and diverse his­to­ry of the Kim­ber­ley Region; the sto­ries of the land and the Dream­time are lessons that are not forgotten.
Our ground tours boast local pro­duce and some bush tuck­er for lunch­es, or our fresh Man­go jams and chut­neys from the local farms. Your guides will also point out local bush tuck­er and med­i­c­i­nal flo­ra in the area. For those of our guests indulging in our overnight pack­ages, your accom­mo­da­tion will be in APT's Wilder­ness Lodges in Pur­nu­l­u­lu and the Mitchell Falls. Being Kim­ber­ley locals, we have great rela­tion­ships with local accom­mo­da­tion providers across the Kim­ber­ley and are always hap­py to organ­ise bespoke jour­neys for our guests.
King­fish­er tours are very con­scious of our pris­tine wilder­ness that we live and tour in. As such we have intro­duced sev­er­al ini­tia­tives to min­imise the sin­gle-use plas­tic in the busi­ness and con­tin­ue to encour­age oth­er tour oper­a­tors, in par­tic­u­lar our part­ners to do the same. We also aim to employ local staff from Cus­to­di­an for Coun­try tour guides to our reser­va­tion team, so our guests will be received by a local Kim­ber­ley resident.
Our guests always have a win­dow seat when fly­ing so as not to miss any ele­ments of the immer­sive land­scape and our 4WD's on the ground are air-con­di­tioned Toy­ota Prado's.
We look for­ward­ing to wel­com­ing you on board an enrich­ing Kim­ber­ley expe­ri­ence with us!
Meet us at the Echid­na Chasm Carpark and be wel­comed to coun­try by one of our local King­fish­er Cus­to­di­an for coun­try Abo­rig­i­nal guides, before start­ing your walk in the North­ern Mas­sif. While we walk up the Echid­na look out hear the dream­ing of the cheeky Echid­na and the cul­tur­al his­to­ry of the coun­try­men who walked the land before you.
We stop for fresh cof­fee or tea and warm damper our guide has cooked.
Con­tin­u­ing on, we walk around to the mini-palms and arrive back into the 4WD where we trav­el to the South­ern end of the Bun­gles embark­ing out on a bush tuck­er and bush med­i­cine tour while on your way to Cathe­dral Gorge.
Share the gorge's space with your King­fish­er Guide in their own cul­tur­al way, songs, dance, sto­ry­telling or sand draw­ings that are 1000s of years old. Lunch is pro­vid­ed in the gorge, then on to the look­out, learn­ing about the cul­tur­al and geo­log­i­cal his­to­ry of the area. Ice cold refresh­ments are pro­vid­ed at the end of the tour to reflect on the incred­i­ble day you have had with your guides.
Please note: This tour is SELF-DRI­VE. Guests must have or arrange their own trans­port into the park to meet at Echid­na Chasm Carpark. Pick-ups from Park entrance can be arranged at extra cost — this option changes start and end times.
Meet your local cus­to­di­an for coun­try Abo­rig­i­nal guide at Cathe­dral Gorge Carpark for a bil­ly tea. You'll be wel­comed to coun­try and then head off on the walk­ing trail. Head­ing through the Domes you'll learn about bush tuck­er and bush med­i­cine and hear the sto­ries of the Coun­try­men who walked the coun­try before you. As you enter the majes­tic gorge Once enter­ing Cathe­dral your Gija guide will enlight­en you with sto­ries of the sacred pool and the gate keep­er of the gorge, your guide will share the space with you in their cul­tur­al way, whether that be through draw­ing or singing or sto­ry­telling. We enjoy our packed lunch­es in the gorge, then head on to view the rock art along the cav­ern walls and up to the look out, learn­ing about the geo­log­i­cal his­to­ry of the area. Ice cold refresh­ments are pro­vid­ed on your return to the carpark to wrap up the tour.
This is an insight­ful day, explor­ing the heart of Pur­nu­l­u­lu UNESCO World Her­itage List­ed Nation­al Park.
Please note: This tour is SELF-DRI­VE. Guests must have or arrange their own trans­port into the park to meet at Cathe­dral Gorge Carpark. Pick-ups from Park entrance can be arranged at extra cost — this option changes start and end times.

Ngauwudu is the Wunam­bal Gaam­ber­ra name for the Mitchell Plateau. This region is home to the Wunam­bal, Gaam­bera, Kwi­ni and Balan­gar­ra peo­ple. Meet your King­fish­er Tours Abo­rig­i­nal Guide at the Helispir­it check in where we weigh in for our Heli flight before a quick Bil­ly Tea and damper
.
Take an exhil­a­rat­ing heli­copter ride over the Falls, loop­ing in a fig­ure of 8 to get a view of both Big Mertens and the Mitchell Falls before land­ing at the top.
Your guide will take you to 2 spec­tac­u­lar van­tage points to watch the mag­nif­i­cent Mitchell Falls in flow. We will then head off across the Mitchell Riv­er toward Big Mertens Falls with a stop at Dun­galil­ly (a lily lagoon) along the way. At Big Mertens Falls we can get right up close to the edge but be care­ful, its an 80m drop. Your guide will show you the best van­tage point to see the falls with a view into the gorge below.
Con­tin­u­ing on the trail we head for a swim­ming and snack stop across from the rock art called the Bat­tle Scene. This spec­tac­u­lar gallery depicts a momen­tous occa­sion for local peo­ple to the area and your Abo­rig­i­nal guide will share this sto­ry with you, and oth­er inter­pre­ta­tions of this ancient art.
We con­tin­ue the trek to Lit­tle Mertens Falls. Be inspired and hum­bled by the mys­te­ri­ous, ancient rock art found beneath the falls, fea­tur­ing the myth­i­cal Gwion Gwion spir­it fig­ures, again to be with an Abo­rig­i­nal guide from the North East Kim­ber­ley will give you such a depth of per­spec­tive on the art and its pur­pose. There is also a beau­ti­ful swim­ming hole to enjoy your lunch, relax and swim.
We climb to the top of the Lit­tle Merten falls with a view back out along the coun­try we've just tra­versed before fol­low­ing the creek bed and head­ing into camp­grounds. At the end of the trek it's time to sit back with a cold beer, wine or juice, snack­ing on some cheese and crack­ers to reflect on the day before head­ing back to camp for a well earned rest around your fire.
This bou­tique tour departs Kununur­ra in one of our air-con­di­tioned
4
WDs for a day of explor­ing some of the most majes­tic water falls around the local area! With tea
&
cof­fee, a light pic­nic lunch and refresh­ing bev­er­age in the arvo, this is an amaz­ing day. We'll take you to our favourite swim­ming spots and intro­duce you to the cul­tur­al his­to­ry of the coun­try, while learn­ing about the local flo­ra and fau­na that thrive here. An immer­sive Kim­ber­ley expe­ri­ence through the eyes of local Cus­to­di­an for coun­try guides, we look for­ward to show­ing you around!
Depend­ing on the sea­son we'll spend the day chas­ing water­falls, vis­it­ing ancient rock-art gal­leries, lunch­ing on top of look­outs and much more. Your day of adven­ture includes a swim, a morn­ing nul­la­ja (tea), a tasty pic­nic lunch and after­noon snacks with a refresh­ing mat­sos gin­ger beer (non-alco­holic options avail­able). We'll tai­lor the day to give you the best the Kim­ber­ley has to offer, whether that's fol­low­ing the low­er Ord up to Par­ry's Creek Reserve, look­ing out over the Five Rivers, explor­ing hid­den water­falls and swim­ming spots, or learn­ing the sto­ries behind ancient rock art sites. This is an inti­mate and mag­i­cal expe­ri­ence of the North East Kim­ber­ley, with your local King­fish­er tours guides.
This tour can accom­mo­date larg­er groups, please enquire direct­ly on 08 9168 2718 or fly@​kingfishertours.​com.​au
Please Note: this itin­er­ary is sub­ject to change; depen­dent on back roads being open and water lev­els. Some parts of the Kim­ber­ley are sub­ject to flood­ing inter­mit­tent­ly. There are a num­ber of year round flow­ing water­falls and we will always cater to flow, tem­per­a­ture and guests fit­ness. Min­i­mum of 3 per­sons are required for the tour to go ahead.
Operation Dates/Seasonality
Kingfisher Tours operate between April 1st -September 30th annually or subject to National Park opening and closure dates where they fall within this period. National Park opening dates may be affected by the weather. Kununurra and the Kimberley Regional is subject to a monsoonal season from December – March annually (The Wet Season). Please be aware the roads and airstrips may be inaccessible in the early stages of the season due to flooding.
Mitchell River National Park is not accessible until May 1st annually.
Booking and Cancellation policy
Bookings may be made by telephone email online via website or through agent connected rates on Rezdy and will receive a Rezdy Confirmation number from Kingfisher Tours when booked.
Payment Terms
Tour and Accommodation bookings require a 20% deposit within 7 days of the order otherwise the availability will be released. Full payment is to be made 30 days prior to the tour date. Payment can be made via Visa Mastercard or direct credit. Payment not made 30 days prior to booking may be cancelled and the 20% deposit will be forfeited to cover administrative costs.
Cancellation Policy
Cancellations must be received in writing and following terms apply:
• Cancellations received more than 30 days prior to the departure date the full deposit (being 20%) is forfeited. You may request the deposit be held in a voucher to be used within 12 months of cancellation.
• Cancellations received between 15 and 30 days prior to the departure date 50% of the total cost is forfeited.
• Cancellations received 14 days or less prior to the departure date including "no shows" 100% of the total cost is forfeited
Additional banking costs may apply if transaction fees have been incurred in the elected payment process.
All cancellations made by Kingfisher Tours will be fully refunded.
We strongly recommend that all customers take out travel insurance.
Travel Restriction Cancellation Policy
The customer shall comply with all Government (Federal and State) COVID-19 vaccination or testing requirements for entry into Western Australia or to access the operator's premises event or service. Where the customer does not meet a vaccination or testing requirement:
(a) prior to departure from the customer's home location the customer will forfeit any and all monies paid; or
(b) for entry to the event or venue or access to the service the customer will not be granted entry and will forfeit any and all monies paid.
Where the customer cancels due to travel restrictions other than vaccination or testing requirements the customer will be contacted and offered a refund or credit note (to be used within 12 months of cancellation) where such an offer is at the absolute discretion of the operator. The operator reserves the right to withhold up to 20% (the deposit) of the total booking to cover administrative expenses and other losses dependent on when notice of cancellation is given by the customer.
We strongly recommend that all customers take out travel insurance.
Where sudden COVID19 restrictions impact on a booking within 7 days of the tour then terms may be adjusted to refund the guests money where third-party payments are able to be recuperated. We request a 3-month window to apply refunds for these tours.
Force Majeure
Where tour schedules are cancelled or accommodation is inaccessible due to a 'Force Majeure' (translated as "superior force") the Terms and Conditions of cancellation will be reviewed for the existence of force majeure provisions. This event may include an act of God war strikes civil commotions epidemics or pandemics as declared by the Australian and Western Australian governments. If such a declaration is made then all bookings will be put into credit until such a time that the Federal government of Australia declares it is safe to resume business.
Minimum/Maximum Numbers
Dinner bed and breakfast rates are twin share; single supplement prices are available.
Minimum numbers apply to some tours please check specific terms and conditions of the tour being booked.
Day and overnight tours require minimum passenger numbers which will determine the availability of the tour. A minimum of 4 passengers or the equivalent cost is required on most tours. Maximum numbers will vary depending on availability of aircraft or capacity of ground tour vehicles and accommodation. No tour will exceed a maximum of 12 guests.
For tour packages (an itinerary package created that incorporates multiple tours) a minimum of 4 passengers or the equivalent cost is required to confirm a tour booking unless the tour is already confirmed to run.
Please call our reservations team to check availability for one passenger.
Third Party Details
Ground tours in the majority of locations are provided by Kingfisher Tours expert guides. Our accommodation at the Mitchell Falls and Purnululu National Park is with APT Wilderness Lodges.
We have 3rd party operators at Argyle Diamond Mine – these are Luridgii Tours and Lake Argyle Cruises; for Ord River and Lake Argyle Tours – these are Lake Argyle Cruises and Triple J Tours and Mirima walking tours and Waringarri Arts centre tours – this is Waringarri Arts Tour guides. They are selected for the quality and professionalism of their services.
We believe that tourism is better provided as a quality of product rather than quantity of options available and where we believe the service is being adequately provided we would prefer to partner with our local community and tourism fellows. This allows Kingfisher to deliver the highest quality of products to our guests.
Bungle Bungle and Mitchell Falls APT Wilderness Lodge is committed to an environmentally sustainable operation within Purnululu National Park (Bungle Bungle) World Heritage Listed area and Mitchell River National Park. They use best practice facilities renewable energy and state of the art waste management systems.
Departure requirements
Tour package passengers must be at the aircraft departure point / tour departure point 30 minutes prior to scheduled departure time. Kingfisher Tours offer passenger pickups and drop offs at all local accommodation houses. This does not include Lake Argyle which is a 75KM drive from the Kununurra Airport.
Guides and Pilots will advise passengers of the latest time of departure from remote airfields. Delays in departure may result in aborted flights and additional costs for accommodation.
Validity of Rates
Prices quoted are subject to change and are in Australian dollars (AU$).
Infant 0-2 years old
Child 3-12 years old
Adult 13-62 years old
Senior 63 + years old
Passengers with Disability
Kingfisher Tours will provide every possible assistance to mobility challenged passengers. Please advise the type of assistance that would be required when making a booking. Wheelchair access room and ensuite is available on request. Staff are not permitted to lift any passengers.
Luggage Allowance & Personal Items
All care is taken but no liability is accepted for damage to personal items brought on tour.
For all accommodated stays a soft-pack bag consisting of limited clothing to include a warm jacket and pants for cooler months hat with brim joggers or sturdy walking shoes (not leather soles) toiletries and personal items insect repellent sunscreen photographic equipment torch and a small water bottle. Maximum 10kg per person on flights.
Medical
Kingfisher Tours staff are all Senior First Aid trained and carry emergency first aid kits on tour.
We are in a remote area and passengers on medication should take their medication with them.
Itineraries
Whilst it is our intention to deliver the itinerary of your choice unforeseen circumstances such as the nature of the terrain fire unseasonable weather national park area closures and so on may impact on travelling conditions and therefore make it necessary to alter touring with little or no notice.
Travel Insurance
Travel Insurance is not included in your holiday package. You are required to purchase comprehensive travel insurance at the time of booking that includes (without limitation) coverage for the cost of your holiday package medical expenses loss of luggage cruise and land content and airfare charges that may occur due to cancellation impossibility of performance or other frustration disruption loss of deposit or strikes.
Smoking
Government regulations forbid smoking in tourist vehicles and inside accommodation.
© Kingfisher Tours 2021