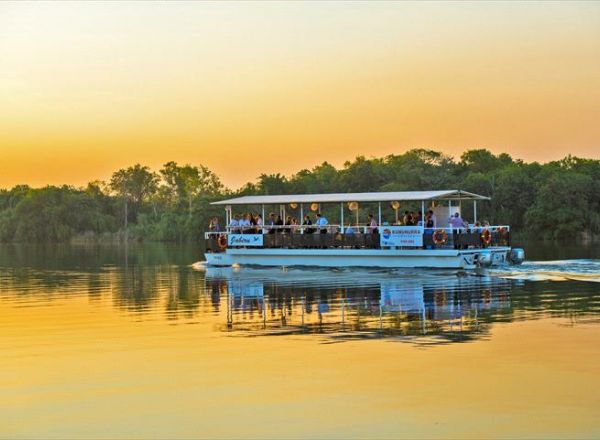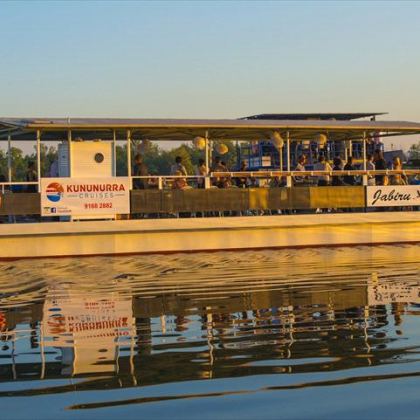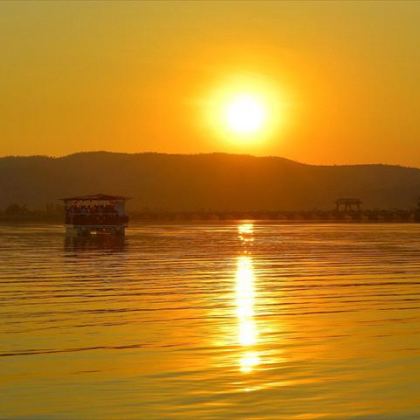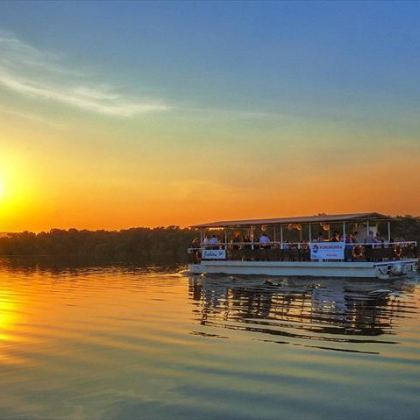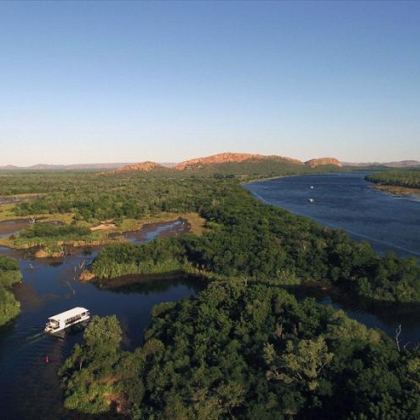 The only com­pa­ny offer­ing a sun­set BBQ din­ner cruise on Lake Kununur­ra.
Kununur­ra Cruis­es look for­ward to wel­com­ing you aboard for a sun­set BBQ din­ner cruise on Lake Kununur­ra. The per­fect way to end a day explor­ing the spec­tac­u­lar East Kim­ber­ley region, Kununur­ra Cruis­es will have you embark­ing on an after­noon of relax­ation as we cruise into creeks and lagoons that abound with bird and wildlife.
Com­bine the Lake Kununur­ra Sun­set
BBQ
Din­ner Cruise with a Triple J tour­ing pack­age. Triple J Tours offer cruis­es that tra­verse the
55
km stretch of riv­er between Kununur­ra and the Ord Top Dam (Lake Argyle). Options can include a
70
km coach trip through Durack coun­try to Lake Argyle and a cruise over
55
km of stun­ning scenery through gorges and wet­lands to or from Kununur­ra, includ­ing lunch or after­noon tea at a river­side loca­tion. With three dif­fer­ent Triple J Tours to choose from, you can mix and match your ide­al com­bi­na­tion for enjoy­ing your time out on our spec­tac­u­lar Ord Riv­er (Lake Kununurra).
At Kununur­ra Cruis­es, it is all about relax­ing at the end of the day and enjoy­ing your sur­round­ings. From the moment you are col­lect­ed from your accom­mo­da­tion, you will begin to unwind and by the time you set foot aboard the
MV
Jabiru, you will be more than ready for an after­noon of cruis­ing on Lake Kununur­ra. As the ves­sel winds its way through Lily Creek and out into the open water of Lake Kununur­ra, the pic­turesque lagoon will have you reach­ing for your cam­era. Views of Sleep­ing Bud­dha will be enjoyed from Lake Kununur­ra before we turn the boat towards the Diver­sion Dam as the sun sets. Appe­tis­ers will be pro­vid­ed and once we reach our sun­set din­ner loca­tion in Pack­sad­dle Lagoon, you will be able to soak up the tran­quil­i­ty as you enjoy your Kim­ber­ley-inspired
BBQ
din­ner. A com­pli­men­ta­ry drink will be pro­vid­ed on board­ing the boat and addi­tion­al drinks can be pur­chased from the licensed bar. You will be dropped back to your accom­mo­da­tion after the
MV
Jabiru has docked at the Marina.
Less than 24hrs notice of tour cancellation will be non-refundable.