Mornington Wilderness Camp
Accommodation
Gibb River Road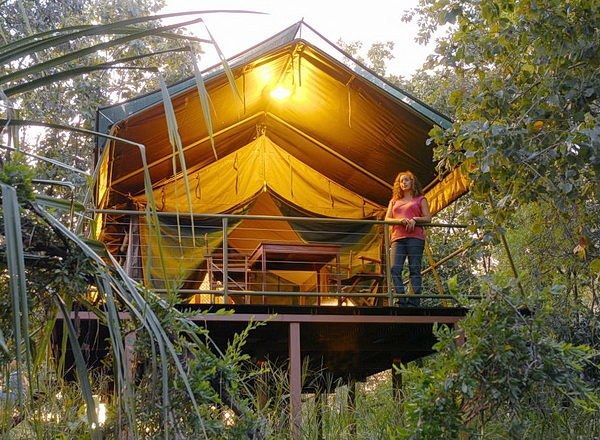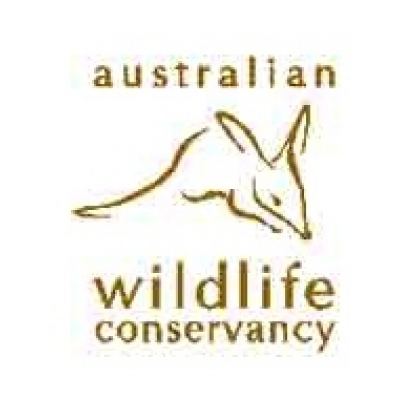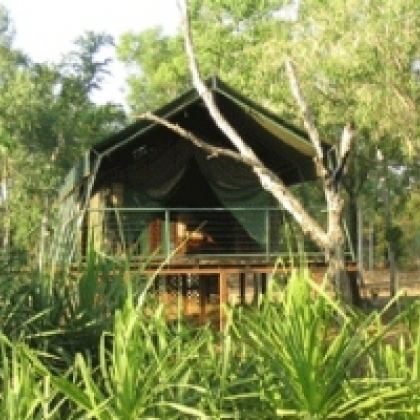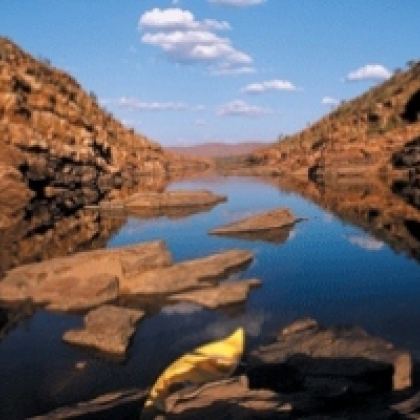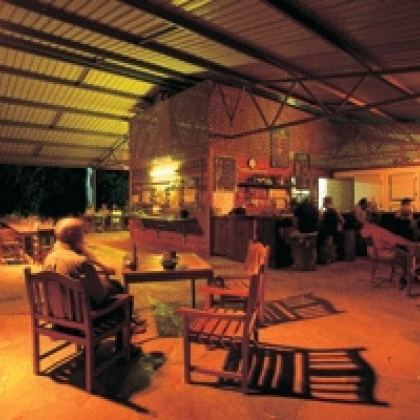 Locat­ed in the heart of the Kim­ber­ley, Morn­ing­ton Wildlife Sanc­tu­ary cov­ers more than 3,000 km² of spec­tac­u­lar gorges and trop­i­cal savan­na dom­i­nat­ed by the Fitzroy Riv­er and King Leopold Ranges.
Owned and man­aged by the non-prof­it Aus­tralian Wildlife Con­ser­van­cy (AWC), Morn­ing­ton Wilder­ness Camp pro­vides a com­fort­able base from which to explore this remark­able sanc­tu­ary. It is a naturalist's par­adise, pro­vid­ing refuge for over 200 species of birds and a diverse range of oth­er wildlife. All pro­ceeds from the Wilder­ness Camp are ded­i­cat­ed to the con­ser­va­tion of wildlife in the Kimberley.
AWC offers many enjoy­able day trips around Morn­ing­ton. Pop­u­lar activ­i­ties include canoe­ing down Dimond Gorge and swim­ming and explor­ing Sir John Gorge. Before din­ner, enjoy a glass of cham­pagne as you watch the sun set over the stun­ning Cen­tral Kim­ber­ley ranges. Nature lovers can indulge in var­i­ous guid­ed and self-guid­ed tours. From bird­watch­ing to explor­ing habi­tats unique to the Kim­ber­ley, there is some­thing for everyone.
Relax and soak up the atmos­phere with a few nights in the safari tents, which over­look Annie Creek. Alter­na­tive­ly, pitch your own tent in the shady camp­ground. In the evenings, dine under the stars at the bush bar and licensed restaurant.
For the adven­tur­ous trav­eller, this is a unique oppor­tu­ni­ty to expe­ri­ence one of Australia's lead­ing wilder­ness camps while also help­ing to save Australia's endan­gered wildlife.
See more at: aus​tralian​wildlife​.org
Morn­ing­ton Wilder­ness Camp is open to vis­i­tors from May to Octo­ber — weath­er and road con­di­tions per­mit­ting. The road is suit­able for 4WD vehi­cles only. Please con­tact the Wilder­ness Camp for up-to-date information.
Camping
Room Configuration: Unpowered Site
Max Guests: 5
Large spa­cious tran­quil camp­ground that runs along Annie Creek- we do not allow gen­er­a­tors, camp­fires, drones, fish­ing or pets. Sites are unpow­ered and unal­lo­cat­ed. Our sanc­tu­ary access fee is now includ­ed in the camp­ing rate, and will no longer added. (it will still be applic­a­ble for day vis­i­tors & safari tent bookings)
Safari Tent (3 people)
Room Configuration: 1 Bedroom
Max Guests: 4
Full Board- Spa­cious Safari tents are ensuit­ed with mini bar, tea and cof­fee mak­ing facil­i­ties and pri­vate veran­dah. A min­i­mum 2 night stay is rec­om­mend­ed. Max­i­mum tent con­fig­u­ra­tion 3A or 2A 2C Sanc­tu­ary Access Fee of $25 per vehi­cle will be added upon check in
Cancellation
We understand that circumstances may arise where you may need to cancel your reservation. Should this occur you will be charged as follows:
· If you inform us of your cancellation with more than twenty-two (22) days' notice your deposit will be refunded less a $25 administration fee;
· If eight (8) to twenty-one (21) days' notice of cancellation is given a cancellation fee of 25% of the total reserved accommodation will be charged; and
· If you cancel on less than seven (7) days' notice a cancellation fee of 50% of the total reserved accommodation will be charged.