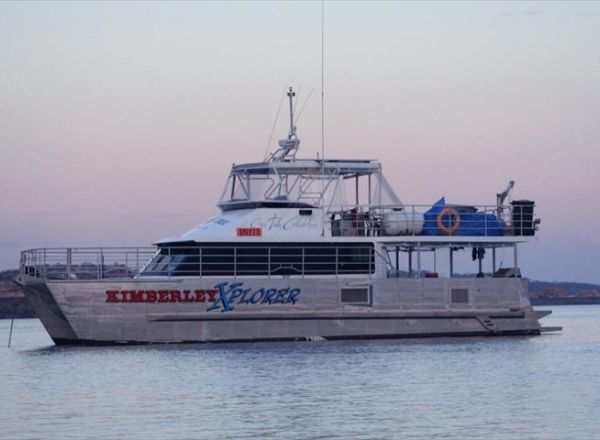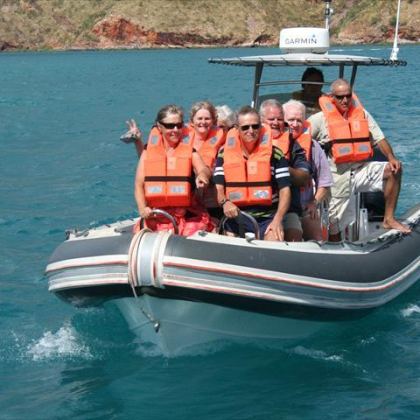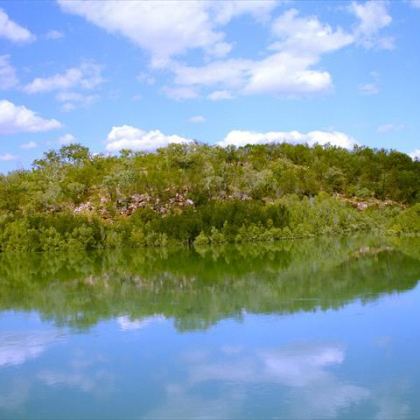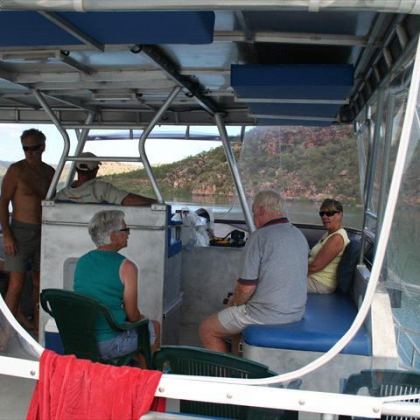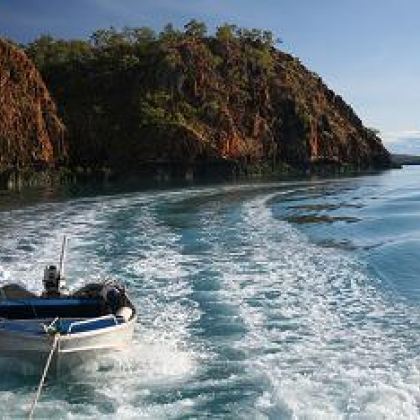 At One Tide Char­ter cruis­es have been designed for trav­ellers who still have a spark in their lives and are look­ing for a unique expe­ri­ence to adven­ture beyond stan­dard cruise itin­er­ary and explore rarely vis­it­ed and untouched parts of the Kim­ber­ley's pris­tine wilder­ness coastline.
With a max­i­mum of 12 pas­sen­gers and 3 crew, One Tide Char­ters pride them­selves of mak­ing sure their clients get to see the best of the amax­ing coast­line. One Tide Char­ters com­menced oper­a­tions in April 1997. In Sep­tem­ber 1998 own­er / oper­a­tor Greg Prouse pur­chased their orig­i­nal char­ter ves­sel ​"White Light­ning" to offer extend­ed cruis­es to the Buc­ca­neer Archipelago.
In Feb­ru­ary 2008 One Tide Char­ters took deliv­ery of their new char­ter ves­sel ​"Kim­ber­ley Explor­er". Kim­ber­ley Explor­er has been designed exclu­sive­ly for cruis­ing the Kim­ber­ley coastline.
With a full length keel and shal­low draught, Kim­ber­ley Explor­er is capa­ble of sit­ting on the ground once the tide goes out,
allow­ing pas­sen­gers to explore reefs and creek sys­tems at low water.
With a cruis­ing speed of up to 20 knots and long range fuel tanks, time spent explor­ing the coast­line is max­imised, ensur­ing pas­sen­gers get the most out of their time spent cruis­ing the Kim­ber­ley coastline.
Essen­tial com­forts are well catered for with male & female show­ers and toi­lets (with hot and cold water).
With 1000 litres of water stor­age and a desali­na­tor, beach camp­ing while cruis­ing the Kim­ber­ley coast has just become a whole lot more appealing.
Your typ­i­cal day involves plen­ty of sight­see­ing , fish­ing, crab­bing, swim­ming and then enjoy­ing the tran­quil­i­ty of an open camp­fire as you bed down for the night on an iso­lat­ed beach.
Tour dates
2020
 — 
2
trips for
2020
24
th
to
29
th
April
22
nd
to
27
th
Sep­tem­ber Be cap­ti­vat­ed by the beau­ty of the Buc­ca­neer Arch­i­pel­ago and its maze of water­ways, islands, and bays. Swim in the crys­tal clear waters of Sil­i­ca Beach and under the water­fall at Croc­o­dile Creek. Expe­ri­ence the thrill of reel­ing in a Fin­ger­mark Perch or Sad­dle­tail Seaperch and try your hand at shuck­ing your own oys­ters in Yampi Sound. Ride the tur­bu­lent rapids of the Hor­i­zon­tal Water­falls and feed the placid sleepy sharks in Tal­bot Bay. Cruise through Cyclone Creek and wit­ness unique his­tor­i­cal rock for­ma­tions. Reflect on the Kim­ber­ley's intrigu­ing his­to­ry and wit­ness the lone­ly graves of Pearling divers at the Ede­line Islands. Explore an aban­doned hip­py camp, swim in a crys­tal clear rock pool and see an ancient rain­for­est pock­et at Xenex's in Cone Bay. Flick a lure for bar­ra­mun­di and catch a feed of mud­crabs in one of the many man­grove creek sys­tems of the archipelago.
Tour dates
2020
16
th
to
27
th
June
13
th
to
24
th
July As per our
8
day sea safari as well as; Take a his­tor­i­cal trip back in time by vis­it­ing the ruins of a failed
1864
Cam­den Har­bour Set­tle­ment and lone­ly graves of past set­tlers on Sheep Island. Cruise past Mount Trafal­gar into the wild Prince Regent Riv­er. Bush walk a trib­u­tary called Camp Creek to a set of pic­turesque water­falls and enjoy a swim in par­adise. Try your hand at catch­ing a bar­ra­mun­di in the ten­der dinghies and feast on the fish of the day. Mar­vel at the splen­dour of the King's Cas­cades and take a guid­ed walk to the top of the cas­cades for scenes from heav­en and a reju­ve­nat­ing dip in a rock pool. Through­out the cruise keep a look out for hump­back whales and their calves.
Tour dates
2021
15
h — 
22
nd
June
1
st
to
8
th
July
28
July to
4
August
8
th
to
15
th
August
19
th
to
26
th
August
10
th
to
17
th
Sep­tem­ber Expe­ri­ence all of the adven­tur­ous ​
'
hands on' activ­i­ties found in our
6
day trip as well as: Wit­ness the out­go­ing tide cas­cad­ing off Mont­gomery Reef and observe diverse marine and bird life. Bush walk to an ancient rock art gallery of the Sea Wand­ji­nas at Raft Point and absorb the spec­tac­u­lar views through the bush over­look­ing Steep Island and the head­lands of Doubt­ful Bay. Fish the Red Cone Creek sys­tem for bar­ra­mun­di and salmon and take a relax­ing swim under the pure spring fed water­fall at the enchant­i­ng Ruby Falls. Cruise the breath­tak­ing­ly beau­ti­ful salt water gorge of the Sale Riv­er that winds its way inland and take a dip in the fresh­wa­ter pools of a rain­for­est lined tributary.
Tour dates:
15
th
to
29
th
May
2020
 — 
FULL
2021
 — 
15
th
to
29
th
May — seats avail­able This trip is very much a ​
'
one off' offer­ing a com­pre­hen­sive explo­ration of the Kim­ber­ley coast­line with an itin­er­ary that has been com­plied from
17
years spent explor­ing the area. The cruise has been designed to show­case the diver­si­ty of the phys­i­cal pres­ence on Aus­trali­a's north­ern coast­line dat­ing back thou­sands of years, as well as some very spe­cial places that reflect the coast's nat­ur­al beau­ty. Over the
15
days the aim is to take you to sites that do not form past of the stan­dard Kim­ber­ley coast cruis­ing expe­ri­ence — some places are very sel­dom seen by any­one; and oth­ers it is high­ly like­ly have not been seen.
One Tide Charters are camping tours that operate in remote wilderness areas. A reasonable level of fitness is required. Whilst all care is taken One Tide Charters will accept no responsibility for personal injury loss or damage to personal effects or expenses incurred as a result of delay cancellation or alteration of any service due to circumstances beyond our control. Travel insurance is strongly recommended.
One Tide Charters reserves the right to postpone or cancel any trip due to reasons such as mechanical failure weather conditions or insufficient passenger numbers (minimum of 4). In such circumstances all moneys will be refunded.
A cancellation fee of 25% will apply if bookings are cancelled prior to 10 days before departure. A 50% fee will apply if bookings are cancelled within 10 days of departure