Tours and Activities
Water Based Tours
Extended Cruises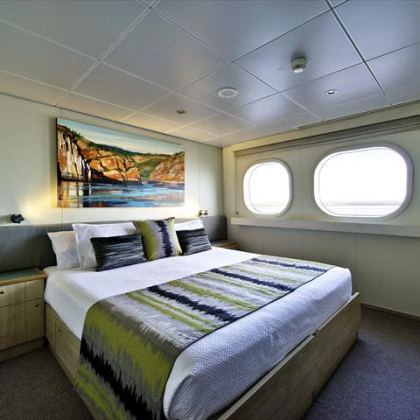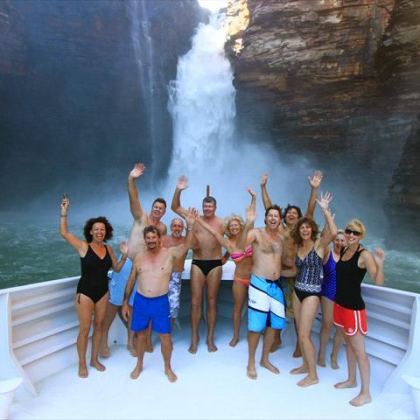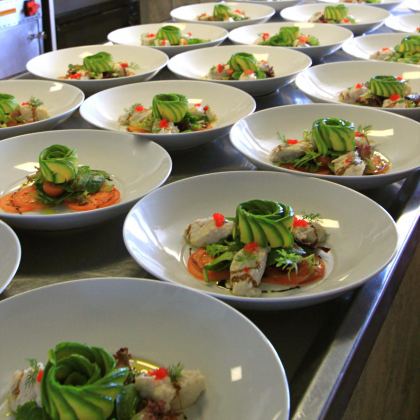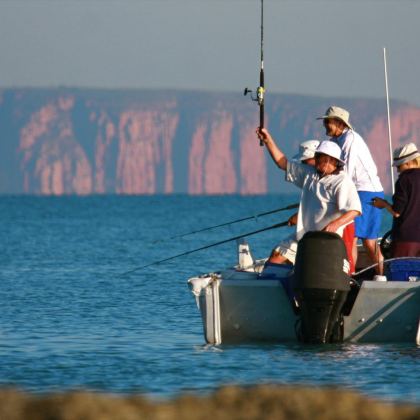 Hours: 7am to 5pm Monday to Friday
The TRUE NORTH con­ducts adven­ture-cruis­es all-around the mag­nif­i­cent Aus­tralian coast­line and in the stun­ning waters of Indone­sia and Papua New Guinea.
Care­ful­ly craft­ed itin­er­aries pro­vide for almost exclu­sive focus on the des­ti­na­tion. Sea days are specif­i­cal­ly exclud­ed and dai­ly activ­i­ties can include walks, fish­ing, snor­kel­ing, div­ing, pic­nics and cul­tur­al events.
The TRUE NORTH is able to access wilder­ness areas where big­ger ships can­not go. Ded­i­cat­ed adven­ture-boats (6) explor­er fur­ther and allow for dif­fer­ent activ­i­ties to be con­duct­ed at the same time. Most itin­er­aries fea­ture a ship's heli­copter. The ship also fea­tures styl­ish accom­mo­da­tion and 22 crew chap­er­one just 36 guests.
True North Adven­ture Cruis­es is the Kim­ber­ley's longest estab­lished adven­ture-cruise oper­a­tor and the win­ner of both state and nation­al tourism awards.
True North Adven­ture Cruis­es are an undis­put­ed mar­ket leader and offers itin­er­aries espe­cial­ly designed for the most dis­cern­ing adventurer.
True North Adven­ture Cruis­es con­sis­tent­ly oper­ate with impec­ca­ble cus­tomer sat­is­fac­tion rates!
The TRUE NORTH fea­tures enhanced lev­els of com­fort and style through­out allow­ing guests oppor­tu­ni­ty to expe­ri­ence wilder­ness in sur­round­ings more akin to one of the world's most exclu­sive hotels!
The TRUE NORTH fea­tures an AUS­TRALIAN crew!
Leg­endary Ser­vice — a pas­sen­ger lim­it of 36 and a crew of 22 ensure our rep­u­ta­tion for atten­tion to detail and excel­lence in service!
All meals on the True North fea­ture the finest in Aus­tralian cuisine.
True North Adven­ture Cruis­es offer 7, 10 and 13 night options to dis­cov­er the mag­nif­i­cent Kim­ber­ley coast.
The TRUE NORTH is the ONLY Kim­ber­ley adven­ture-cruise ship that trav­els with a full-time heli­copter — an air-con­di­tioned Euro­copter EC130!
The TRUE NORTH is pur­pose built for access­ing shal­low riv­er systems.
The TRUE NORTH is ful­ly licensed for fish­ing activities.
Avoid the crowds — we car­ry 6 ded­i­cat­ed adven­ture boats (not zodi­acs) which allow guests to expe­ri­ence wilder­ness in com­fort and in small groups. We can also make greater pro­vi­sion for our guests to do what they want, when they want!
Expe­ri­ence the des­ti­na­tion — dai­ly activ­i­ties can include scenic walks, heli­copter flights, cul­ture, fish­ing, snorkelling, pic­nics, div­ing, explor­ing, nature and much, much more!
And, we can still wash the TRUE NORTH under your favourite Kim­ber­ley waterfall!
We look for­ward to wel­com­ing you aboard soon!
The Kim­ber­ley region in North West­ern Aus­tralia is a panora­ma of rugged moun­tains, spec­tac­u­lar gorges and majes­tic water­falls. The region attracts vis­i­tors from all over the world – but not every­body is for­tu­nate enough to tru­ly expe­ri­ence this ancient land. Pur­pose built to go where oth­er ships can­not, the styl­ish adven­ture cruise ship
TRUE
NORTH
pro­vides a lev­el of access that is the envy of oth­ers! Whilst oth­ers sail past — we can safe­ly nav­i­gate the region's many shal­low riv­er sys­tems and pro­vide our guests with inti­mate access to the region's icon­ic nature fea­tures. And, our activ­i­ty-based itin­er­aries include tac­tile expe­ri­ences such as hik­ing, fish­ing, mud crab­bing, pic­nics, nat­ur­al his­to­ry inter­pre­ta­tion, see­ing the ancient rock art of the Aus­tralian Abo­rig­i­nal and exhil­a­rat­ing heli­copter rides.
Expe­ri­ence the emo­tive beau­ty that accom­pa­nies the end of the wet sea­son! Expe­ri­ence the Kimberley's renowned sum­mer storms and spec­tac­u­lar light shows! Expe­ri­ence thun­der­ing water­falls and swollen bill­abongs. And, not for­get­ting unex­plained rock-art, extra­or­di­nary wildlife and mon­ster barramundi!
Unless otherwise expressly agreed in writing all cruises are sold upon the following terms and conditions to the exclusion of any terms and conditions of the purchaser and no agent or representative has any authority to vary or omit part of or all of these conditions. Please note that failure to make due payment in respect of bookings or instalments shall entitle True North Adventure Cruises to cancel a booking. At any time following overdue payment True North Adventure Cruises shall be entitled to consider a booking void and offer the booking to any other interested party.
Deposit: A completed booking form and a 25% non-refundable deposit are required to confirm your reservation.
Final payment: Final payment is required no later than 90 days prior to departure. Failure to provide final payment 90 days prior to departure will result in cancellation of the booking and forfeiture of any deposit.
Cancellations: If a booking is cancelled less than 90 days prior to departure or if a passenger fails to arrive the total cruise value is forfeited. True North Adventure Cruises cannot accept any responsibility for the actions of any carrier that might result in the purchaser failing to observe a booking condition.
True North Adventure Cruises strongly recommends that passengers arrange adequate cancellation insurance.