Tours
Local Business
Cruises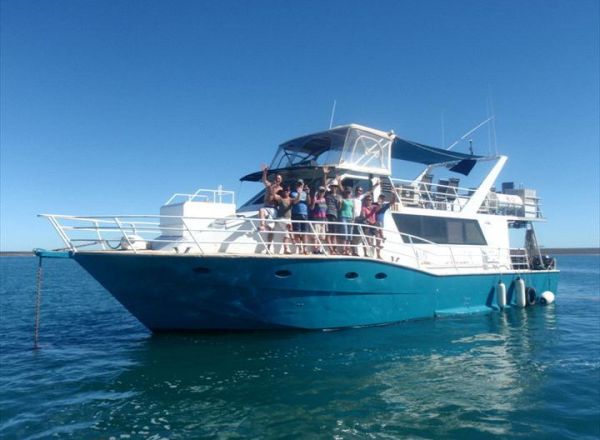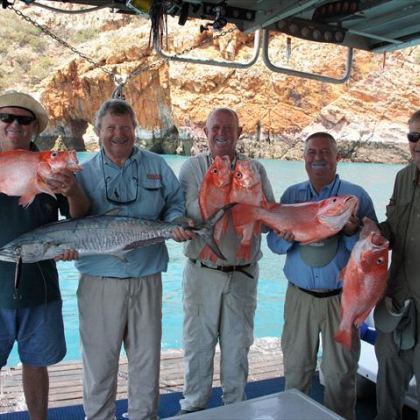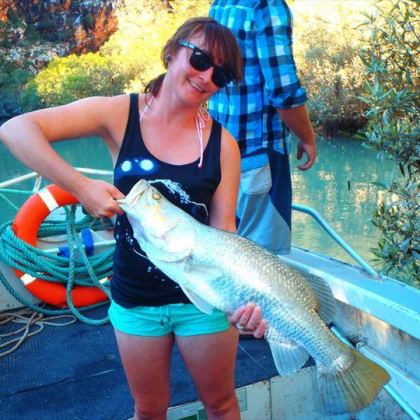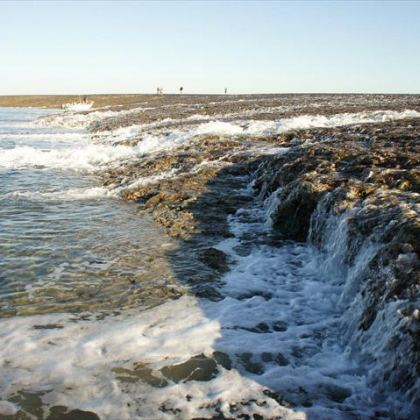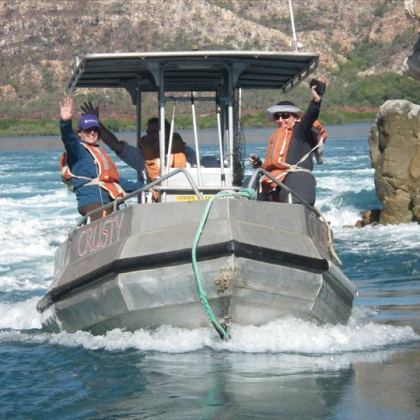 Small Group Kim­ber­ley Fish­ing and Coastal Wilder­ness Adven­tures and Row­ley Shoals div­ing and fish­ing expeditions
Join us aboard MV King Tide for small group coastal wilder­ness adven­tures in the untouched Kim­ber­ley region. All cruis­es depart Broome then to/​from Der­by, the gate­way to the mag­nif­i­cent Buc­ca­neer Arch­i­pel­ago. Cruis­es can be tai­lored to suite your indi­vid­ual inter­ests and include such activ­i­ties as bush­walk­ing, explor­ing gorges, crab­bing, oys­ter col­lect­ing, swim­ming in mag­nif­i­cent water holes and dis­cov­er­ing ancient rock art sites.
Fish­ing is our spe­cial­i­ty. Our two fast and sta­ble 6m expe­di­tion ten­ders, Crusty and Wan­der­er are always at your dis­pos­al, with your own expert fish­ing guide to accom­pa­ny you. Fish as lit­tle or as much as you like.
The 16.5m King Tide boasts a large deck with a spa­cious cab­in and plen­ty of space to relax and soak up your mag­nif­i­cent sur­rounds. We accom­mo­date up to 10 guests in pri­vate quar­ters with shared bath­room facilities.
Our onboard cook pre­pares an array of deli­cious meals, using fresh­ly sourced pro­duce and hope­ful­ly the catch of the day.
An action packed
3
day fish­ing adven­ture in the Buc­ca­neer Arch­i­pel­ago. The tours are suit­able for every­one from novices to avid anglers. We guar­an­tee you will catch loads of fish and have a fan­tas­tic time as well as see­ing some of The Kimberley's most iso­lat­ed treasures.
Tour Dates
2013
April 29 – 6 May
May 13 – 20
May 27-June 3
June 10 – 17
June 24 – 1 July
July 8 – 15
July 22 – 29
Aug 5 – 12
Aug 24 – 31
Day 1
Our Char­tered Bus will trans­fer from your accom­mo­da­tion in Broome to the Der­by Jet­ty for boarding.
Wel­come aboard King Tide, meet our crew and join some like-mind­ed adven­tur­ers. Relax and enjoy a nice cold drink straight off the ice.
We depart Der­by on the out­go­ing tide and cruise to the Buc­ca­neer Archipelago.
We go with the flow of the tide. Our expe­ri­enced crew will endeav­our to match activ­i­ties to time and tide for your great­est enjoy­ment. We will vis­it some of the best Kim­ber­ley icons and our own spe­cial fish­ing spots, includ­ing some of the fol­low­ing, depend­ing on guest pref­er­ences and best conditions.
TIME AND TIDE WILL DECIDE WHICH OF THE TREA­SURES BELOW WE CAN FIT IN !
Out­er Islands
Today is the big fish day. We head to the out­er islands and some off­shore reefs for pelag­ic and bot­tom species. Fish the apt­ly named ATO and Thorn­bury Reef. It is a reg­u­lar event to encounter GTs at 30kg out here. Swim and stroll on a scenic white dou­ble beach. At anchor in a shel­tered coral lagoon, at night we may catch some huge Fin­ger­mark and Bronze Whalers.
Ele­phant Island
Explore the ultra scenic west­ern Tal­bot Bay. Vis­it a water­fall under a rain­for­est canopy. Here we will fish man­grove creeks for Bar­ra­mun­di, Threadfin Salmon and Man­grove Jack.
Hor­i­zon­tal Waterfalls
Vis­it the Hor­i­zon­tal Water­falls and near­by mag­i­cal Dugong Bay. Cruise through some of the most spec­tac­u­lar scenery on the coast and then expe­ri­ence an excit­ing ride through one of the nat­ur­al won­ders of the world, the Hor­i­zon­tal Waterfalls.
Dugong Bay
Away from the crowds at the Hor­i­zon­tal Falls is a bay enclosed in steep quartzite cliffs, water­falls cas­cade from their heights. We will fish and explore creeks hid­den in the man­groves. Here we find res­i­dent croc­o­diles and Bar­ra­mun­di chas­ing the bait up with the tide.
A climb up a bushy track leads to an incred­i­ble Abo­rig­i­nal art site fea­tur­ing some of most famous Wand­ji­na paint­ings in the North West. The view from the site is spec­tac­u­lar look­ing over Steep Island and Doubt­ful Bay.
Catch the out­go­ing tide to the famous Mont­gomery Reef and watch the water recede and the 400 square km of reef rise out of the water cre­at­ing thou­sands of cas­cades. See the myr­i­ad reef life includ­ing Dugongs, Tur­tles, sharks and rays. No anchor­age here so we pro­ceed to Doubt­ful Bay.
Ruby Falls
Vis­it the beau­ti­ful Ruby Falls for a swim and climb up to explore the head­wa­ters. Swim again in lil­ly lined pools draped by fra­grant Weep­ing Paper­barks and Frangipani.
Three Ways
Cruise to the fan­tas­tic 3‑ways creek sys­tem for some excel­lent estu­ary fish­ing. Here we encounter all sorts includ­ing Black Jew­fish, Flow­ery Cod, Queen­fish, Treval­ly, Salmon, Bar­ra­mun­di Man­grove Jack and Mudcrabs.
Sale River
Zoom up the 20km of gorges of the Sale Riv­er in the ten­ders. This is one of the most beau­ti­ful rivers in the Kim­ber­ley. Get above the high­est rock­bar on the top of the tide where the fresh­wa­ter meets the salt and explore a fan­tas­tic rain­for­est with spring fed creek. Swim in the cool fresh water with the local Cherabin.
Glenelg River
At the north­ern end of Doubt­ful Bay in the unchart­ed gorge waters, lies the Glenelg Riv­er. This is the spot of renown Bar­ra­mun­di. We could fish and explore this remote area for days, but sad­ly we must head for our home port.
Col­lect large Black­lip Oys­ters then cruise up Sil­ver­gull Creek to Squat­ters Arms for a BBQ lunch. At the site of a nat­ur­al spring, Phil and Mar­i­on have set up a trop­i­cal par­adise replete with a hot spring fed fresh­wa­ter pool. Float around and lis­ten to some amaz­ing yarns. Here you will have the oppor­tu­ni­ty to pur­chase some unique Kim­ber­ley jew­ellery carved from moth­er of pearl and black coral.
Sil­i­ca Beach
Start the morn­ing with a swim at the famous Croc­o­dile Creek water­fall. Cruise past the Yampi Sound Bar­ra­mun­di farm to Hid­den Island which is home to Sil­i­ca Beach, a pure white beach made from sil­i­ca, for a relax­ing swim. Fish here for some big GT. We then vis­it a desert­ed beach to wan­der around and beach­comb and col­lect oys­ters. We will have sun­set drinks and tasty BBQ to end this won­der­ful day.
We then vis­it Edi­line Island that has fas­ci­nat­ing pat­terns weath­ered into slate stone and the last rest­ing point of ancient pearlers. Many tur­tles nest on this island from time to time and there is a good chance of spot­ting one. As the tide ris­es, it's up the Kyul­gum Riv­er to a large water­fall and plunge pool for a dip. After a refresh­ing swim we anchor at a spot where we hand feed our gen­tle Tawny Nurse Sharks.
Cone Bay
Anchor at the head of the bay where we are amazed by the giant round boul­ders rest­ing above the peb­ble beach. Fish for mas­sive North­ern Mul­loway or fol­low the tide up a man­grove creek chas­ing Barramundi.
On day 8 we will steam to Cygnet Bay at the NE of Cape Lev­ique where you will expe­ri­ence the fine hos­pi­tal­i­ty offered at the old­est fam­i­ly owned pearl farm in the Kim­ber­ley. After an infor­ma­tive tour of the farm you may browse the gallery before board­ing your Kim­ber­ley Avi­a­tion scenic flight back to Broome.
This is a sug­gest­ed itin­er­ary only and is sub­ject to change due to pas­sen­gers pref­er­ences and the vast tidal range of the region. Kim­ber­ley Fish­ing and Coastal Wilder­ness Adven­tures Guests will enjoy cruis­ing and fish­ing in an inti­mate and relaxed atmos­phere with a max­i­mum of 10 guests and a great crew of 3 to 4. Prices include: Accom­mo­da­tion while on board, all meals whilst on board, skilled fish­ing guides, tack­le and bait, scenic light air­craft trans­fer to/​from Cygnet Bay Pearl Farm to/​from Broome, bus trans­fer to/​from Broome to Der­by Port. Con­sec­u­tive 5 and 7 Night tours can be com­bined into one extend­ed cruise, e.g. 7 nights + 5 nights = 12 nights. Exclu­sive whole boat char­ters are avail­able, itin­er­aries can be cus­tomized to suite your pref­er­ence, how­ev­er the sched­uled dates have been select­ed with care­ful con­sid­er­a­tion of the pre­dict­ed tides to enable opti­mal access, so we pre­fer to oper­ate with­in this framework.
Tour Dates
2013
:
Oct 6 – 12
Oct 20 – 26
Nov 3 – 9
Nov 17 – 23
Departure
Wel­come aboard King Tide, board­ing at approx. 1700 hrs, meet our crew and join some like mind­ed adven­tur­ers for a nice cold drink straight off the ice. We depart Broome at around 1800 hrs for our overnight steam to the edge of the Con­ti­nen­tal Shelf 140 nau­ti­cal miles to the West. Din­ner is served soon after depar­ture, fol­lowed by a cruise and dive briefing.
Mer­maid Reef
Arriv­ing in the morn­ing of Day 1, at the most North­ern atoll,after a yum­my break­fast, we will soon be explor­ing the out­er reef depths. King Tide is actu­al­ly a pur­pose built live aboard dive boat and she knows her own way around the Row­leys. We have many dive sites to choose from

Sil­ver City
We will spend the next three days div­ing around Mer­maid Reef . Anchor­ing inside the beau­ti­ful shel­tered lagoon at night. All the usu­al trop­i­cal species will be around and often quite large ones. Coral Trout, Chi­na­mon Fish, Bald­chin Grouper,friendly Emper­ors, Flute­mouth, Pipefish, Moray Eels,Turtles, Bar­ra­coo­ta, Dog­tooth Tuna,Spanish Mackarel, Striped Mackarel, Tuna, Maori Wrasse, Napoleon Wrasse, and almost any­thing you can imag­ine will swim by,seeming to know they are in a sanc­tu­ary zone in a pris­tine wilder​ness​.In the ear­ly morn­ing and late after­noon we will be lucky enough to encounter plen­ty of curi­ous sharks.The beau­ti­ful sleek whalers, Sil­ver­tip, Grey Reef and maybe Bronzies will check us out. Whitetip and Black­tip Reef wil be rest­ing on the sandy bot­tom ledges. Maybe a Great Ham­mer­head will cruise by out in the blue. You can spend a whole day div­ing at one spot here and still not see all the life that abounds.Visibility is usu­al­ly varies from good to spec­tac­u­lar, depend­ing on the tide and angle of the sun.Night dives inside the lagoon will reveal corals feed­ing, fans, feath­er­stars, clams maybe paint­ed cray­fish crawl­ing around, but we always remem­ber it is a sanc­tu­ary.

Cod Hole
Def­i­nite­ly one of the best dives any­where. Enter­ing the water one or two large tame Pota­toe cod will come up for a pat. They seem to want us to cruise around this fan­tas­tic group of bom­mies with them as we gen­tly drift past the beau­ti­ful walls of coral among schools of Hump­head Par­rot­fish, Sur­geon­fish, huge Coral Trout and pret­ty Moor­ish Idols in pairs .Even the Grey Reef sharks here will some­times fol­low us lazi­ly rather than their usu­al fast approach and exit. Down on the sandy bot­tom we can sneak up on Cow­tail Rays and more Whitetip Reef sharks rest­ing as they do in the day.

North­ern Wall
Be amazed at the sheer drop off to more than 80 metres, spe­cial­ly if we can vis­it iwhen favourable tides give us 40 metre plus vis­i­bil­i­ty. We must watch our guages, it's so easy to swim down way too deep mes­merised by by the spec­tac­u­lar vista sweep­ing beneath us.

Chan­nel Drift
We can drift snorkel through nar­row chan­nels fol­low­ing the dinghy as the tide rush­es us to the edge of the reef for a change of pace and a chance to degas.

Clerke Reef (Sub­ject to sin­gle vis­it per­mit)
If we have seen enough of Mer­maid Reef we will cruise a short way South to explore Clerke Reef. Out­side the reefs we will troll for Mackarel, Tuna to eat or maybe a Sail­fish to release.Here we will drift dive the out­er walls again find­ing some new friends large and small. This evening we anchor inside anoth­er love­ly shel­tered lagoon. Clerke Reef has a nar­row chan­nel which we must nav­i­gate before the sun gets low .We can drift dive into the lagoon on the incom­ing tide. Lat­er we can take a dinghy ride over to the large sand cay at the North­ern end called Bed­well Island. Maybe have a BBQ on the white sand or just go for a walk on dusk. After sun­set at this time in the dry sea­son the sky will be filled with more bright stars than you could ever imag­ine… Vis­it to Clerke Reef is sub­ject to issue of a sin­gle vis­it per­mit by the DEC.

Day 6
More div­ing and snor­kel­ing in the lagoon, then time for a last cou­ple of dives out­side before we pack up our gear and head for Broome with our last Row­leys sun­set behind us. Time to fill in log­books, share our pic­tures and videos as we cruise home. This time of year we are usu­al­ly blessed with love­ly calm seas and lit­tle breeze. We arrive back in Broome about 0830 on the morn­ing of day 7 and bid farewell to our new friends.


CANCELLATION
Cancellation within 90 days prior to departure or if passengers fail to arrive – the total value prepaid for the reservation is forfeited. The non-refundable/cancellation fees can be claimed from your travel insurance policy under the terms of that policy for certain conditions.
TRAVEL AND MEDICAL INSURANCE
Unreel Adventure Safaris strongly recommends passengers arrange suitable cancellation insurance at time of booking. This acts as protection from any circumstance which may force you to cancel or leave an expedition whilst it is in progress. Unreel Adventure Safaris accepts no responsibility for the actions of any carrier that results in the purchaser not meeting a booking condition or deadline. Please enquire about our recommended "Suresave' Travel insurance and we can forward details to you.
CRUISE CHANGES DELAYS OR CANCELLATIONS
If the carrier cancels the Cruise for operational reasons the carrier will refund the fare paid and if the departure of a Cruise is delayed or if the Cruise itinerary is shortened for any other reason the carrier will refund part of the fare paid on a pro rata basis to allow for the time lost. The carrier of this cruise will endeavour to follow the cruise itinerary as described in the brochure and the passenger accepts that the carrier has the right to change the itinerary the vessel or cancel the Cruise as a result of some Unexpected Event or prevailing inclement weather conditions and the passenger accepts that the passenger may not be entitled to any compensation or refund of the fare paid should this occur. Cruise departure/arrival times are approximate and can vary due to tides weather etc. Please keep this in mind when booking any flights in or out.
LIABILITY CONDITIONS
Unreel Adventure Safaris provides adventure expeditions and cruises and as such the passengers may face dangers and discomfort.
Should this happen each passenger should be prepared for and accept the risks involved with a trip of this nature. While all due care is taken by the carrier to avoid unnecessary risks it is the passenger's ultimate responsibility for damages or loss of personal property or any illness death or injury. The carrier does not accept liability for losses costs or expenses suffered as a delay in delivery of services. The carrier does not accept liability for any breach of contract resulting from or caused by force nature natural disaster act of God or unforeseen circumstances.
MEDICAL & RISKS
We strongly advise that you arrange comprehensive travel cancellation and medical insurance at the time of booking. Passengers with any medical conditions should make them aware to the company at least seven days prior to departure or at the time of booking. Medical ailments or accidents during the trip should be reported to the Captain immediately. Emergency evacuation is available for severe medical reasons at the customer's expense and claimable by many travel insurance companies as long as it is not a pre-existing medical condition (unless the insurance company has pre-approved such).
PASSENGER HEALTH AND RESPONSIBILITY
The passenger admits a full understanding of the nature and character of the vessel and the scope of the activities contemplated by the passenger during the Cruise (including those relating to off-vessel activities such as excursions in the vessel tenders snorkelling and diving) and assures and undertakes to the carrier: -
• That they are in good health and will be able to undertake the Cruise and the contemplated activities;
• That they will effect travel insurance sufficient to cover and limitation of liability against the Operator;
• That they accept the risk that they may suffer from sea sickness;
• That they have disclosed any physical or mental disability requiring special attention or treatment at the time when the reservation for the Cruise was made;
• That the passenger accepts that a medical certificate certifying fitness for travel may be required at the Carrier's request and if any passenger has had surgery less than three months prior to sailing that passenger must submit a letter from a qualified physician stating that he or she is fit to travel. The Carrier reserves the right to deny passage if a passenger requires care and attention which the carrier cannot adequately provide and this decision may be made by the Carrier in its sole discretion;
• Any charges incurred by passengers for medical reasons including but not limited to physicians surgeons hospitals off vessel accommodation medication diagnostic facilities air ambulance evacuation or ground ambulance shall be the sole responsibility of the passenger;
• For the safety and comfort of all passengers smoking is not permitted in the vessel except on open deck spaces;
• And the passenger agrees to indemnify the Carrier from and against all claims costs charges and fines or penalties arising as a result of any claim made against the carrier in this respect.
LIMITATION OF CARRIER'S LIABILITY
The liability of the carrier to the passenger is limited with respect to both personal injury and damage to loss of property to the full extent permitted by law and in terms of these cruise booking conditions. The Carrier accepts no responsibility of liability to the passenger for loss death or delay of or injury to any passenger. These cruise booking conditions remain in effect for all periods when the Carrier is under any responsibility to the passenger or the passenger's property.
PASSENGER BAGGAGE
All baggage brought on board the vessel by a passenger remains in the possession and control of the passenger during the cruise and must be stored and kept in the cabin allocated to the passenger. Clients will be given advice on what to bring and the weight restrictions of luggage. All baggage should be clearly labelled with the name of the passenger. No dangerous or flammable substance including any prohibited drug or non-prescribed drug. The Carrier is not responsible for baggage money jewellery documents and any other valuables which passengers keep on their person in their cabins or in their baggage. The Carrier does not accept responsibility for any loss damage or delay to a passenger's baggage personal effects or other property arising from or caused by an unexpected event. The Carrier strongly recommends that passengers obtain adequate insurance to cover any loss or damage in this respect.
EXPEDITION ACTIVITIES
The Unreel Adventure Safaris and your chosen cruise vessel will not be liable to passengers for any injury or damage which occur during recreational activities. This includes those activities both on and off the main vessel and associated tenders.