UPDATE: ALL 10,000 WANDER VOUCHERS WERE SNAPPED UP WITHIN MINUTES.
West Aussies have the chance to get their hands on a $100 Wander Voucher to use towards tours and experiences with $1 million worth of vouchers up for grabs.
Register for a Wander Voucher (10am, Monday 21st September, 2020) and receive $100 off your total spend on tours and experiences across the State (on a minimum spend of $200).

You can see a side of WA you've never seen and support tourism operators who are doing it tough. A Wander Voucher provides a discount of $100 when you spend $200 on an eligible tour or experience.

You must sign up for your Wander Voucher online - released on Monday 21st September, 10am WST. (Terms and conditions apply).

You will receive this email with your code within 1 business day from when you register if you have successfully registered for one of 10,000 vouchers available to West Australians. These will go quickly - so be sure to set a reminder!

Once you have your unique 'wander voucher' code, come back to www.visitbroome.com.au and browse the available tours to make your selection. Process your booking through the online checkout process. A reminder, the total spend must be $200 before the $100 discount will be applied. If you see an error message, simply look to increase the number of persons/tickets to make up the minimum spend or add another tour to your cart.

To enable the discount to be activated in your shopping cart on our website, you must enter your unique voucher code (including the dash) in the promotion code box at the checkout.

Bookings can be made through the Broome Visitor Centre in person, and also by phone on 08 9195 2200.
Min spend is $200 to redeem the $100 discount.
Not transferable or refundable.
Must be over 18 and a West Australian to register for a voucher.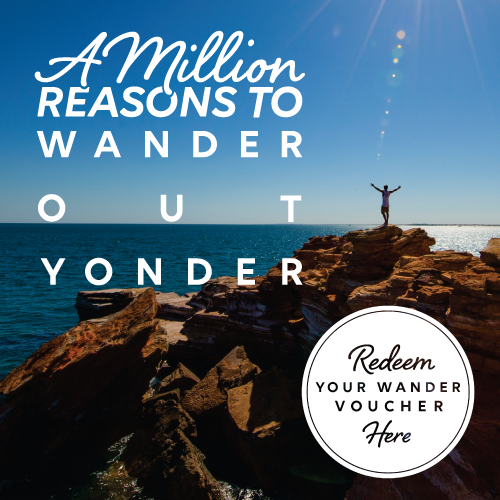 Only one voucher can be claimed per person, at $100.00AUD per voucher. You'll need to provide your details and agree to the terms and conditions when you register.
Employees of the Promoter and the Promoter's contractors and agents (including the participating visitor information centres associated with this Promotion) are not eligible to enter. More terms are available on the voucher registration page.

Any issues finding something to book or redeeming your voucher, pop us an email to enquiries@visitbroome.com.au