The Wander out Yonder sale is back at Virgin Australia! More than 11,000 discounted airfares between Perth and Broome, priced from $199 one-way on flights from March 2022 to October 2022. Virgin Australia operates daily services year-round between Perth and Broome, with additional flights during peak periods, using Airbus A320 and Boeing 737 aircrafts.
Broome | Perth from $199 one-way
Travel dates: March to October 2022
Book flights: https://specials.virginaustralia.com/au/sale/wander-out-yonder-sale
Book your accommodation, tours, car hire and more online 24/7 on our website.
If you would like to use our free booking service or need itinerary planning assistance, please call us during business hours on 08 9195 2200. The Broome Visitor Centre is open weekdays from 9am - 4pm and Saturdays 9am until noon. We can't wait to welcome you to Broome!
*Fares are on sale until sold out for travel up to 30 October 2022. Fares must be purchased 21 days in advance from travel date. Other T&C's as per airline website.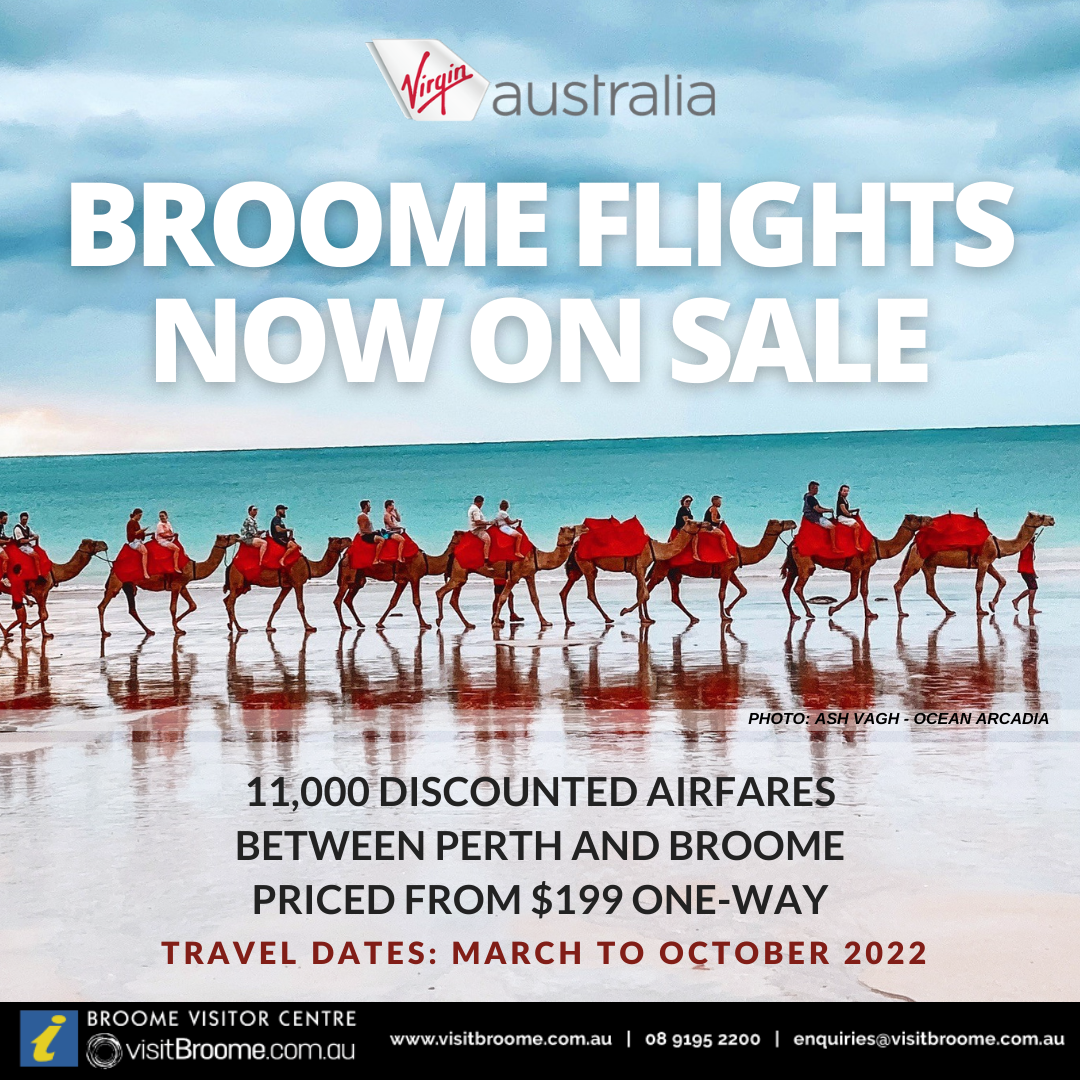 PERTH TO KUNUNURRA FLIGHTS

More than 12,000 discounted one-way Virgin Australia fares are available from $249 between Perth and Kununurra from March 2022 to September 2022. Virgin Australia will operate four flights per week to Kununurra from March 28, 2022. This increases to five flights per week from May 8, 2022 on Boeing 737 aircraft. The Broome Visitor Centre also offers accommodation and tour bookings for Kununurra. Browse the experiences here or search for accommodation here (be sure to enter your dates, and then you can apply the filter to location "Kununurra" to see options available).