Fresh from the success of a recent Australian crowdfunding record raise of $2 million for a Craft Brewery by Equitise, Spinifex Brewing Co is proud to release details for the proposed multi-million-dollar development at 7 Sanctuary Drive Cable Beach Broome in Western Australia's spectacular Kimberley region.
The Spinifex Ale House Cable Beach Broome is designed to cater for up to 600 guests in a relaxed family style environment filling a clear void in the current offerings in Broome. Constructed over 4,500 sqm and incorporating a large play area for kids, Outdoor LED screen and stage as well as grassed area the space is perfectly planned to make the most of the outdoor lifestyle afforded to residents and visitors alike.

A state of the art 12 Hectolitre (1.2 MIL litre maximum capacity) brewing facility with a visually spectacular Tank to Tap system will be installed including Horizontal Bright tanks to ensure maximum theatrics of the brewing process providing a fascinating behind the scenes experience.
This facility will be in addition to the current 24 HL brewery under construction currently in Nambeelup one of Perth's southern suburbs and the flagship Spinifex Ale House North Beach which is still awaiting external consultants' reports.
Broome local and Spinifex CEO Adam Barnard states "On behalf of Spinifex we are incredibly proud to present the opportunity to create a piece of infrastructure that will significantly enhance the offering in Cable Beach.
The Spinifex Ale House will complement the recently completed $29.3 million dollar redevelopments of Chinatown as well as the $24 million dollar redevelopment of Town Beach" made possible by the WA state government and the Shire of Broome.
"As a local resident of Broome, I am acutely aware of the challenges faced dealing with the extraordinary growth in domestic visitation with the booming popularity of Broome and the Kimberley as a tourist destination.
Many visitors are simply unable to book into existing venues during the peak season and this creates risk that the destination fails to deliver to the expectations of our highly valued Intra and Interstate visitors.
With the redevelopments in place and the significant increase to both Intra and Interstate visitors post COVID we foresee a great future for Broome and the local tourism industry" Adam Barnard CEO.
In addition to the brewery, space is also being reserved to incorporate a processing and cold storage facility for Indigenous entrepreneur Robert Dann and his Bindam Mie native bush foods enterprise.
Robert a Nyul Nyul man and traditional custodian of the Winnawall Country an area of Beagle Bay on the Dampier Peninsula sources and processes native ingredients such as Boab nut and Gubinge (Kakadu Plum) of which Spinifex will infuse into a range of alcoholic and non-alcoholic beverages.
The development will also cater for the large number of young families in town by providing an incredible playground area and picnic areas to enjoy the beautiful Broome weather.
"As local businesspeople, together we identified an opportunity for an exciting new family friendly venue to be developed on our vacant parcel of land. So, we engaged a local architect, Laird Tran Studio to help us design Cable Beach brewery. We'd made substantial progress, when it came to our attention that Spinifex were on a similar mission capital raising. With their popular product already causing a stir in the marketplace, it made perfect sense to join forces with them to bring this new venture to Broome." - Bob Sweet, Developer
Plans will also include a large commercial smoker and outdoor BBQ grill offering Broome residents and visitors the ultimate in Fresh Beverages and Meals unseen in the Kimberley town.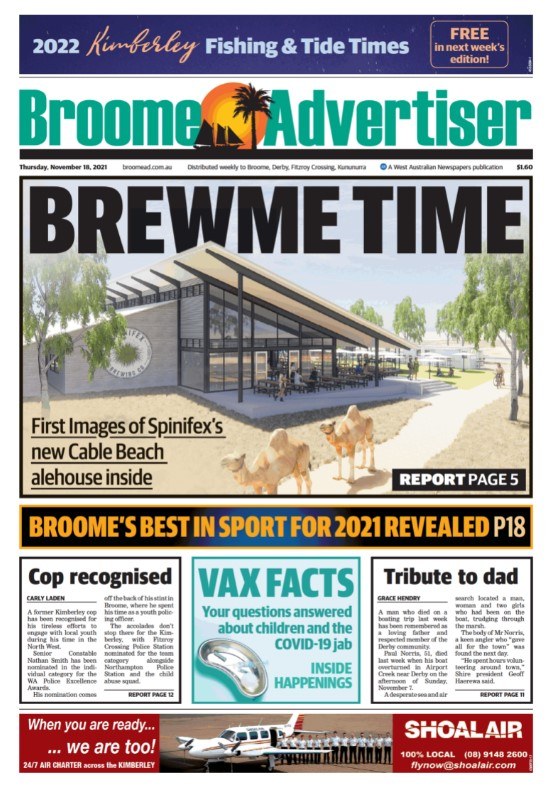 Follow Spinifex Brewing Co on Facebook for more updates.