A WARM WELCOME AWAITS CRUISE PASSENGERS ARRIVING IN BROOME
Broome to be the first port of call for the first returning cruise liner to Western Australia
Princess Cruises' Coral Princess departs Sydney on October 11, cruising around the top end before arriving in Broome on October 24. The Broome tourism community is thrilled to once again welcome cruise passengers to our region after a two and a half year hiatus. The big ships are back!
The Coral Princess hosts up to 2900 passengers and is the first large cruise vessel (all 294 metres in length) to visit Western Australia since the pandemic disrupted the cruise industry. Cruise Broome is working with Kimberley Ports Authority (KPA), the Shire of Broome and other tourism stakeholders to warmly welcome guests on this long-awaited cruise ship arrival.
Broome has four calls this year to Kimberley Ports Authority (KPA) from large cruise ships as follows:
NEXT ARRIVAL
27 November 2022
Holland America MS Noordam
Arrival time: 8am, To be confirmed
Departure time: 5pm, To be confirmed
View special offers available for Cruise Ship Arrivals
UPCOMING ARRIVALS
28 November 2022
Oceania Regatta
28 December 2022
Oceania Regatta
DOWNLOAD THE FULL MEDIA RELEASE HERE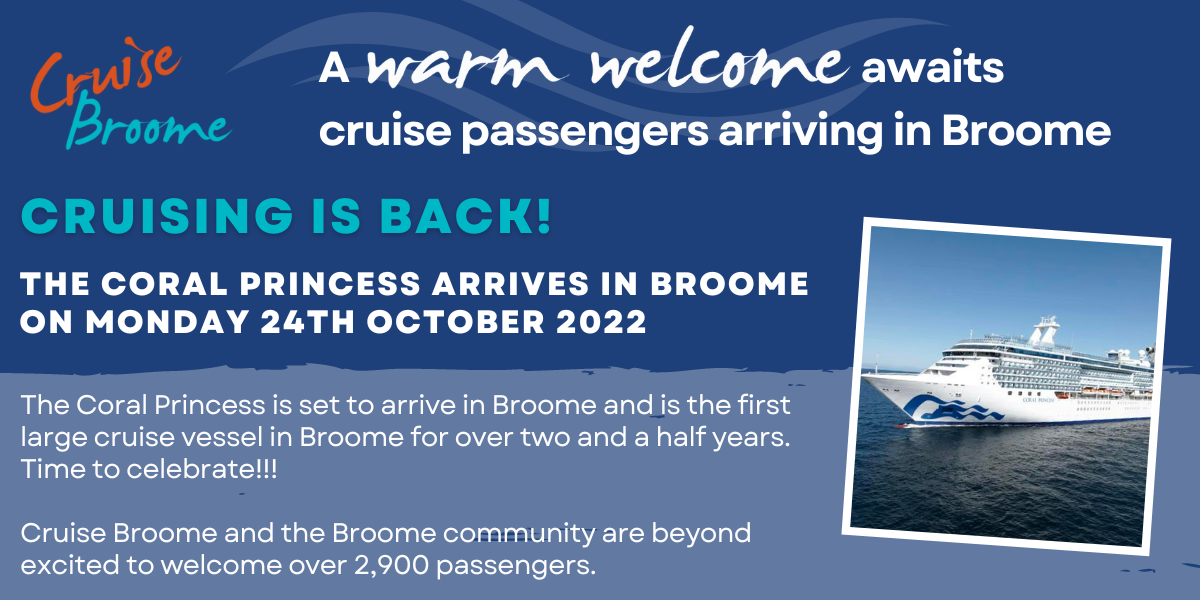 FOR TOUR BOOKINGS AND INFORMATION PLEASE VISIT THE BROOME VISITOR CENTRE
Find us at 1 Hamersley St, Broome (near Male Oval) just a short walk from Chinatown.
Give us a call on 08 9195 2200
Email enquiries@visitbroome.com.au
Use our web chat feature (look for the orange button below on the bottom right hand side of this website).


HELPFUL LINKS
View special offers available for Cruise Ship Arrivals

Download the Explore Broome App