Join the Shire of Derby / West Kimberley for the Grand Opening Event of the Sculptures!
This is the much-awaited opening event of the stunning sculptures, "Night on the Marsh."
A heartfelt thank you goes out to the incredible Better Regions Fund for their unwavering funding and support throughout this project.
Shire of Derby / West Kimberley are deeply grateful for their commitment to the arts and the community.

Date: Saturday, September 9th
Time: 3:30 PM
Location: Family Sculpture (Google map of location here)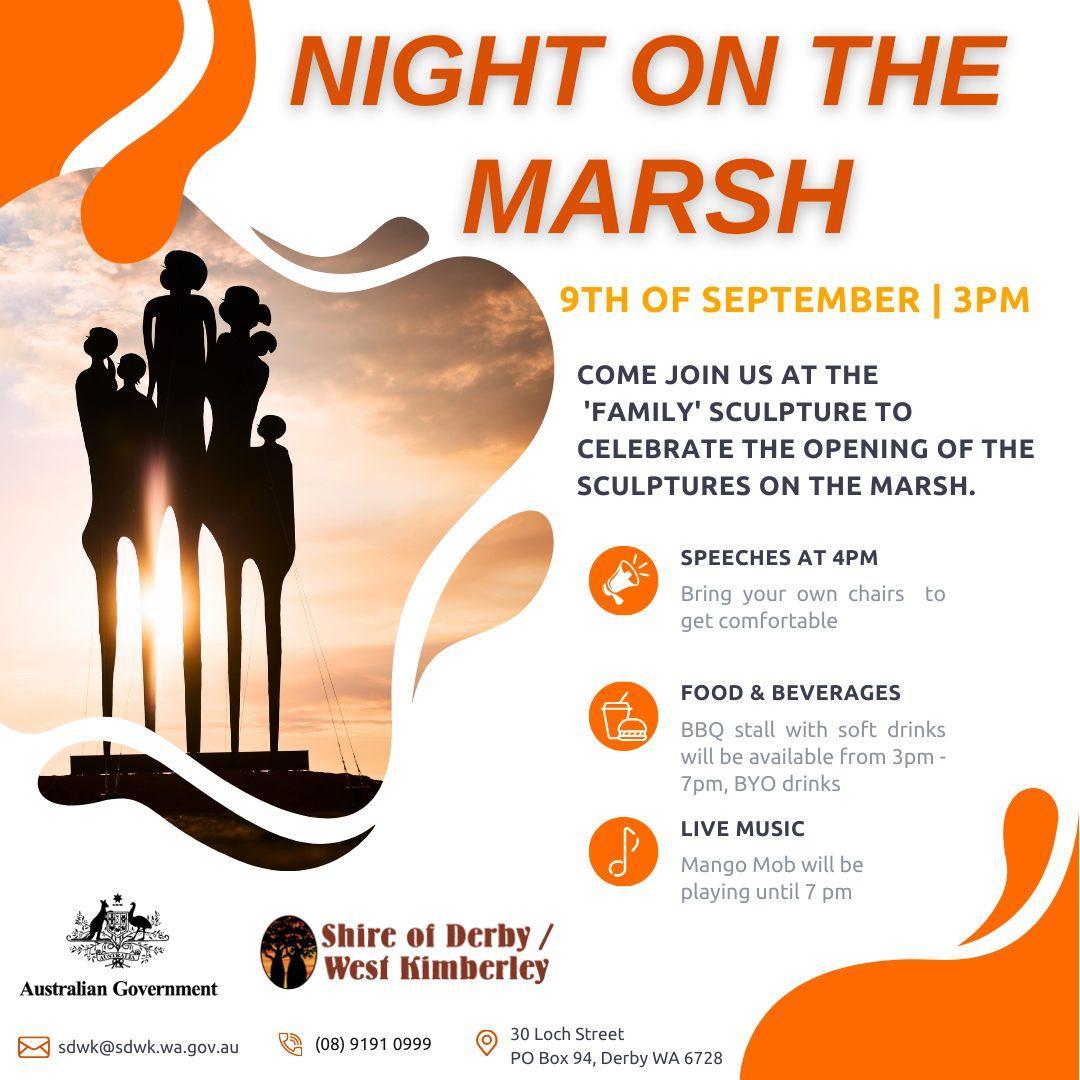 We kick off the festivities with inspiring speeches that shed light on the journey behind these breath-taking sculptures. And that's not all – get ready to groove to the tunes of Mango Mob, while a magnificent campfire comes to life behind the sculpture, as the sun goes down.

For all you art enthusiasts and curious minds, the talented Mark Norval will be leading an engaging tour of the sculptures. Don't miss this chance to gain insights into the artistic process and the stories woven into each sculpture.

Planning is already underway for Sculptures on the Marsh stage two.
From the Shire of Derby website:

The Sculptures on the Marsh initiative is a great boost for tourism and economic development and leverages the popularity of existing sculptures by local artist Mark Norval, which are already a unique and much-loved Derby attraction.

The project is designed to entice visitors to Derby by incorporating a trail of impressive sculptures erected around the marsh which are designed to depict local culture, are designed by local artists, and strategically placed to maximise the magnificent Derby sunset.
It also showcases Derby's culture, Indigenous artists and natural assets, bringing a sense of identity to the community and driving economic growth and job creation by attracting more visitors on their Gibb River Road adventure to visit and stay overnight in Derby.
Find out more about Norval Gallery on Facebook