Shinju Matsuri Festival 2024
Shinju Matsuri Festival 2024
Dates: Saturday 17th August - Sunday 1st September 2024
The annual Shinju Matsuri (Japanese for "Festival of the Pearl") originated from three cultural festivals – Japanese Obon Matsuri, Malaysian Hari Merdeka, Independence Day from British rule in 1957, and the Chinese Hang Seng. Shinju Matsuri rekindles the excitement and romance of Broome's early days of being a world-renowned producer of South Sea Pearls when the Japanese, Chinese, Malay, Koepangers, Filipino and Europeans flocked to Broome from the late 1800's to be a part of this prosperity. This unique multicultural population of pearl industry workers joined with the local Aboriginal people and Europeans to work on up to 400 Pearling Luggers that sailed out of Broome.

Broome's people and businesses have given generously to show their love of Broome over the 50 year life of the Festival and is a testament to the character and culture of this special place. The volunteer Board of Shinju Matsuri is driven by the community and sees the festival as an opportunity to re-educate and inform the community of the cultural heritage of Broome. Ensuring that education and information is passed on to young people and new arrivals will assure that Broome's unique and diverse identity is acknowledged and remembered through the generations.

Shinju Matsuri will tempt your senses with an exciting whirlwind of colour, sound, taste and smell as the community shares this beautiful locale with the world and the people who call it home.

Shinju Matsuri - Broome's Festival of the Pearl - has been an iconic part of the regional WA events program since 1970.
A celebration of Broome's unique, diverse culture and history, via a huge program of events that tantalise all senses sight, sound and most of all taste.
---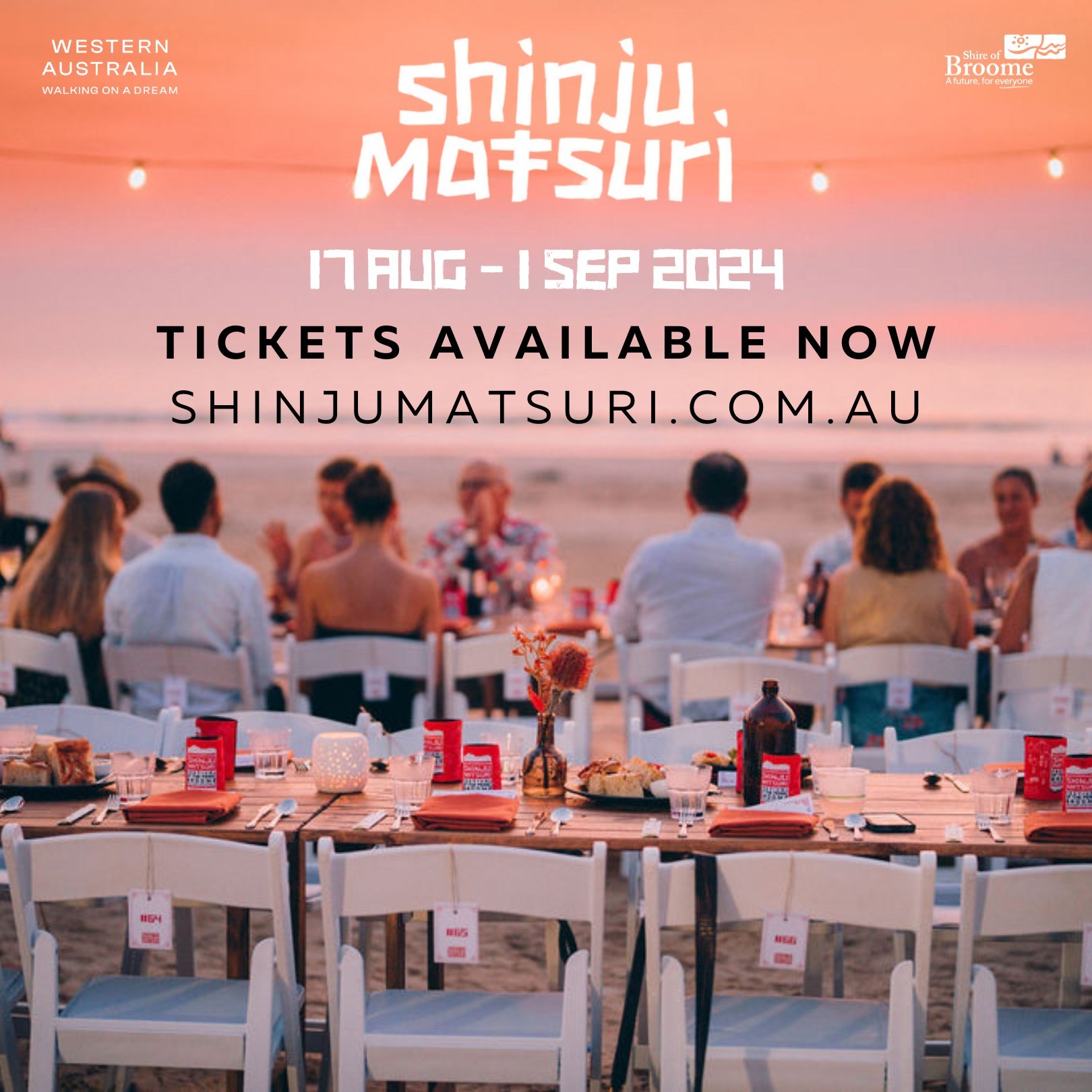 ---

SHINJU MATSURI 2024 - SHINJU OPENING BALL

Saturday 17 August 2024
6:00 PM - 11:00 PM
TICKETS >
The Shinju Matsuri Opening Ball is a modern take on the historic Shinju Ball, in our amazing outdoor venue - the Shinju Matsuri Festival Hub Keep the festival opening ceremony celebrations going in style by a star-lit Roebuck Bay, with live music, dinner &drinks. Included in their ticket, all guests will receive a welcome drink on arrival, along with a substantial supper served all throughout the evening. Get ready to dance the night away on our outdoor dance floor with some of Broome's favourite musicians, keeping the tunes flowing all night long. Dress code is "Kimberley Class", think semi-formal with a Broome twist. Limited tickets are available, be quick!
Location: Shinju Matsuri Festival Hub, Town Beach, Broome
---



SHINJU MATSURI 2024 - CHINATOWN FEAST
Wednesday 21 August 2024
5:00 PM - 9:00 PM
TICKETS >
The Chinatown Feast is our starlit Hawker Style dining event with a Kimberley twist. Held in the heart of Chinatown Broome, where the sun sets, and the moon rises on Short St. Tantalise your taste-buds with a selection of dishes from Broome's finest food vendors, while roving performers & live musicians entertain you throughout the evening.
Location: Chinatown, Short St, Broome
---

SHINJU MATSURI 2024 - CABLE BEACH SUNSET COCKTAIL PARTY
Friday 30 August 2024
5:00 PM - 10:00 PM
TICKETS >
Join us for Shinju Matsuri's very first Cable Beach Sunset Cocktail Party! Guests will enjoy a delicious canape menu designed with local ingredients and seasonal produce, combined with that unique Broome flair. With a cocktail on arrival in hand, dance the night away to some of Broome and WA's best and most renowned DJ's!
Location: Cable Beach
---

SHINJU MATSURI 2024 - SUNSET LONG TABLE DINNER
Saturday 31 August 2024
5:00 PM - 10:00 PM
TICKETS >
Indulge in an opulent night dining under the stars at our premier dining event, the Sunset Long Table Dinner on spectacular Cable Beach. Renowned as one of the most exclusive dining tables in WA, every year the Sunset Long Table Dinner is the most anticipated Shinju Matsuri event. Featuring an exciting menu, inspired by Broome's rich cultural tapestry, will showcase local ingredients & seasonal produce from the region. Enjoy entertainment by local & touring musicians & performers throughout the ening, before finishing the night with a dance in the sand under the Kimberley sky.
Location: Cable Beach
---
Looking for tours to do while you are in Broome? Need accommodation options?
The Broome Visitor Centre can help can you plan your stay or assist with your tour bookings.
For recommendations and advice - call the visitor centre on 08 9195 2200

---
Keep an look out for updates about the 2024 Shinju Matsuri Festival on the Shinju Matsuri Facebook page, Instagram and the Shinju Matsuri website.
Note: Event details may change. Correct at time of publishing.