Travelling North
Dampier Peninsula
Local Businesses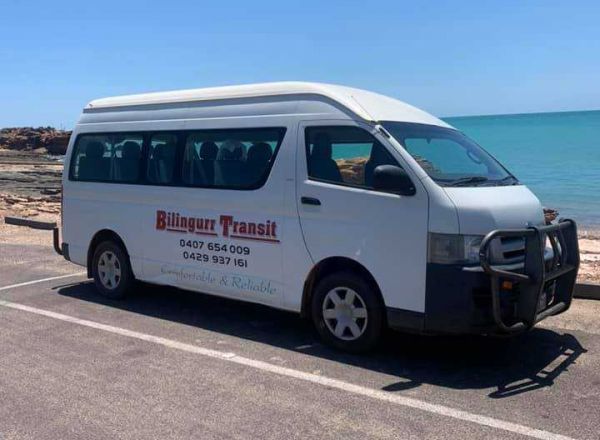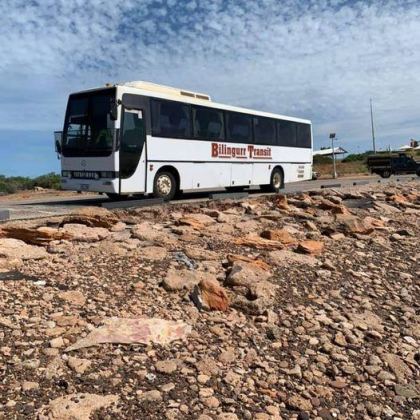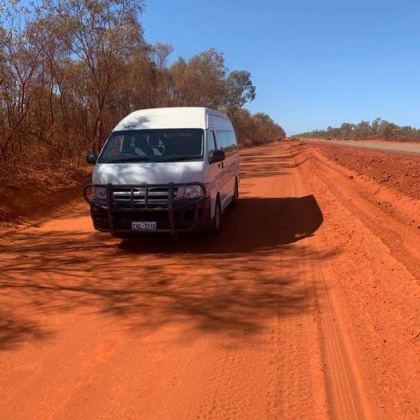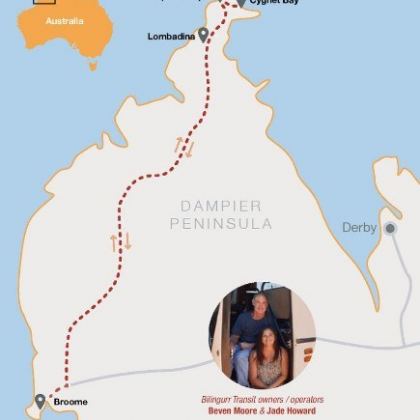 Bilin­gurr tran­sit assists tourists explore the won­der­ful Dampi­er Penin­su­la and offer locals a cost effec­tive and reli­able way of get­ting around.
The fleet con­sists of an 11 seat Toy­ota HiAce bus
and a 45 seat Mer­cedes coach (air­con­di­tioned bus, fit­ted with seat belts).
Key Ser­vices
Char­ter for day excursions
Trav­el to and from events and functions
Cor­po­rate groups
Sport­ing clubs, Schools
Wed­ding par­ties, Horse races, Speedway
Cruise ship passengers
Air­port transfers
Reg­u­lar pas­sen­ger ser­vice from Broome to Kool­ja­man and Cygnet Bay and return: Tourists, locals and small freight deliveries.
Pick up is from the Broome Air­port and Broome Vis­i­tor Cen­tre to tran­sit to des­ti­na­tions on the Dampi­er Penin­su­la up to Kool­ja­man and One Arm Point with reg­u­lar trips depart­ing from the Broome Vis­i­tor Cen­tre on Fri­day, Sun­day and Wednesday.
Times:
7.15am Broome Vis­i­tor Centre
Arrive at Cygnet Bay Pearl Farm approx. 11.15am
Depart 2.45pm for return to Broome.
Email: bilingurr@​gmail.​com
Beven Moore 0429 937 161
Jade Howard 0407 654 009