Tickets
Beverages
Corporate Supporter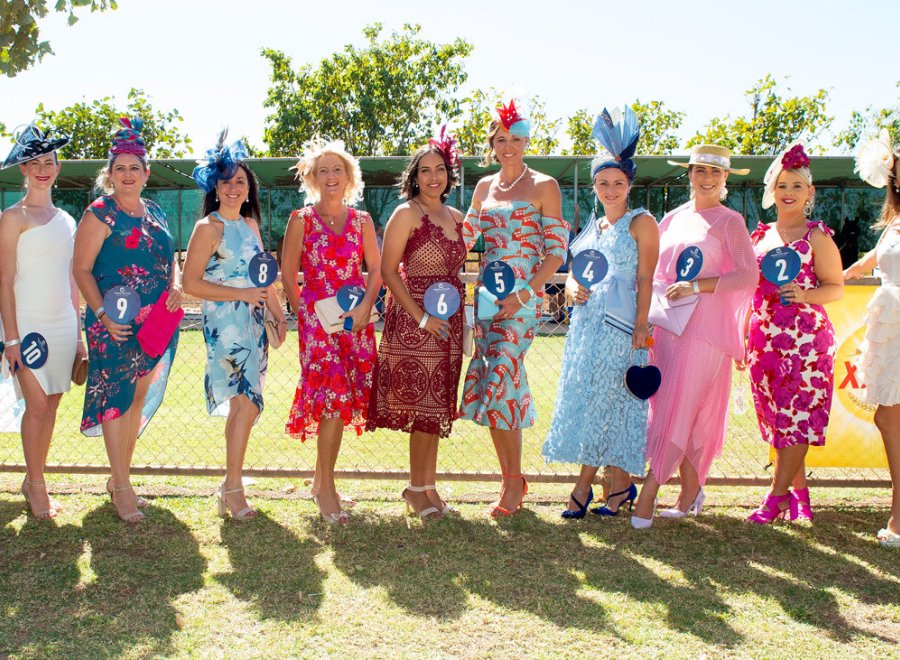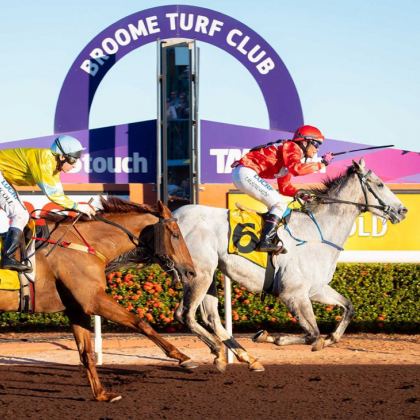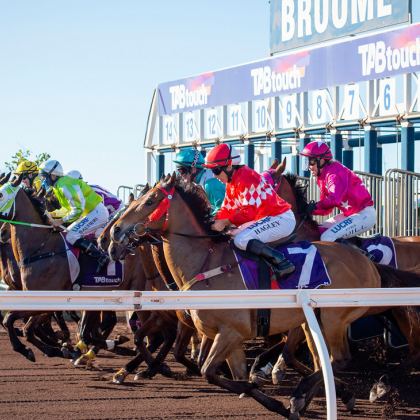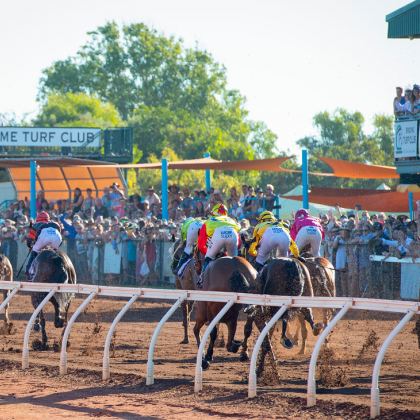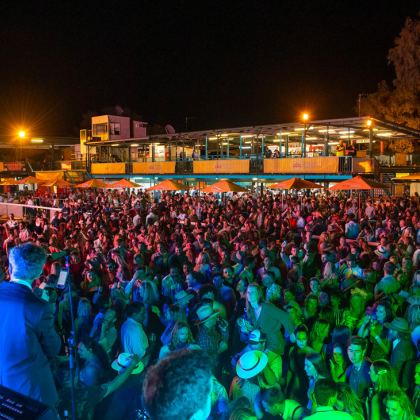 'The Broome Race Round' attracts pun­ters from all over Aus­tralia who come to expe­ri­ence coun­try rac­ing at its best at one of the most unique race clubs in Australia.
The Broome Race Round is an eleven week rac­ing sea­son run­ning over the peak tourist months of June, July and August cul­mi­nat­ing in the high­ly antic­i­pat­ed Broome Cup Week. Fever pitched excite­ment pre­cedes each race through­out the day, with pun­ters being enter­tained by live music, local per­form­ers and fash­ion on the field finals. The post race par­ty extends well into the evening with two up a draw card for many race goers. Be sure not to miss this unique rac­ing experience!
EVENT TERMS CONDITIONS - GENERAL ENTRY TICKETS ROUND 1 TO 8
A minimum of two tickets may be purchased online for 'General Admission' for Broome Race Round Events 1-8. Ticket invoices generated by this booking system do not constitute a gate pass for the event and will not be accepted as valid entry for the event. Gate passes MUST BE COLLECTED for the Broome Visitor Centre any day prior to the race event. Acceptable forms of ID to collect Gate Entry Pass are: presentation of this ticket invoice /credit card used to make the online purchase or current photo identification. ENTRY TO THE BROOME TURF CLUB ON RACE DAY WILL BE DENIED WITHOUT A VALID GATE PASS.
EVENT TICKETING TERMS & CONDITIONS - BROOME CUP CARNIVAL (INCLUDES KIMBERLEY CUP LADIES DAY & BROOME CUP)
Tickets purchased online for the Broome Cup Carnival ARE NOT VALID GATE ENTRY PASSES AND WILL NOT BE ACCEPTED AT THE GATE ON THE EVENT DATE. All tickets purchased online including Members Entry & General Admission Tickets for the Broome Cup Carnival week MUST BE COLLECTED FROM THE BROOME VISITOR CENTRE FROM 3 DAYS PRIOR TO THE EVENT ONLY. Acceptable forms of Identification for Gate Pass collection at the Broome Visitor Centre include presentation of this booking invoice credit card used to make online purchase or current photo ID. ENTRY TO THE BROOME CLUB WILL BE DENIED WITHOUT A VALID GATE PASS
Entry Conditions: Trading Hours: The club gates are open to the public from 10.30am. In respect to requests from the Liquor and Gaming Department evening trading hours have been reduced with all bars closing at 8.30pm on regular race meetings with some extensions on feature days.The Broome Racecourse is a fully licensed area and minors must be accompanied by an adult at all times. Photo identification will be required to purchase alcohol. No minors under the age of 18 are permitted to gamble. No alcohol is to be brought on nor taken off course. Patrons who are adversely affected by alcohol will be refused service and escorted from the premises. Two-Up is an alcohol free area running between the hours of 6pm-8pm. THERE WILL BE NO ADMISSION TO THE RACECOURSE AFTER 5.30PM ON ANY RACE DAY.
Minors on Course:Persons under the age of 18 will not be permitted on course unless accompanied by a parent or suitable guardian. The entire racecourse is a licensed area and whilst some tolerance will be allowed to children during daylight hours parents must be within eyesight and watchful at all times. All children must be with their parents after sunset. Please note that the Broome Turf Club strongly discourages minors and children on course during Ladies Day and Cup Day. For the safety of your children security personnel will not tolerate minors being left unattended at any time. Only children under the age of two years old will be admitted free on these feature days all others will be charged full admittance price and they will not be allowed entry into the members area.
Dress Code: Neat casual dress is required in all areas. Singlets and thongs are not permitted in the members area. Please note that there are NO ATM facilities on the Broome Racecourse
The Broome Visitor Centre sells tickets on behalf of the venue promoter or producer that produces the event for which you buy a ticket. Unlawful resale (or attempted unlawful resale) of a ticket is grounds for seizure or cancellation of that ticket without refund or other compensation. It is your responsibility to check your tickets; mistakes cannot always be rectified. It is your responsibility to ascertain whether an event has been cancelled and the date and time of any rearranged event. If an event is cancelled or rescheduled we will use reasonable endeavours to notify ticket holders of the cancellation once we have received the relevant authorisation from the Event Partner. We do not guarantee that ticket holders will be informed of such cancellation before the date of the event. Unless indicated otherwise in relation to a particular event if a performance is cancelled ticket holders will be offered seats at any rescheduled performance (subject to availability) up to the face value of the tickets or if the ticket holder is unable to attend the rescheduled performance or the performance is not rescheduled a refund .We will not be responsible for any tickets that are lost or stolen. The venue reserves the right to refuse admission should patrons breach any Rules and Regulations of the venue or Event Partner