HeliSpirit - Bungle Bungle
Tours and Activities
Scenic Flights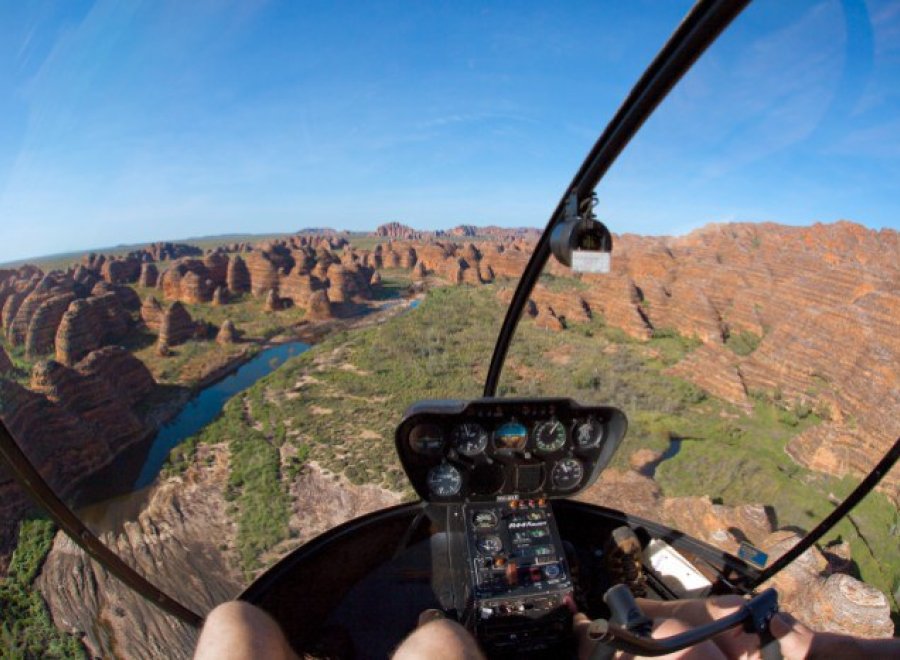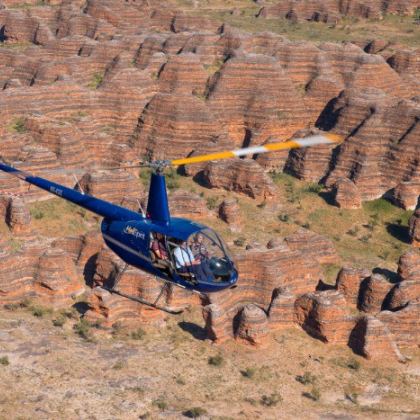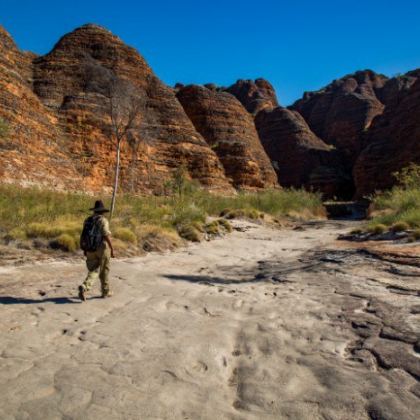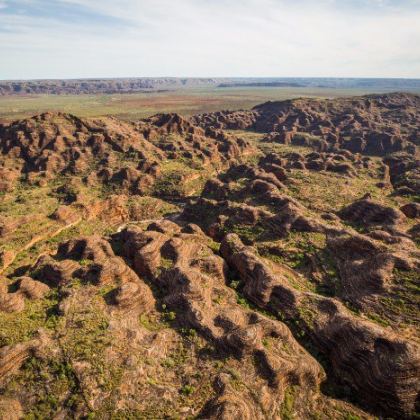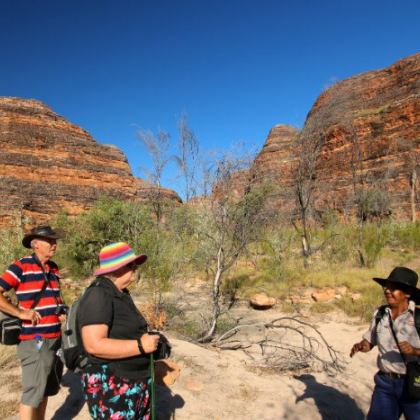 HeliSpir­it heli­copter flights depart­ing from inside the nation­al park give the full flight time over the Bun­gle Bun­gle. HeliSpir­it flights offer the best val­ue for mon­ey. Our office and heli­pad are at Bell­burn Airstrip in Pur­nu­l­u­lu Nation­al Park. We are the orig­i­nal heli­copter flight oper­a­tor with mul­ti-award wins for our pio­neer­ing scenic flights.
Take a heli­copter flight over the Kim­ber­ley with HeliSpir­it over the world her­itage list­ed Pur­nu­l­u­lu Nation­al Park, com­mon­ly known as the Bun­gle Bun­gles. There are ancient sand­stone domes over 350 mil­lion years old, striped in orange and black. Only from a heli­copter can you see the Livis­tona palm trees cling­ing to the sides of the deep canyons.
HeliSpir­it is West­ern Australia's largest heli­copter spe­cial­ist, oper­at­ing across the vast North West. Australia's North West land mass con­tains some of the most spec­tac­u­lar scenery in Aus­tralia and the major­i­ty of the unique fea­tures are acces­si­ble only by heli­copter. Views from the air are stun­ning and add yet anoth­er dimen­sion to access­ing and land­ing in these beau­ti­ful, remote, secret places, pro­vid­ing unfor­get­table adventures.
Our head office is in Kununur­ra – the gate­way to the East Kim­ber­ley, a trop­i­cal town with around 7000 res­i­dents. Kununur­ra is 42km from the North­ern Ter­ri­to­ry bor­der and ser­vices tens of thou­sands of tourists each year with the tourist sea­son being from April – Octo­ber. HeliSpir­it has bases in Kununur­ra, War­mun, Mitchell Falls, Pur­nu­l­u­lu Nation­al Park (Bun­gle Bun­gle), El Que­stro, Kather­ine and Lake Argyle Resort. Local­ly owned, HeliSpir­it was for­mer­ley Heli­work WA. Slin­gair and Heli­work WA were found­ed by Kim­ber­ley avi­a­tion pio­neer Ker­ry Slings­by, bought by Cur­ry Ken­ny Avi­a­tion in 2008 and then the Avi­a­tor Group in 2011. In 2014 Michael McConachy and Geoff Hamil­ton pur­chased Heli­work WA and rebrand­ed it HeliSpir­it. In 2016 they pur­chased Avi­air, an aero­plane char­ter and reg­u­lar pas­sen­ger ser­vice region­al air­line oper­at­ing air ser­vices from Kar­ratha and Kununurra.