Our website features a trip planner which allows you to select the Broome tours, experiences, restaurants, accommodation and services you love, and then email it through to the Broome Visitor Centre staff for personalised itinerary planning.
When you see something you LOVE on our website, click on the love heart icon below the listing to add it to your trip planner.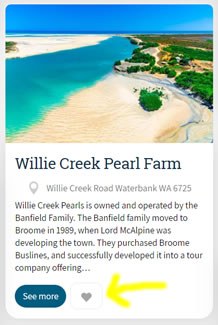 OR
Use the orange button below, when you see it on our website, to add items to your trip planner.

Once you have finished browsing our website, you can click on the love heart icon in the top menu (just next to the cart icon) to view your trip planner selections. When you are happy with your selections, complete the form and click SUBMIT to send them to us.

This is a great way to browse online at a convenient time, and then send us the items you love, but may wish to book directly with us offline via email or phone, or simply receive more information before making a booking decision.

Our personalised booking services is FREE to use and the friendly team at the Broome Visitor Centre are happy to call or email you with answers to any questions you might have.

Sending us your trip planner is an easy way to help us understand your needs before we get in touch with you.