The ultimate way to explore the Kimberley is by private helicopter. Most of the Kimberley is inaccessible by any other means.

Stay at Kimberley Coastal Camp and El Questro Homestead where the dining is fresh and exquisite, and the service sublime.

Let the experienced safari pilots take you to their secret places to fish in wild rivers, marvel at hidden galleries of ancient rock art and touch down to swim in secret springs and waterfalls.

HeliSpirit can tailor exclusive itineraries to showcase the best of the stunning outback and spectacular Kimberley coastline.

Some suggested itineraries:

Kimberley Helicopter Safari Family of 4 6 day/6 night – (Kimberley Coastal Camp, Emma Gorge, Bungle Bungle Savannah Lodge)
Outback Luxury Helicopter Safari - 5-days, 5-nights – Bullo River & El Questro Homestead)
Kimberley Coast Luxury Helicopter Safari - 5-days, 5-nights – (Kimberley Coastal Camp & El Questro Homestead)*
Kimberley Coast & NT Luxury Helicopter Safari - 6-days, 6-nights – Bullo River, Kimberley Coastal Camp & El Questro Homestead

All-inclusive packages
Private pilot/guide
Accommodation in luxury lodges
Confirmed with just 2 passengers
Itineraries can be exclusively tailored to your interests and timeframe
Discover Iconic Locations

In a region which is largely inaccessible by any other means, your experienced safari pilot will fly you to the highlights and hidden gems of this magnificent country.

Lake Argyle, Bungle Bungle, Ord River, Bullo River Station, El Questro, Cambridge Gulf, Kimberley Coast, Berkeley River, King George Falls, Mitchell Falls, Cockburn Range, Hunter River, Mount Trafalgar, Careening Bay, Naturalist Island, Drysdale River, Kalumburu, Prince Regent River, Argyle Diamond Mine.

Stay in Luxury Lodges

Accommodation is in exquisite locations and offers diverse wilderness experiences; stay on a working cattle station at Bullo River in the NT, fish the Timor Sea at Kimberley Coastal Camp and beautiful gorges at El Questro. Freshwater Apartments in Kununurra provides our deluxe pre and post-tour accommodation as Kununurra's only 4.5 star hotel set in resort style grounds overlooking Lily Lagoon.

Unique Kimberley Activities

Guided hikes, fresh and saltwater fishing, nature drives and stargazing are some of the activities on offer at these world-class locations. Relax in secluded pools and breathe in the fresh Kimberley air.

You will unwind and relax more each day, sinking into Kimberley time – becoming immersed in this ancient land. You really won't want to leave.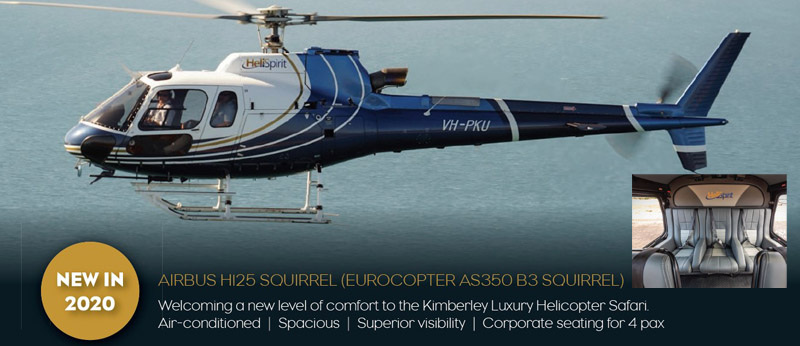 * Book 3 or 4 pax on a SAFKE Luxury Helicopter Safari and receive $1,000 discount per person on selected 2020 departures.

Contact the Broome Visitor Centre on 08 9195 2200 or email enquiries@visitbroome.com.au to discuss these luxury helicopter safari experiences.