The Christmas Trails event will be taking place all over Chinatown this year, now that the Revitalisation Project is finished in its entirety. The new lights will be dazzling in Chinatown and our town will be lit up in festive style, to celebrate this special time of year.

Santa and his elves will be visiting Chinatown once again and there are lots of activities to keep the kids entertained. The adults haven't been forgotten either - there is music from local performers to enjoy, food and drinks, and Christmas shopping galore.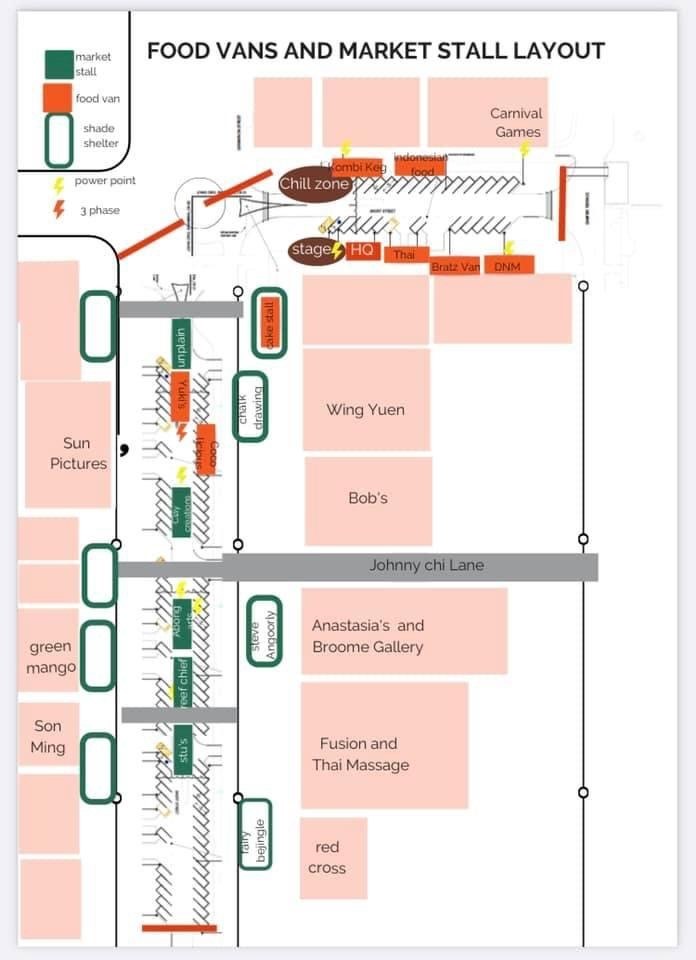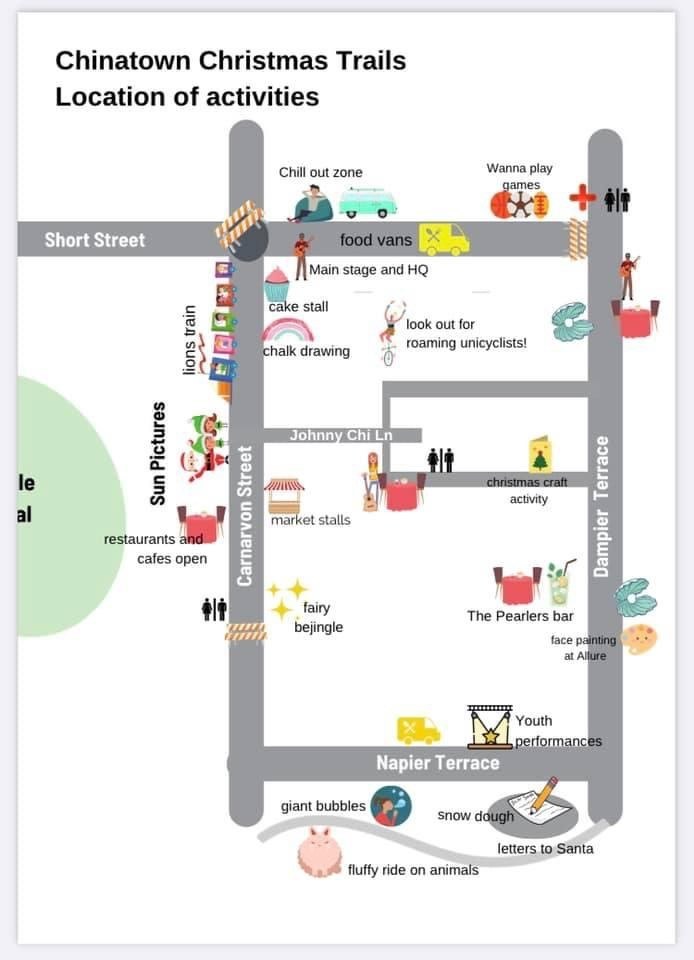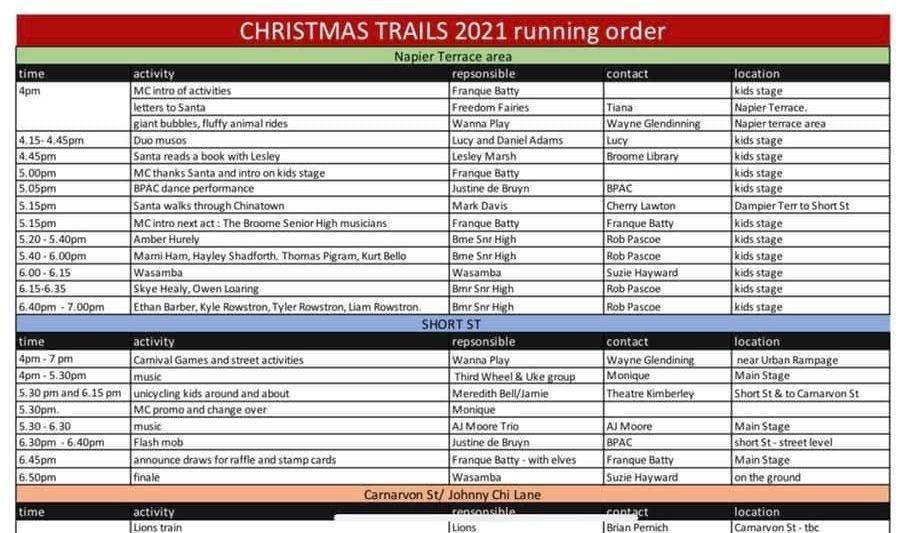 CHINATOWN EVENTS
4.00 - 7.00PM
There will be activity across the whole Chinatown precinct and many of our retailers will be open with Christmas trading specials. You can be in the draw for a generous hamper if you purchase from a local retailer including Allure Pearls, Paradise Linens, Anastasia's of Broome, Sun Pictures, Camdens Jewellers, Monsoonal Blues, and Three Angels Broome.
CHRISTMAS TRAILS STAMP CARD
Collect the activity stamp card from Trails HQ (at the Main Stage on Short Street). Have fun with all the family whilst you participate in all the activities on the stamp card. When you have collected your stamps, put the card in the box back at Trails HQ.
The winner will be drawn on the Main Stage at 6.45pm.
CHRISTMAS TRAILS RAFFLE
Do your Christmas shopping in Chinatown during the Christmas Trails event and you could be in the draw for a fabulous Christmas hamper. When you purchase something from a participating retailer, you will receive a raffle ticket. The winner will be drawn on the Main Stage at 6.45pm.
SHORT ST
Pick up your activity stamp cards at Trails HQ where you can also find programs, First Aid, water and further information.
Main Stage with music from Third Wheel, AJ Moore & friends and more
Food vans, market stalls and Carnival games by Wanna Play Games and a bean-bag Chill Out Zone for when you need a break
Mitre 10 games and lolly bags
Sandfly Circus unicyclists at 5.30pm and 6.15pm
Raffle draw at 6.45pm
Wasamba drummers at 6.50pm
CARNARVON ST AND JOHNNY CHI LANE

Sun Pictures is Santa's spot; you can catch the Lions train and find Santa's Mailbox here. Have your photos taken with Santa from 6.00pm
Market stalls and food vans
Chalk drawing with the Freedom Fairies
Son Ming and Green Mango are open
Local muso Steve Angoorly
Kids can be jingled by a fairy
Indianna Waters playing at Chi Mayi in Johnny Chi Lane
Kids Christmas Craft at Rockpool in Johnny Chi Lane
Sun Pictures' annual Christmas movie: A Boy Called Christmas, at 6.30pm


DAMPIER TERRACE
Camdens and Pearls & Boheme will be open for special Christmas trading
Allure South Sea Pearls has refreshments for the grown-ups and face painting by Chrissy Carter and Trinity Blue for the little ones
Mr. Saigon with music from Eloy Cardenas
The Roey has live music with Dan Guidera and free grazing platters with 10% off cocktails
NAPIER TERRACE: Brand NEW Youth Zone

Ice cream, food vans, fluffy ride on animals, giant bubbles, snow dough and you can write a letter to Santa with the Freedom Fairies
Santa will arrive at 4.30pm and read a Christmas book with Lesley from the Library
Our MC Franque Batty will introduce performances from young musos Lucy and Daniel, Broome Performing Arts Co and talented musicians from Broome Senior High School
Wasamba drummers at 6.15pm