An exciting new collaboration between Olivia Newton-John and Australian friends, Willie Creek Pearls has at its heart the shared values and commitment to help find kinder cures for cancer through funding scientific research.
Olivia has co-designed a gorgeous 18 karat gold Australian South Sea Pearl Pendant. 30% of the proceeds of the pendant sales with go direct to The Olivia Newton-John Foundation Fund. The ONJ Foundation Fund is committed to realising a world beyond cancer, by funding research into plant-based medicine. They are determined to discover kinder ways to prevent, treat and cure all cancers.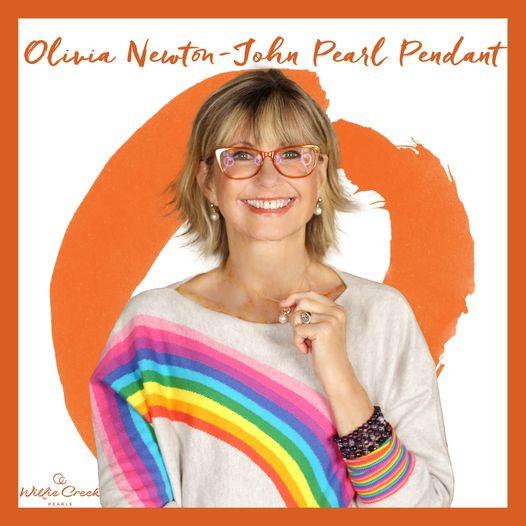 "I am so excited to partner with Willie Creek Pearls and grateful that they are helping me raise funds to research kinder treatments for cancer with plant medicine through my ONJ Foundation Fund," said Dame Olivia Newton-John. "As a home-grown Aussie it just felt right to collaborate with an Australian family business who sustainably produce the best pearls in the world - which is also so important to me! I couldn't be happier to be a part of this family who share my dream to find an end to cancer." - Dame Olivia Newton-John
"It is a privilege for Willie Creek Pearls to be able to support Olivia and the Olivia Newton-John Foundation and we have loved working with Olivia to co-design the pearl pendant. We are excited about sharing our beautiful pearls with the world and for helping fund research to find cures for cancer. They couldn't be a more iconic Australian for us to collaborate with" - Robert Banfield, Owner of Willie Creek Pearls.
Visit the Willie Creek Pearls website to pre-order your 18 karat gold Australian South Sea Pearl Pendant.
Download the full press release

Note: The pendant design is complete with the creation in progress. Stock will be limited and sold exclusively through Willie Creek Pearls showrooms and online store. (Delivery expected in January 2022. Should you wish to purchase as a Christmas gift, there is the opportunity to print a gift letter for your loved one at checkout).