Every year sea turtles nest on Walmanyjun (Cable Beach) from October- March with hatching occurring approximately 7 weeks after the eggs are laid. The most common species to nest on Walmanyjun is the flatback turtle. Flatback turtles are endemic to Northern Australia and many important nesting sites are in the Kimberley region.

The Walmanyjun (Cable Beach) access ramp is closed from 8pm-6am daily from 1 October, and for two hours either side of high tides of 9m or more. This assists in the protection of nesting and hatching turtles. You can help protect turtles by:

• Avoiding driving on the beach. If you are please stay below the high-water mark, away from sandy areas and turtle nests which are marked with yellow signage
• Following the 'Turtle Watching Code of Conduct' if you see a turtle
• Refraining from touching or interacting with turtle hatchlings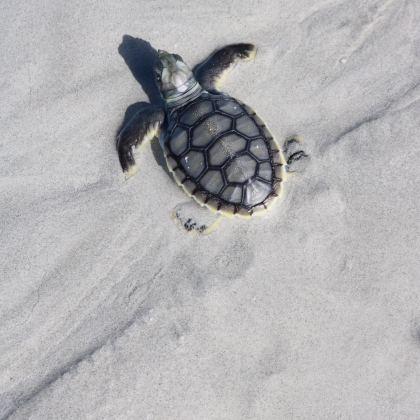 The Department of Biodiversity, Conservation and Attractions and Parks and Wildlife Service encourage everyone to follow the code of conduct.
The Cable Beach Community Turtle Monitoring Program will commence on 1 November.
For more information contact Jesse Kelly on jesse.kelly@dbca.wa.gov.au