Stephen Pigram, Esfandiar Shahmir, Tristen Parr and Tos Mahoney & dancers Dalisa Pigram and Tara Gower – a celebration of music and dance through the Kimberley
Kununurra | Warmun | Halls Creek | Fitzroy Crossing | Broome | Kooljaman | One Arm Point | Djarindjin | Lombadina | Beagle Bay
Tura presents the 2021 instalment of the multi-award-winning Regional Touring Program, the Sonus3 Tour with a program that speaks directly to the places and communities of the Kimberley.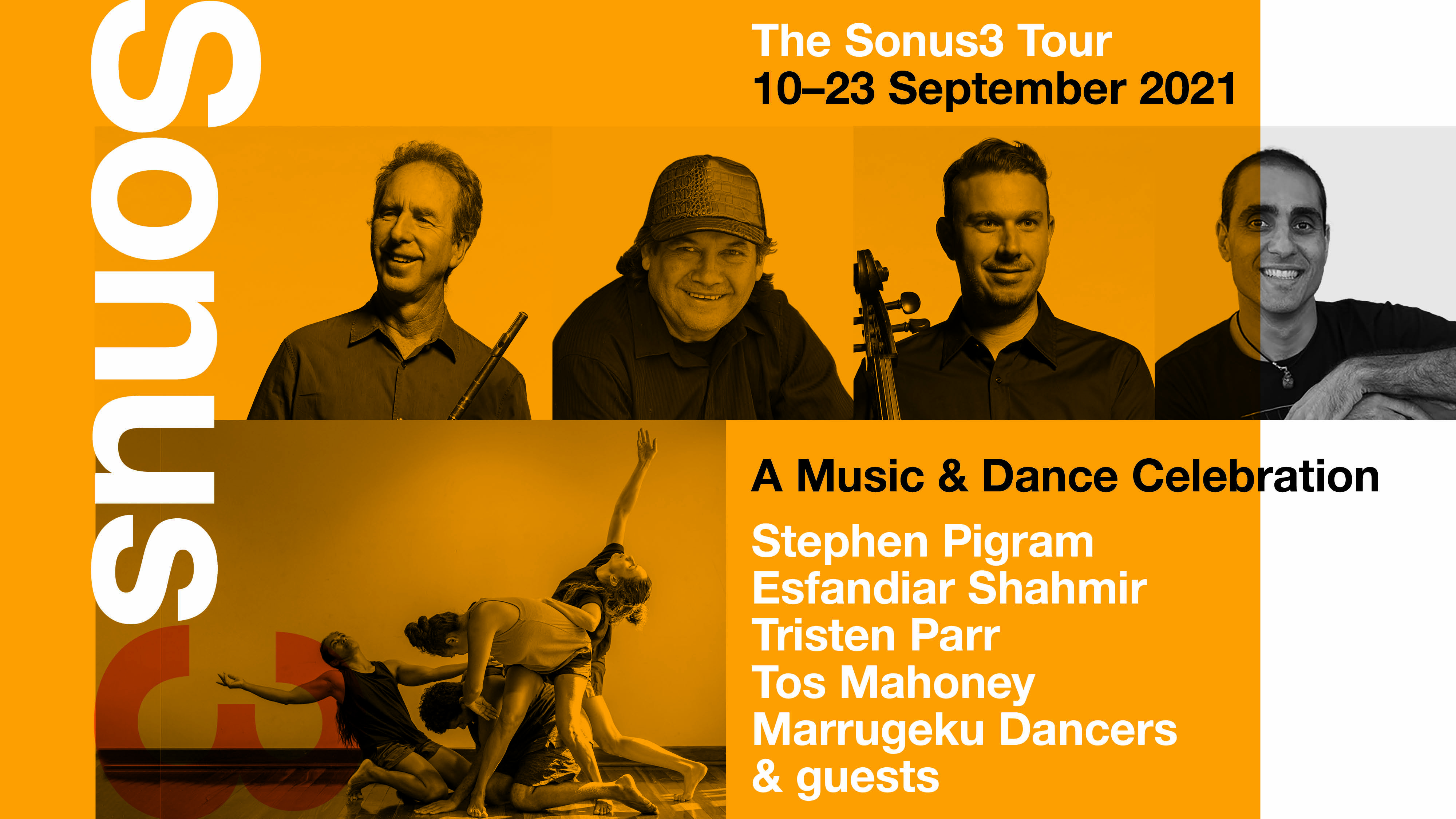 The Sonus3 Tour features Kimberley singer-songwriter Stephen Pigram with a cross-cultural ensemble of instrumentalists, Iranian percussionist Esfandiar Shahmir, cellist Tristen Parr and flautist Tos Mahoney. For the first time Sonus3 celebrates the collaboration between Tura and Marrugeku, an intercultural dance company based in Broome and Sydney. Marrugeku co-Artistic Director Dalisa Pigram and dancer Tara Gower will feature across Sonus3. Tura and Marrugeku artists have been collaborating over the past two years and this will be the first public showing of the outcomes of that work. All touring artists are renowned in their own right and now come together for the first time to present a wealth of original, new music and dance as well as captivating collaborations with local artists.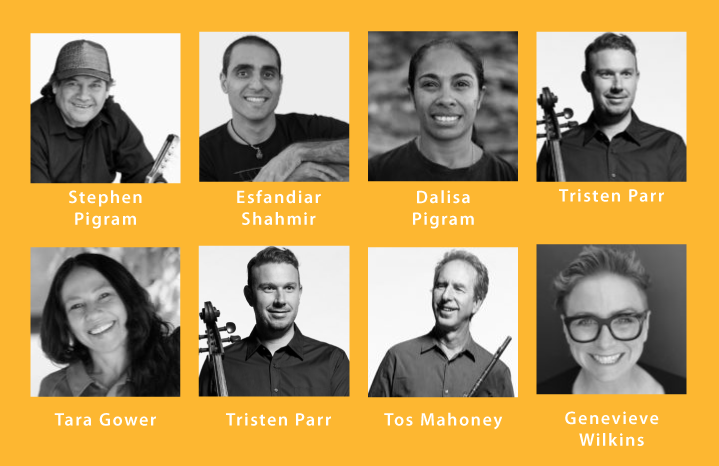 Sonus3 is a meeting of cultural forces, ancient and contemporary, through song, music and dance reflecting the breadth of Australia. New works feature in a program reflecting the Kimberley communities and landscape travelled through. Tura presents this cross-cultural journey weaving a rich tapestry of uniquely Australian music and dance.
Tura's Regional Projects promote collaboration and direct involvement with the artists by participants and audiences. Through the outreach programs, the touring artists engage directly with individuals and groups in the communities, encouraging direct interaction and provides access, involvement, and active participation with music.
This Tour, as with all of Tura's award-winning Regional Programs, has come about from 20 years of community engagement and deep relationship building.
Tura and Marrugeku artists have been creatively exploring cross-cultural connections over the past two years and this is the first public showing of their music and dance collaboration. In addition to the concerts in each community, Sonus3 will host workshops in schools, engaging primary and secondary music students with content from the tour.

Stephen Pigram has been working with Tura since 2006. Stephen has been described as the 'king of Kimberley song' for his over 35 years of composing and performing both solo and as part of the Pigram Brothers. A Yawuru singer/songwriter, Stephen has been paving the way for the 'saltwater country' genre, a distinct Broome sound that captures the multiculturalism of the area.

Stephen will be joined by Iranian instrumentalist Esfandiar Shahmir who plays the Persian daf (frame drum) and other percussion interlacing his ancient and cross-disciplinary sounds with songs of country, along with cellist Tristen Parr and flautist Tos Mahoney.

Dalisa Pigram is a Yawuru/Bardi woman and dancer born and raised in Broome. She has worked with Marrugeku since their first production Mimi, has been Co-Artistic Director since 2008 and is a co-devising performer on all Marrugeku's productions, touring extensively overseas and throughout Australia.

Tara Gower is a proud Yawuru woman from Broome who also has Spanish, Filipino and Irish ancestry. She returned home to the Kimberley after pursuing a successful career as a professional dancer spanning over 15 years, which included performing in New York, Paris, London. She was nominated in Dance Australia's Critic Choice Awards as 'Dancer to Watch'.

Artistic Director Tos Mahoney said Tura's award-winning Regional Programs are committed to community engagement, drawing on a 20-year history of connection and shared learning. "From interactive school workshops to collaborations with local artists as well as cultural exchanges with Traditional Owners, the Sonus tours are very much a two-way process with touring artists being powerfully influenced by the people and places they meet and experience," he said.

"The tours also make a significant contribution to the social, cultural, educational, and community lives of people living in regional centres and remote communities across the Kimberley through the community engagement program.

"Performing alongside dance groups such as Marrugeku and the Waringarri performers in Kununurra – this exchange of music and knowledge has formed a dialogue of artistic collaboration, providing a new platform for communities to celebrate the sounds of their country."
Event details:

* Due to COVID restrictions One Arm Point, Lombadina and Beagle Bay events are only open to the community.


Download the press release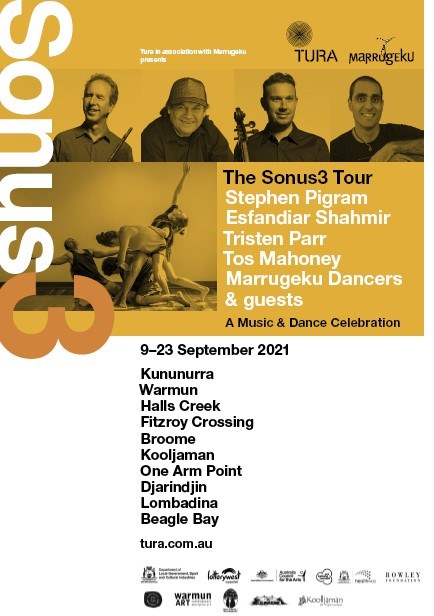 The 2021 Sonus3 Tour is curated and produced by Tura and supported by Department of Local Government, Sport and Cultural Industries, Lotterywest, Australia Council for the Arts, Act Belong Commit, and The Rowley Foundation.