JANUARY 2023 SCHOOL HOLIDAY PROGRAM AT THE BRAC.
Registrations are now open.
Book here: https://tinyurl.com/yc4mw2cp
*Don't forget to select the correct date range when browsing the different events on the booking portal*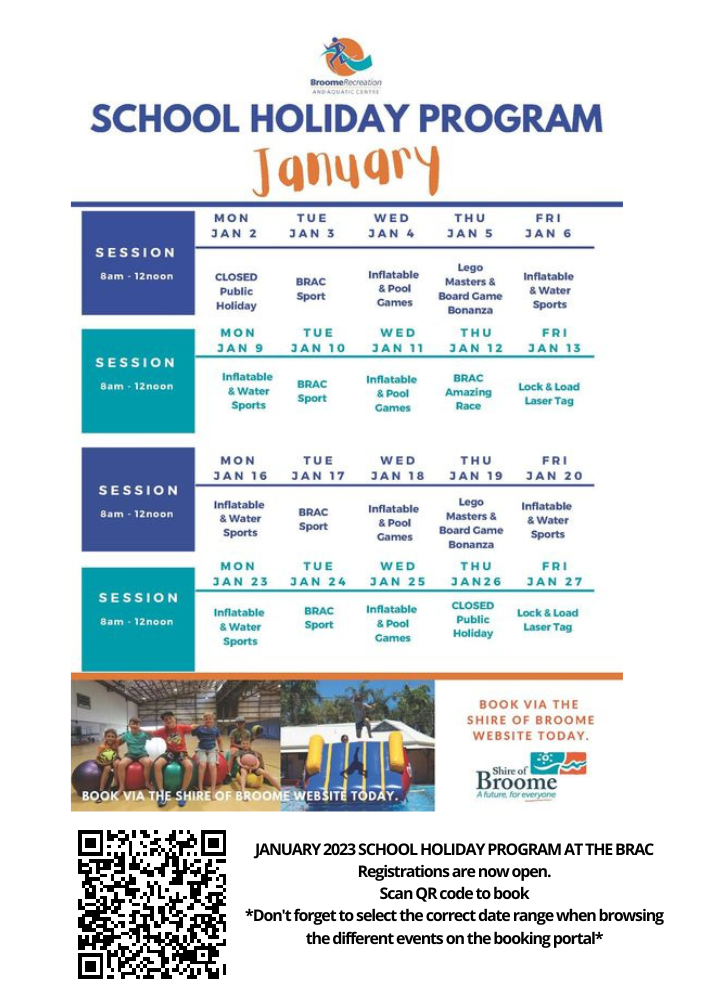 BRAC delivers an activity-based program during School Holiday periods.
Due to current staffing, BRAC will be providing one four-hour session per day, with structured activities

Drop off is strictly, 8.00am.
Strictly 6 -12 year old's only.
BRAC loves our School Holiday Program and we are constantly looking at opportunities to make it more diverse and fun for local kids!
However, after a review of recent programs, it has been determined that the age limit for participation will resort back to 6-12 year olds.
We have previously trialled welcoming five-year-olds to take part, but have found that the disparity between the oldest and youngest children is too much.
With the July school holidays only a few weeks away, participation will revert back to 6-12 year olds.
Participants attending the program will be expected to participate in the structured activity.

If they do not want to participate, parents will be contacted to come and collect their child. Each session will have a half-hour break where participants can have some food and drink.
Participants can be enrolled in both sessions and will have a supervised lunch break from 12.00pm – 12.30pm.
What to bring;
Enclosed comfortable shoes, most activities involve running around on hard ground.
Hat.
Sunscreen.
Bathers.
Recess and afternoon tea. Each session includes a 30 minute break.
Lunch if attending both sessions.
Food can be ordered from a set menu at the BRAC kiosk. This needs to be completed by a parent or guardian at the time of sign in.
Activities
Inflatable & Free Pool Time - Participants will have a private session for BRAC's Exmouth Dual Racer Inflatable activity. After afternoon tea, participants will be supervised while they have some free time in the pool.
BRAC Sport & Free Pool Time - BRAC leaders will provide skills workshops followed by a game of chosen sport! These sports can include basketball, netball, floorball, indoor soccer, indoor cricket and much more. Following sporting fun participants will have some free time in the pool to cool off!
Crazy Science - in a round robin style, participants will complete and handful science based activities.
Lego Masters & Board Game Bonanza - Like the TV show, participants will be provided a challenge each week and will work in pairs to complete. Following that mornings Lego challenge participants will have some fun playing a range of different board games.
Tie Dye Arts & Crafts - Participants will have the opportunity to try Tie die, painting and drawing on fabrics. BRAC will provide a pillow slip, participants are encouraged to bring their own white shirt.
Lock & Load Laser Tag - Local Broome provider, Lock & Load laser tag will be on site to provide a fun and active game of Laser Tag! Followed up by some BRAC sport with our leaders.
Inflatable and Pool Games - Participants will have a private session for BRAC's Exmouth Dual Racer Inflatable activity. After afternoon tea, BRAC leaders will play some classic pool games and tabloid style games with the participants. Games will include relays, wacky relays, Marco Polo and more.
Town Beach Play Ground & Water Park - Bring your bathers! Participants will be taken down to town beach where they will play on the park equipment and have fun on the water park!
Robotics Fun at the Library & Free Pool Time - Participants will be taken over to the Broome Public library where they will participate in a robotics activity including building and programming! After this they will return to BRAC for some afternoon tea and fun in the pool!
Movie Day - Movie day at BRAC! BRAC will supply popcorn, chocolate and a juice box! Kids bring a bean bag or cushion to stay comfy.
For more information contact BRAC on 9191 8720 or brac@broome.wa.gov.au.