We invite you to discover all that Broome and the Kimberley has to offer in Issue 23 of the Broome Visitors Guide.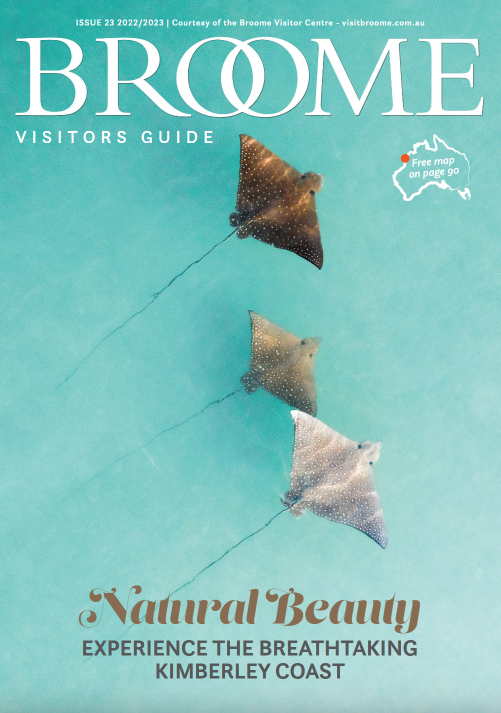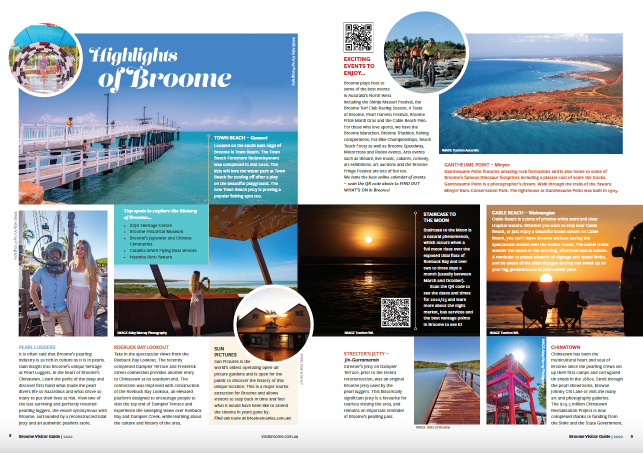 In this issue...


Perfect Pearls featuring Willie Creek Pearls
Highlights of Broome
Pearls of Heritage featuring Paspaley
Inspired by Broome featuring local artists
Larger than Life featuring Sobrane and the Mimbi Community
Unique Pearls for Unique People featuring Galwey Pearls
Books for Broome & Beyond with Magabala Books
Country Through Indigenous Eyes featuring Neville Poelina, Uptuyu Adventures
A Snapshot of Talent showcasing Matt Deakin and Allysha Cartledge
A Pearling Legacy featuring Allure South Sea Pearls

Spot a Snubbie, Play with Whales featuring Broome Whale Watching
Go Wild featuring Adventure Wild Kimberley Tours
Brilliant Birds featuring Broome Bird Observatory
Eat, Drink & Enjoy - your guide to eating out in Broome
Delicious Dishes featuring various local eateries
Local Flavours, From Land & Sea featuring Wild Flower Broome
Pearls with Heritage featuring Cygnet Bay Pearl Farm
Stay Central featuring Cable Beach Caravan Park
Plan the Ultimate Holiday featuring RAC Cable Beach Holiday Park
Discover Unbeatable Views featuring Discovery Parks - Broome
Sunset, Seafood & Pearling Cruise featuring Broome Cruises
Fly High, Fly Broome featuring Fly Broome
Discover Dampier Peninsula
Camp with Culture featuring Djarindjin Campground
Tour the Town featuring Broome and Around Bus Charters and Tours
Fly the Kimberley featuring Air Kimberley
Journey Roads Less Travelled featuring Kimberley Safari Tours
Iconic Camels, Cruise the Coast featuring Broome Camel Safaris
Excitement at the Races featuring Broome Turf Club
Reach for the Stars featuring Greg Quicke, Astro Tours
Three Wheeling Thrills featuring Roger Hockey, Broome Trike Tours
Exquisite Jewels from the Experts featuring Anastasia's of Broome
Goolarri Media Presents showcasing First Nations, art and cultural events
Experience Shinju Matsuri
All Aboard for Memories featuring Absolute Ocean Charters
Sights from the Sky featuring KAS Helicopters
A Piece of History featuring Willie Cruises
Far and Wild featuring Kimberley Wild Expeditions
Timeless Designs featuring Lush Designs Jewellery
A Luxury Adventure featuring Ocean Dream Charters
Cruise the Coast featuring Australian Pinnacle Tours
Get Around with Broome Explorer Bus
Broome Map featuring our BVC Members list
Reasons to Put Kununurra on Your 2023 Bucket List
Sleep Under the Stars featuring APT's Exclusive Wilderness Lodges
Become Immersed in the Kimberley featuring Kingfisher Tours
YOU DON'T WANT TO MISS THIS ISSUE - 100 PAGES OF BROOME TRAVEL INSPIRATION!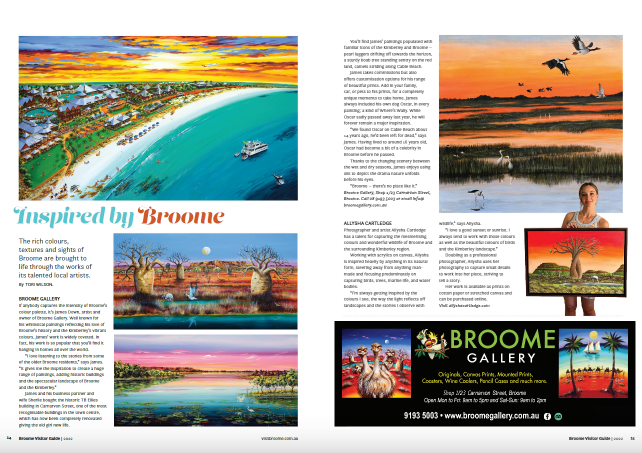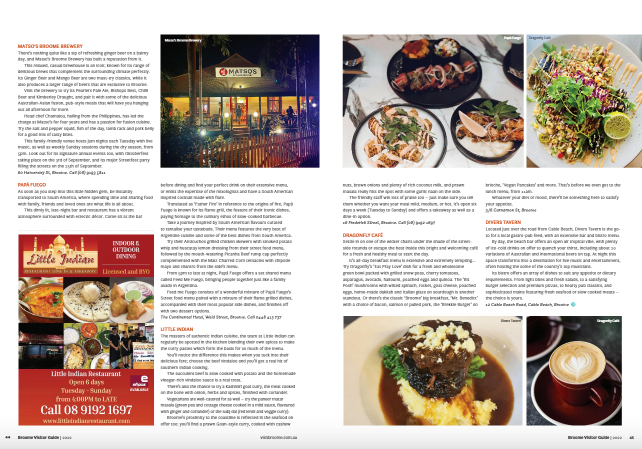 Thank you to the Premium Publishing team, all of our valued magazine advertisers and contributors. The Broome Visitor Centre look forward to assisting you information and booking services for Broome accommodation, tours, car hire and more.



For all the latest news, join us on our social media channels.
We would love you to tag @visitbroome or #visitbroome in your posts.