2023 Kullarri NAIDOC Festival
23rd June - 9th July 2023
For Our Elders.
Goolarri Media are proud to announce that the 2023 National NAIDOC Week theme is For Our Elders. Across every generation, our Elders have played, and continue to play, an important role and hold a prominent place in our communities and families.
They are cultural knowledge holders, trailblazers, nurturers, advocates, teachers, survivors, leaders, hard workers and our loved ones. Our loved ones who pick us up in our low moments and celebrate us in our high ones. Who cook us a feed to comfort us and pull us into line, when we need them too. They guide our generations and pave the way for us to take the paths we can take today. Guidance, not only through generations of advocacy and activism, but in everyday life and how to place ourselves in the world.
We draw strength from their knowledge and experience, in everything from land management, cultural knowledge to justice and human rights. Across multiple sectors like health, education, the arts, politics and everything in between, they have set the many courses we follow.
The struggles of our Elders help to move us forward today. The equality we continue to fight for is found in their fight. Their tenacity and strength has carried the survival of our people. It is their influence and through their learnings that we must ensure that when it comes to future decision making for our people, there is nothing about us – without us.
We pay our respects to the Elders we've lost and to those who continue fighting for us across all our Nations and we pay homage to them. In 2023, how will you celebrate For Our Elders?
FIND OUT MORE AT GOOLARRI MEDIA
The Kullarri NAIDOC Festival is just over a week away and we are getting very excited! There are a huge amount of events happening over the two weeks. The Reconciliation Walk and opening ceremony will be the first events on the 23rd of June.

Tickets are also now available for the Kullarri NAIDOC Festival Awards Night, on the 1st of July.



2023 Kullarri NAIDOC Awards Night
Join us for an extraordinary occasion where we come together to honour and uplift the unsung heroes in our communities. It's a time to applaud their unwavering dedication and express our heartfelt appreciation for their tireless efforts in building a brighter future for all.
Step into a world of elegance and glamour as we invite you to grace this spectacular event in your most exquisite cocktail dresses and dashing tuxedos. Prepare to be enthralled as the legendary local band, King of Hearts, sets the stage ablaze, filling the air with irresistible rhythms that will make you dance the night away!

Get ready to embark on an unforgettable journey from the moment the doors swing open at 7PM. Delight your taste buds with tantalizing cocktail cuisine and refreshing drinks, as the excitement builds in anticipation of the upcoming awards ceremony. And when the clock strikes, brace yourself for an enchanting live music performance that will ignite your soul.

Let's celebrate, appreciate, and create lasting memories together. This remarkable event is not to be missed!
Sat 1st Jul 2023, 7:00 pm - 11:00 pm
Goolarri Media - Gimme Club
3 Blackman street, Broome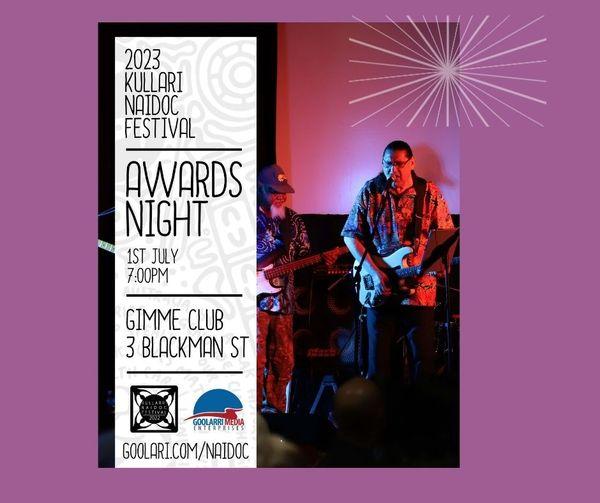 Marawirra Manyjilyjagi - Go Walkabout Bush
Thursday 6th July - 10am - 2pm
Broome Country Music Club - NAIDOC Celebration
Saturday 24th June
4pm - 12am
This event has concluded.
Info> Broome Country Music Club on Facebook