KIMBERLEY FLOOD RESPONSE

Visit the OFFICIAL website here> Kimberley Flood Response | Main Roads Western Australia


The Kimberley Flood Response webpage provides the latest news on Main Roads' related flood response activities.
Please take extra precaution if planning activities in inclement weather and refer to Park Alerts for the latest on our park openings and closures at https://alerts.dbca.wa.gov.au/

Check Main Roads WA, the Shire of Derby/West Kimberley and Shire of Wyndham East Kimberley website on road closures, and Bureau of Meteorology for latest advice.

MAIN ROADS TRAVEL MAP
The Main Roads Travel Map is the most up to date resource for checking road closures and roadworks in Western Australia. Remember to plan your journey.





NATIONAL PARKS UPDATES

Check Park Alerts at https://alerts.dbca.wa.gov.au on the latest park information. Please not attempt to travel on closed roads or access closed parks for your safety.

KIMBERLEY FLOOD RESPONSE

To keep informed, you can subscribe for updates, delivered directly to your inbox.


Looking for updates on Shire road conditions?
SHIRE ROAD CONDITION REPORTS

SHIRE OF BROOME
Click here for the Shire of Broome road conditions
SHIRE OF WYNDHAM / EAST KIMBERLEY
The Shire of Wyndham / East Kimberley Road Conditions page provides a list of current known road conditions and closures in the region. This is updated frequently during major weather events and on an as-needed basis at other times.
SHIRE OF DERBY / WEST KIMBERLEY
The Shire of Derby / West Kimberley also provides a road condition report.
Please be advised that this advice is only updated when conditions have changed.

SHIRE OF HALLS CREEK
Road conditions website page here.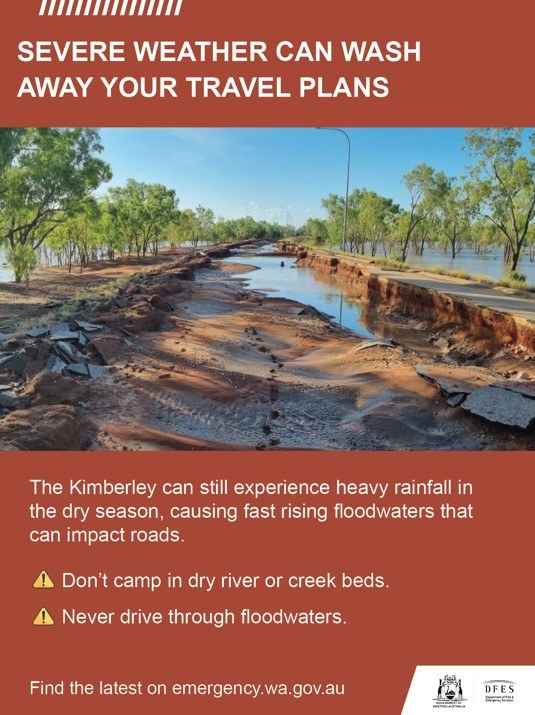 WHAT TO DO
Prepare to relocate equipment and livestock early so they are not caught in floodwaters.
Prepare an emergency kit including enough canned food and water to last for four days, as well as clothing, important documents, and medication.
Fill your vehicle's fuel tank.
Watch for changes in water levels so you are ready if you need to evacuate
Never walk, swim, or play in floodwaters, as they are dangerous.
Stay out of rivers, this includes no swimming or kayaking.
Do not park or camp adjacent to rivers. Rivers and creek beds can rise quickly, putting campers at risk.
IF DRIVING:
Be careful at crossings and floodways as river levels may rise rapidly.
Obey road closure signs and do not drive into water of unknown depth and current.
Take care on gravel and unsealed roads as they may be slippery and muddy, and you could get bogged.
Carry extra food and water when travelling in case of long delays at crossings
IMPORTANT NUMBERS
For SES assistance call 132 500.
In a life threatening situation call 000.
For the latest flood information call 1300 659 210 or visit the Bureau of Meteorology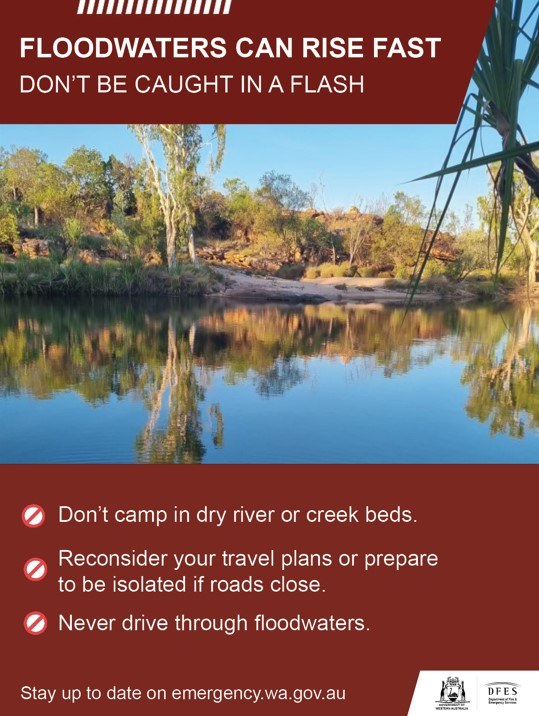 KEEP UP TO DATE
Visit Emergency WA, call 13 DFES (13 3337), follow DFES on Twitter, Facebook, listen to ABC Local Radio, 6PR, or news bulletins.

During a power outage, your home phone, computer or other electronic devices connected to the NBN will not work. Include a battery powered radio in your emergency kit.
----


LOCAL INFO AND RESOURCES
Visit this page for more important resources to keep you safe while travelling in Broome and the Kimberley.