Find out more about entering and travelling around WA, and quarantine requirements.

Last updated: 22 December 2020 at 12.01am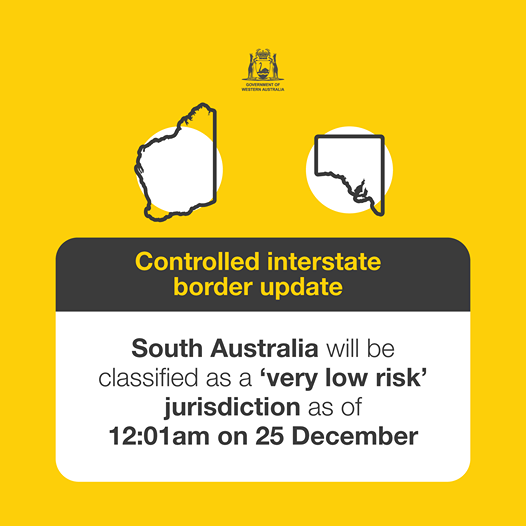 South Australia to move to 'very low risk' category
From 12.01am, Friday 25, December 2020, travel from South Australia into Western Australia will be classified as 'very low risk', subject to no further outbreaks.
Travellers will be subject to certain conditions including the mandatory completion of a G2G registration and health screening upon arrival.
Anyone entering WA from SA prior to 12.01am, Friday, 25 December 2020 must undertake and complete their 14-days of self-quarantine.
For more information see Safer travel from South Australia as it transitions to 'very low risk' category.
Travel from NSW is classified as 'medium risk'. For more information see New South Wales entry to WA border measures strengthened.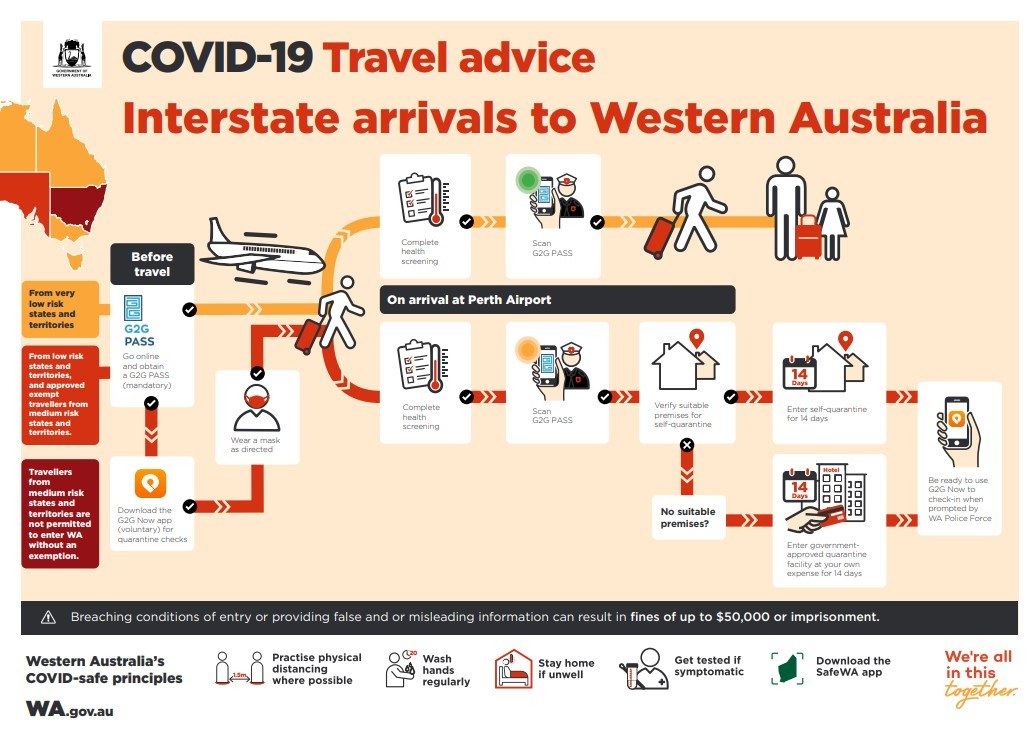 Western Australia's border arrangement
As of Saturday, 14 November, WA transitioned to a safe and sensible controlled border arrangement based on the latest public health advice.
WA's existing hard border arrangements and current exemption requirements for travel have been removed, allowing Australians to travel into and around WA, subject to conditions of entry.
Remote Aboriginal community restrictions and Residential Aged Care Facilities Restrictions within WA are still in place, as well as a modified 2 square metre rule.
The Chief Health Officer will continue to closely monitor community transmission in other states and territories and will advise the WA Government if any changes to our borders are required to keep Western Australians protected.


Good to Go Pass (GTG)

We all have to do our bit to keep our loved ones, communities and country safe. If you need to travel, make sure you apply for your G2G PASS in advance. If your application is successful the G2G PASS app will help you get where you need to go, fast. More information about the GTG pass

To register your travel, visit G2G PASS. You must complete this before travelling.